2017/08/21
The RE Roar Reverberates Throughout This Year's Monterey Reunion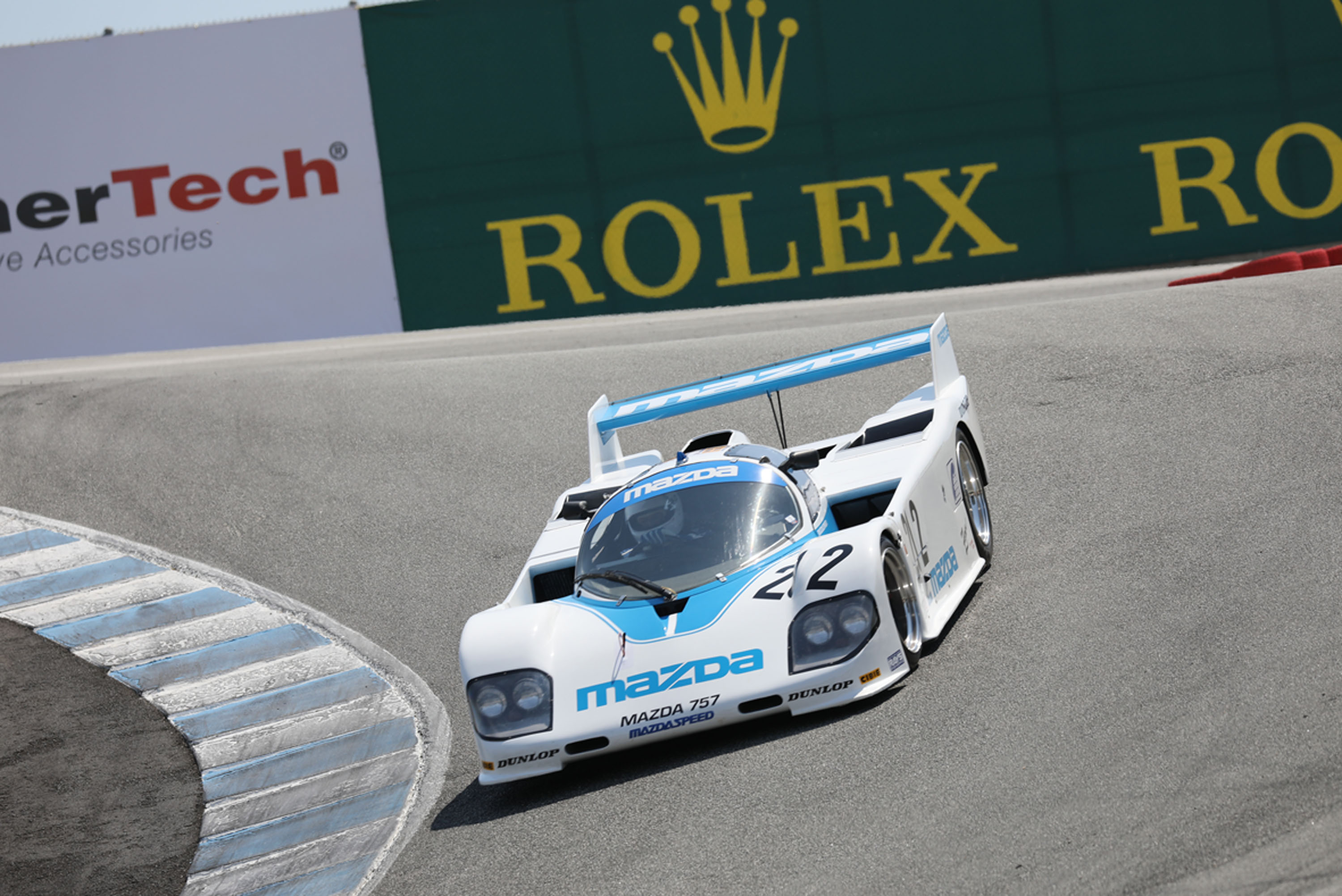 The now annual summer event, the "Rolex Monterey Motorsports Reunion" was held over August 17th to 20th at Mazda Raceway Laguna Seca, California, where seven mammoth rotary engine machines assembled at the Mazda USA tent.
Until now the demonstration runs of these heritage race cars were carried out by employees of Mazda USA, but this year they would be implemented by professional race car drivers. President and CEO of Mazda North American Operations (MNAO), Masahiro Moro related, "We wanted all the fans to see the cars being driven by professional drivers. Along with that, we felt that it was important to support the participation of individuals who own their own heritage race cars and so this time we have assisted with the runs of four owner vehicles. One of those owner vehicles was a participant from Sweden. Due to the support of our professional staff I think the owners were able to enjoy themselves." Edi Taveri (62 y/o), who runs a Mazda car dealer in the suburbs of Zurich and brought the 1986 spec Mazda 757 out from Switzerland, stated, "The Mazda 757 is my hero car. I fell in love with this car at the Goodwood Festival of Speed in 2015 and thought that I must have it no matter what. After my wish came true and this car arrived in my garage, I've been working on it everyday and carrying out maintenance to ensure that it can run on the circuit. To make another dream come true I've come out to Mazda Raceway Laguna Seca. I'm really excited to be able to drive alongside the Mazda 767B and other RE machines at this Mazda home ground and its famous corkscrew. We have brought along fresh tires and wheels just for today. The next thing we are planning to do after this is to bring the car out to Fuji Speedway in Japan and drive it alongside the Japanese fans. That is another one of my dreams. To all the Mazda rotary fans in Japan, let's meet at Fuji Speedway on September 24th!" This Mazda 757 is mounted with a 13G 3-rotor engine, that was newly developed in 1986, and was the Mazda Speed entry into the 24 Hours of Le Mans. Although in that year it was unable to finish the race due to driveline issues, in the following year's Le Mans it took 7th place overall and took victory in the IMSA GTP class. Taveri let the Mazda 757 roar throughout Laguna Seca and drove to his heart's content.
The Mazda 757 was joined by fellow owner's cars, the 1985 ARGO JM19 · Mazda IMSA GTP LIGHTS, the same year's Mazda RX-7 (FC3S) IMSA GTU, and 1978 Mazda RX-3 IMSA RS. Alongside these, Mazda USA brought out the 1989 Mazda 767B (Driver: Jonathan Bomarito), the 1991 Mazda RX-7 IMSA GTO (Driver: Joel Miller), and the 1989 Mazda MX-6 IMSA GTU (Driver: Tom Long) and all of the machines were exhibited in the Mazda Tent. This year Amos Johnson, who drove the "TEAM HIGH BALL" RX-7 IMSA GTU and achieved a number of good results, came out to visit the event. He could be seen chatting with race fans, drivers and crew who had been alongside him since he first started.
Along with these 7 Mazda machines were former and currently competing race cars, GT cars that competed in the European FIA Championship, vehicles from the Junior Formula, IMSA GT series and so on. All in all, it came to a total of 480 cars from 15 classes that gathered for the historic car race. The four day event saw two practice, qualifying sessions and races, with a total of 4 sessions at a time. These heritage race cars, gathered from all over the USA, have been maintained since they burst onto the scene in their respective years and have been polished up to perfection. President Moro related, "In the US, carefully storing classic race cars and enjoying racing them on the track is deeply rooted in the culture. To be able to assist all these people in the joy of "being a driver" is more than we can hope for at Mazda."
The "Rolex Monterey Motorsports Reunion" is set to continue to be held every year in August. Even for those who aren't Mazda fans, if you are into cars it is really worth a visit.
Photos and Text : MZRacing