Ceremony to Commemorate Yojiro Terada's 50 Years as Racecar Driver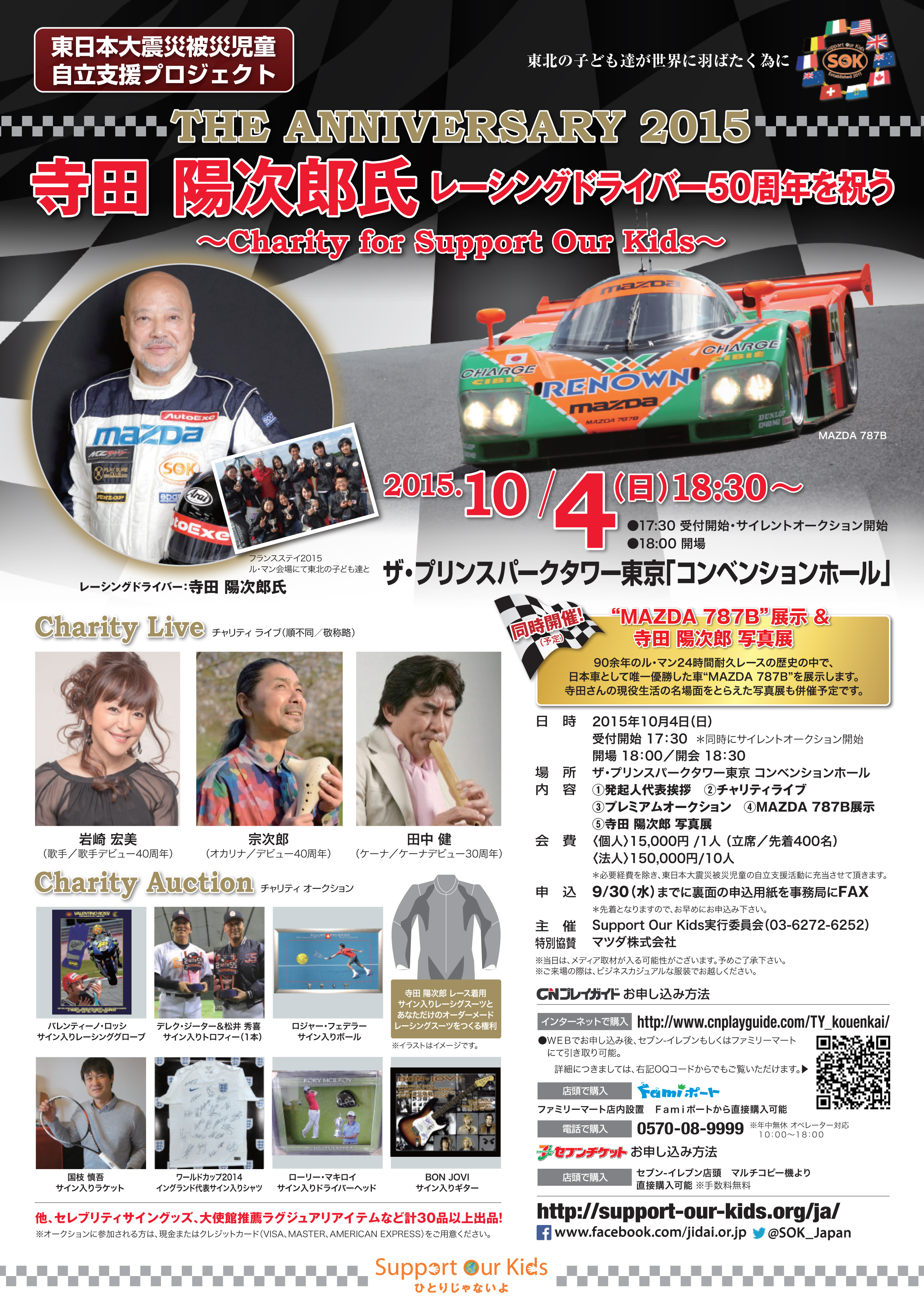 These days the 24 Hours of Le Mans is a major race even in Japan's motorsport calendar, but back when Yojiro Terada first took on the challenge in 1974, it was relatively unknown in the land of the rising sun. First competing in a 12A rotary engine equipped SIGMA MC74, he then progressed through to the first RX-7 IMSA GTX, on to the 2-rotor 717C, then the Group-C 4-rotor 787B, after which, as a privateer, he competed in an original chassis 4-rotor machine. Over 35 years, until 2008, he competed a total of 29 times and won 3 class victories to make his a most distinguished career. It's not too much to say that he played an important role in popularizing the 24 Hours of Le Mans amongst Japanese motorsports fans. His 29 participations are the most amongst any current driver and in France he has been affectionately dubbed "Mr. Le Mans."
This "Le Mans resident for the month of June," Mr Terada, is greeting his 50th year as a racecar driver and to commemorate this, the "Tribute to Yojiro Terada's 50 Years of Racing / Charity for Support Our Kids" will be held at the Prince Park Tower Tokyo. Terada is acting as one of the promoters for this gathering and it will be organized by the executive committee (and act as a charity event) for the "Support Our Kids" program, which seeks to assist the independence of children affected by the 2011 Tōhoku earthquake and tsunami. Other than necessary expenses, the participation fee will go towards supporting the independence activities of the Tohoku kids, bring in distinguished guests to participate in a silent auction, and put on a charity live event featuring singer, Hiromi Iwasaki, Ocarina player, Sojiro Nomura, and Quena player, Ken Tanaka. There will also be a display of the only domestically manufactured vehicle to take victory at Le Mans, the Mazda 787B (replica) and a gallery of photographs taken of Mr Terada on the scene in the various races he has competed in through the years.
Aiming to compete for the 30th time at Le Mans, Terada's indomitable challenging spirit is a huge inspiration to large numbers of people who gain courage, hope and pride when watching his endeavours. We highly encourage you to take part in this event, which marks a turning point in his career.
Date/Time: October 4th (Sun)
17:30 Reception open / Silent Auction begins
18:00 Doors Open
18:30 Ceremony Starts
Venue: The Prince Park Tower Tokyo Convention Hall
Entrance Fee: ¥15,000 (standing/limited to first 400 people)
Organizer: Support Our Kids Executive Committee
Special Support: Mazda Motor Corporation
Performers:Hiromi Iwasaki (singer / 40th anniversary since debut)
Sojiro (ocarina player / 40th anniversary since debut)
Ken Tanaka (quena player / 30th anniversary since debut)
Tickets can be purchased at the link below, Family Mart Fami-Ports, 7/11 Seven Tickets, etc.
CN Play Guide:
http://www.cnplayguide.com/TY_kouenkai/