Joint Mazda USA Team to Race for 25 Hours in Mazda MX-5 Global Cup Car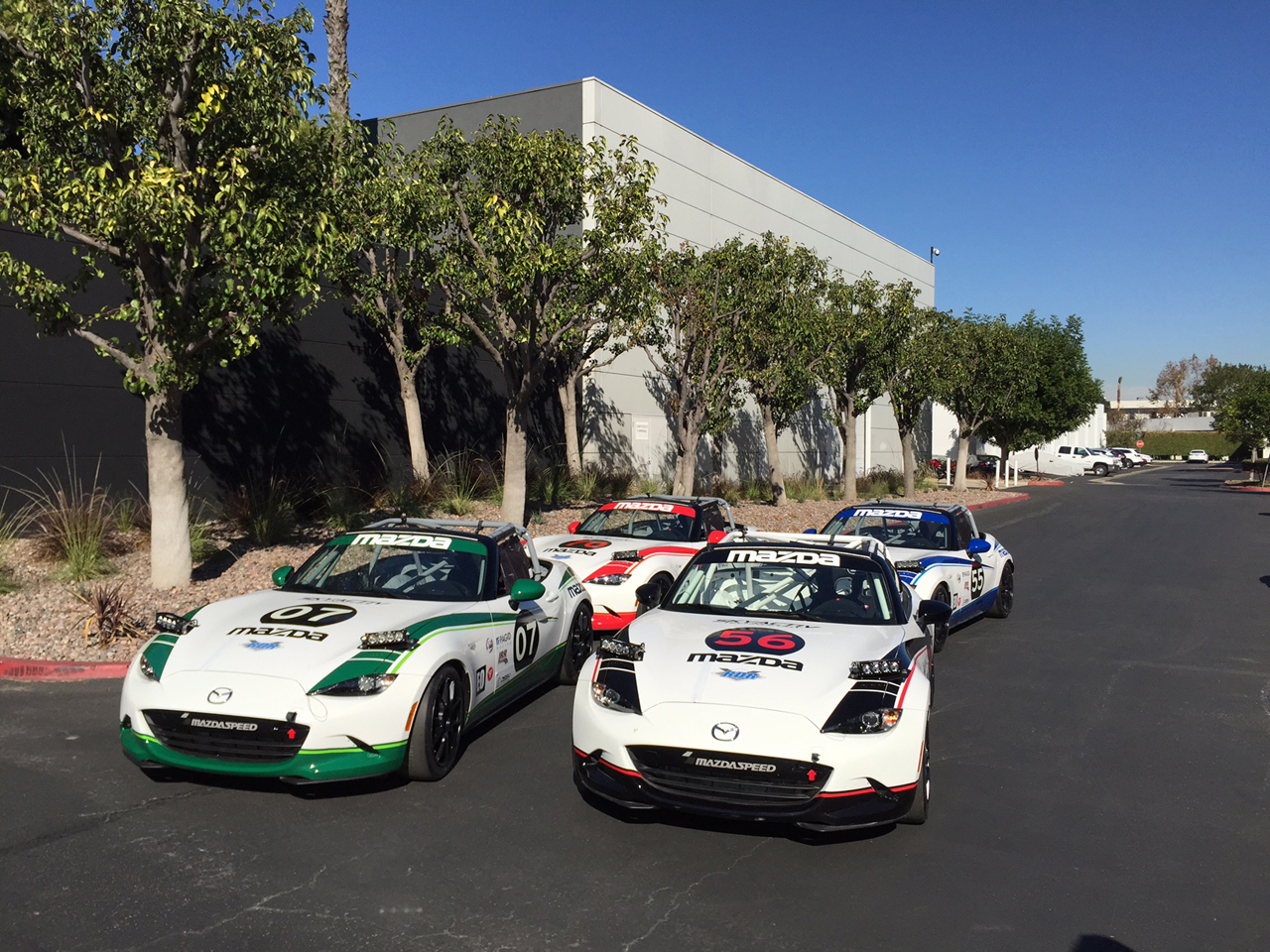 From 2013 to 2014 North American Mazda dealer and employee teams faced off against each other and they have each taken one victory. This year, however, Mazda has announced that they will be competing together in a combined team driving what will be the race debut of the 2016 Mazda MX-5 Global Cup Car.
Four works machine 2016 Global MX-5 Cup Cars have been completed for this race. Regarding their entry into the race Robert Davis, Mazda's senior vice president of U.S. Operations stated, "While we joke about the rivalry between the factory guys and our dealers, the truth is that our success is directly linked. For 2015, we are allowing a very select group of dealers AND employees to race alongside each other in the new 2016 Mazda MX-5 Cup car. While the development testing by Long Road Racing has been superb, nothing compares to a bunch of club racers beating on each other for 25 hours to really test the hardware."
The joint team will be driving four brand new 2016 Battery Tender Mazda MX-5 Global Cup Cars. The only adjustment that has been made is the addition of extra lights to deal with the considerably dark Northern California racetrack. As the Global MX-5 Cup Series consists of 45-minute sprints, this race will see the cars driving for the equivalent of 2 full seasons in one go and will be a significant test of the machines. BFGoodrich Tires and Robert Davis Racing team are supporting the Mazda teams and the pit crew is made up entirely of volunteers who are mostly Mazda USA employees, contract racers or friends.
This race, which sees the little hand make two laps of the clock plus one additional hour, will be held over December 5th-6th at Thunderhill Raceway Park. On board footage of all 25 hours of the race will be streamed from inside the Mazda MX-5 Global Cup Cars. Additional live footage will be posted on the Mazda Motorsports Facebook page and Mazda Racing twitter account.
Those who will be racing the cars are listed below:
·Mike Allen (Mazda Motorsports, Irvine, CA)
·Michael Brockman (Mazda of Milford, Milford, CT )
·Robert DeVaux (Brown's Chantilly Mazda, Chantilly, VA)
·Liam Dwyer (Freedom Autosport, Braselton, GA)
·Nathan Edmonds (Mazda Field Operations, Irvine, CA)
·Geronimo Esteve (Headquarter Mazda, Clermont, FL)
·Richard Fisher (The Autobarn Mazda, Evanston, IL)
·Taz Harvey (Dublin Mazda, Tracy Mazda, Dublin/Tracy, CA)
·Camden Jones (Velocity Mazda, Tyler, TX)
·Stevan McAleer (McCumbee McAleer Racing, Supply, NC)
·Randy Miller (Mazda Motorsports, Irvine, CA)
·Ben Robertaccio (Morrie's Mazda, Minneapolis, MN)
·Ken Saward (Mazda Design, Irvine, CA)
·John Stott (Mazda Technical Operations, Irvine, CA)
·Chris Wilson (CJ Wilson Mazda, Countryside, IL)
The four Mazda MX-5 Global Cup Cars will be racing alongside 7 classes of more than 60 cars that include a number of other Mazda vehicles. Heading into its 13th year this race sees a large variety of teams, machines and drivers, both clubman racers and pros, gather from around the world to compete in cars ranging from the MX-5s to prototypes.
All eyes will be focused on seeing how the MX-5 performs in its first race this coming weekend.
>>>
www.MazdaLIVE.com
Photo by Mazda USA