4-rotor sound roars at Suzuka Fan Appreciation Day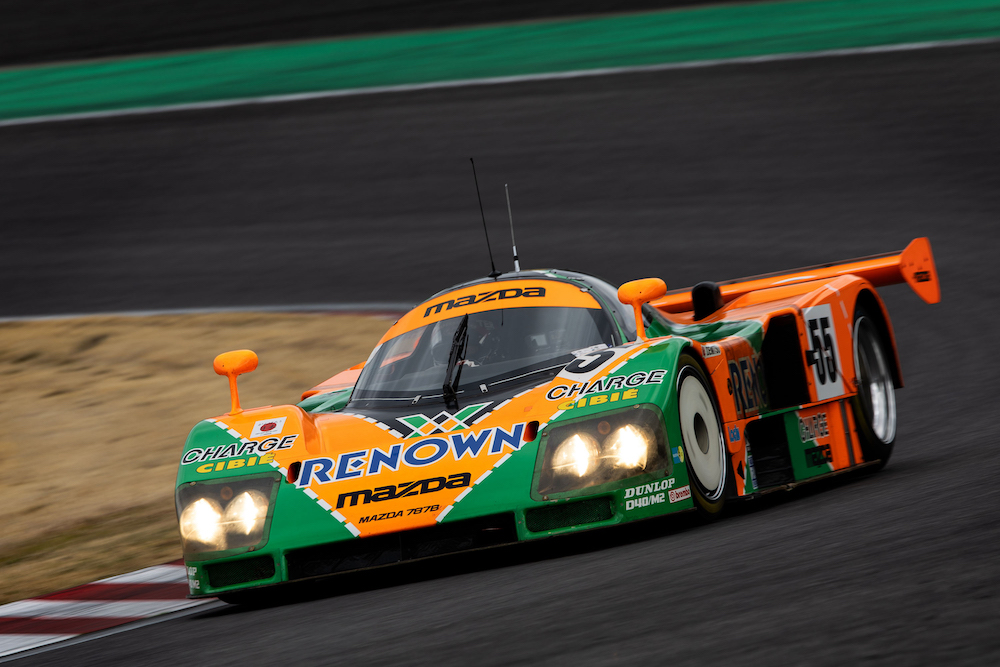 On March 5 (Sun), the No. 55 Mazda 787B, driven by Yojiro Terada, participated in a demonstration run at the "Suzuka Circuit Motorsports Fan Appreciation Day" held at Suzuka Circuit in Mie Prefecture. The high-pitched 4-rotor RE sound echoed around the circuit.
This event, hosted by Suzuka Circuit, has become an annual spring event, and in addition to the SUPER GT, SUPER FORMULA and MotoGP entries, this year marks the 100th anniversary of the 24 Hours of Le Mans, so a "100th Anniversary 24 Hours of Le Mans Race Legends" slot was set up. The Toyota GR010, the overall winner of last year's 24 Hours of Le Mans, the Honda NSX GT2, which won its class at Le Mans in 1995, and the Mazda 787B, the first Japanese car to win Le Mans in 1991, along with the Porsche 956 and Toyota Toms 85C, were invited to participate. Events were also held in the GP Square behind the grandstand. In the GP Square behind the grandstand, along with the "World Motorsports Champion" corner with a full lineup of cars competing in F1 and WRC, there was also a "Motorsports FOR the Future" corner representing each automaker's challenge to go carbon neutral, and last year's MAZDA SPIRIT RACING MAZDA2 Bio concept, which competed in the Super Taikyu Series last year, was on display.
Before the Le Mans Legends demonstration, a talk show with legendary drivers was held on a special stage in front of the grandstand. Yojiro Terada, Japan's Mr. Le Mans, took the stage. Terada said, "I have competed in Le Mans a total of 29 times since my first Le Mans challenge in 1974. This year is the 100th anniversary of Le Mans, and I have participated in about 1/3 of them. It was my dream when I was young to raise the flag of Japan on the world stage using a Japanese-made car. Then I came across the Mazda rotary engine and concentrated on bringing the flag to Le Mans with this power unit that only Mazda had made available for practical use. And I was in charge of the development of this Mazda 787B, which was to win the overall championship in 1991. Today, please enjoy the sound of the Mazda 4-rotor engine."
With 12,000 spectators watching, 18 Le Mans cars led by the pace car ran the formation lap, then the pace car was disengaged and the cars went full throttle in their respective classes. The Mazda 787B led the second Group C field, making two runs in front of the grandstands before returning to the pits to thunderous applause from the stands. After getting out of the car, Terada commented, "I wanted to run a little longer because I did not get many laps. But I drove as hard as I could, so I hope you enjoyed the race."
Suzuka Fan Appreciation Day Recording Video (YouTube 4'19")
Text and Photos by MZRacing