Mazda's Masahiro Sato Grabs 3rd In Inter Proto Series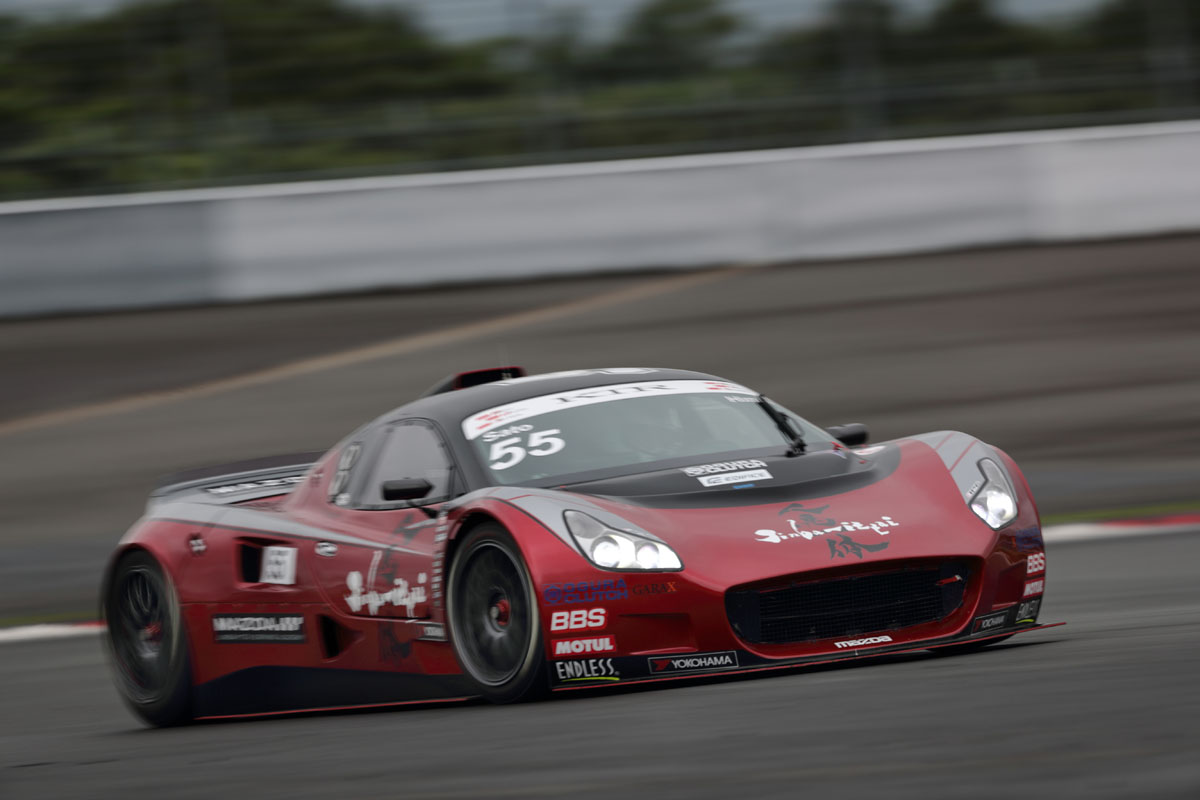 The FCR consists of 6 tournaments throughout the year with separate series categories competing over 4 rounds. Following on from the FCR season opener that was held over April 2nd to 3rd, races 3 and 4 of the Inter Proto Series (IPS) was held over this weekend and this acts as round 2 of the category. MZRacing previously covered the opening round of this year's IPS, which is unique for the fact that it requires one amateur and one pro driver to compete together in each team.
The amateur driver for the #55 "Jinba Ittai" (unity of rider and horse) is Mazda's internal top gun test driver, Masahiro Sato. Taking the role of professional driver is Yasutaka Hinoi. Due to Sato having limited experience with racing, the team secured a schedule of 4 days to carry out training with him to get him accustomed to the motorsports essentials. Each day consisted of 3-4 30-minute driving sessions and for the first few laps Hinoi took exclusive charge of warming up the machine. After that he would hand the car over to Sato in order to have him complete as many laps as possible and become accustomed to the car and track.
Due to the fact that the goal of competing in this series is to lift up the abilities of Mazda's test drivers, the above routine is exactly what one would expect. Hinoi explained, "I would obviously like a little more time in the car myself, but the most important thing is to get Sato fighting ready. I can say this now, but in the opening round he left too much space between himself and other competitors and that meant he couldn't effectively battle it out."
Official qualifying for both amateur and professional competitors was held on the morning of the 25th over a wet road surface. Sato put in a spirited effort and secured 6th place on the grid with a 2 minutes, 7.843 seconds. It should be noted that the amateur drivers are further separated into an "expert class," who have a degree of racing experience, and a "gentleman's class," for those with limited experience, the latter of which Sato was 2nd fastest. In other words, he was in a good position to fight for the podium. With a 2 minute, 5.820 second time, Hinoi would begin from 9th place on the grid within the pro drivers and was aiming for a comeback.
The weather began to clear up around the afternoon of the 25th and race 3 of the gentleman's class was held over a dry road surface. Sato allowed the #16 (Hisakazu Watanabe) get passed him early on and continued on in class 3rd. After this, the #16 climbed into the lead, with the #4 (Daisuke Imanaka) dropping to class 2nd. Towards the end of the race, Sato was inches within the #4, with a margin of less than 1 second, but ultimately he passed the checkered flag in 3rd.
Although he lost one position from qualifying, Sato achieved a commendable 3rd place and was able to experience his first champagne fight. A clearly delighted Sato stated, "I'm a bit disappointed I wasn't able to overtake the cars in front of me but, really, I'm just happy to be able to stand on the podium. I'm not yet able to encapsulate the spirit of 'jinba itta' but I feel I'm a lot closer to being one with the car." Race 4 of the gentleman's class was held on the morning of the 26th. Sato was slow on the accelerator during the rolling start and was overtaken by two rivals early on. Despite this, he engaged in his first authentic battle with the #19 (Teruo Takahashi) and #7 (Toru Kun) and managed to overtake them. He then ticked off laps in class 2nd and pursued the car in 1st. Then, in the final lap, he burst into the top spot.
However, at the last minute, at Prius Corner, he became flustered, botched his entry and fell into a lamentable spin. As he himself put it, "I went in way too fast," after which he lost a great deal of pace and finished a disappointing class 4th, having let a 1st place podium slip out of his grasp.
In the Pro Class races that were held in the afternoon of the 26th, #3 Hiroaki Ishiura took victory in race 3 and #37 Yuichi Nakayama came out on top of race 4. There was also an intense battle between SUPER GT stars, Ronnie Quintarelli and Tsugio Matsuda. In the midst of this, veteran, Hinoi finished 5th in race 3 and 6th in race 4, displaying a tenacious drive that saw him climb up from his qualifying position for both races.
The IPS consists of 4 rounds held at Fuji Speedway. The next round will consist of races 5 and 6 and be held over September 17th to 18th.
[Related links]
>>>
Mazda Top Gun Competes in Proto Series
>>>
Mazda's Masahiro Sato Grabs 3rd In Inter Proto Series
>>>
Inter Proto Series official website www.interproto.jp/
Photo by T. Ishida & IPS