"Global MX-5 Cup Japan" Garnering a Great Deal of Interest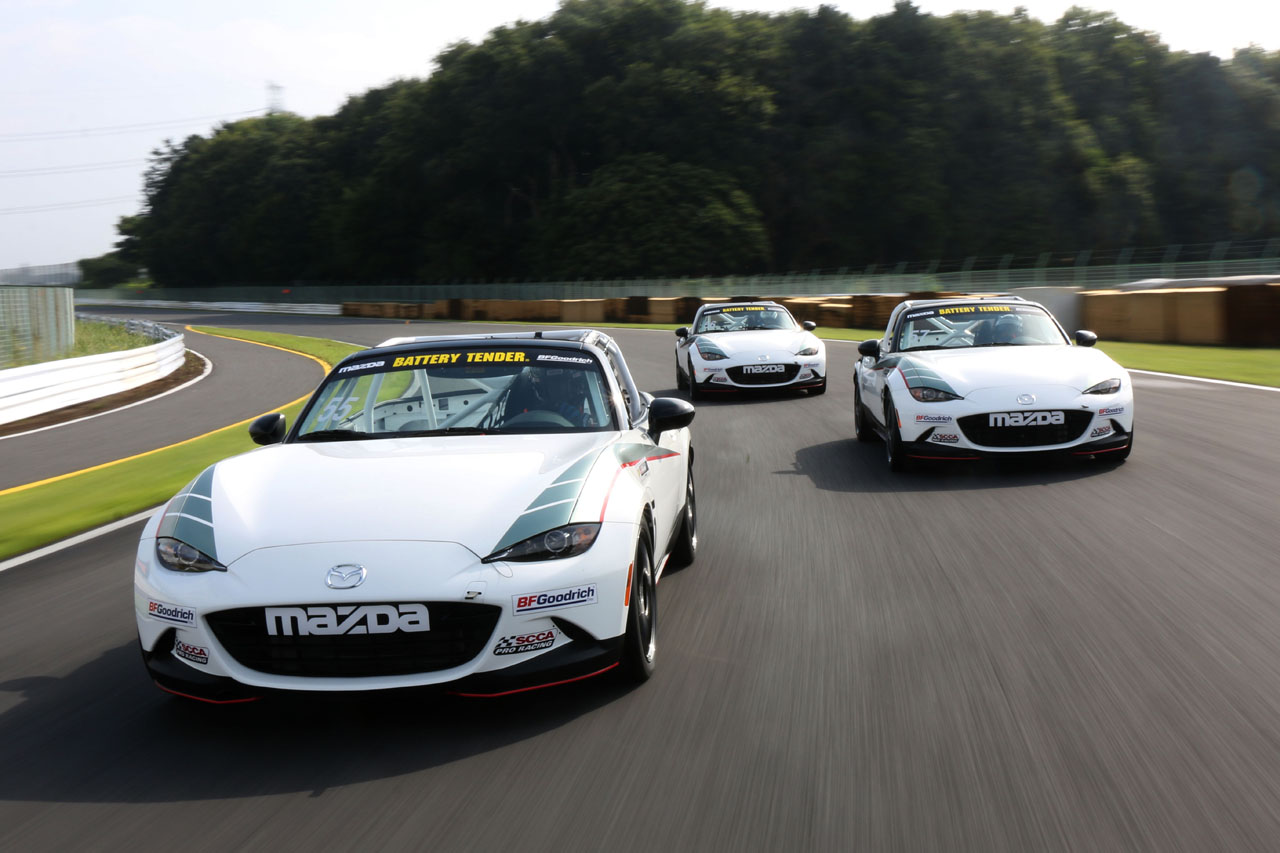 This event began with footage of various scenes of each of the four generations of Mazda MX-5 (Roadsters) competing in motorsports as Yasuhiro Aoyama, Global Sales Coordination in charge of Brand Enhancement, Global Marketing and Customer Service kicked off the ceremony with some opening words. Roadster ambassador, Yasuhiro Yamamoto explained the most attractive points of the roadster after which Tom Long from Long Road Racing, who played a pivotal role in the development of the Global MX-5 Cup Car came up on the stage. He related, "The light weight chassis of the Mazda MX-5 is highly regarded and truly makes the most of the car's light handling. It has been perfected to enable a truly enjoyable one make race experience." President of CUSCO Japan Co., Ltd, which will be in charge of sales and after service for the car in Japan, Nagase Tsutomu, gave details of the cars specs, sales price, the provision of spare parts, and so on. While he did so, all those who came out to express interest fervently took notes. The level of interest of those chosen out of the 30 people who expressed a strong desire in taking part in this test drive event was palpable. The majority of those who came out were people who had experience in the Super Taikyu and other one-make races such as the Roadster Party Race. Later, two young Japanese drivers, who will be competing in the Global MX-5 Cup Invitation Race to be held at California's Mazda Raceway Laguna Seca in September were introduced. One of these individuals was Yui Tsutsumi (20y/o), who garnered attention after he became the 2015 Roadster Party Race champion and secured a regular seat in the Super Taikyu series. The other was Women in Motorsports project member Enami Kitahara (22y/o). Tsusumi related his ambition, "Being chosen to represent Japan, I want to do my utmost to not be outdone by the drivers in the States, take victory and maybe even catch the eye of Mazda USA's factory team."
The real price of the Global MX-5 Cup Car is ¥7,884,000(including tax). It is mounted with a 2.0 liter SKYACTIV-G engine and is a left hand drive US spec machine with ECU, exclusive suspension, a Brembo brake system, race exhaust, roll cage, data collection system, BG Goodrich slick tires, differential oil cooler, fire extinguisher etc. as standard. These is also the option for a package that includes bucket seats, full harness belts and so on that would allow the purchaser to immediately begin competing in races. In order to keep down running costs and prevent unauthorized tuning, the engine, ECU, exhaust manifold, transmission, differential and so on have been sealed and if there is a failure or damage, the entire unit will be replaced. Teams can carry out damping adjustment of the suspension, strengthen/weaken the stabilizers, and alter the alignment only. This means that the races purely come down to driving skill, resulting in a completely equal chance for both veterans and young drivers. This is probably one of the most attractive points for those who compete. It will be interesting to see just how many Global MX-5 Cup Cars take part in the opening round to be held next year.
After the event ended, veteran driver Yasutaka Hinoi, who has experience in the Ferrari Race, the SUPER GT, amongst others, stated, "I heard that this series provides the opportunity to compete internationally so I wanted to come out for this test drive event. Even if you don't belong to a famous team and don't have huge amounts of capital, as long as you have the ability you can be competitive. That's a really attractive point. I would love to be able to be on the starting grid next year."
Details on the car and sales can be found at the Global MX-5 Cup Japan official website.
http://mx-5cup.jp
[Related video clips]
Global MX-5 Cup Japan opening video
Photo by MZRacing