Mad Mike Shakes Down MAZDA3 Pikes Peak Spec Car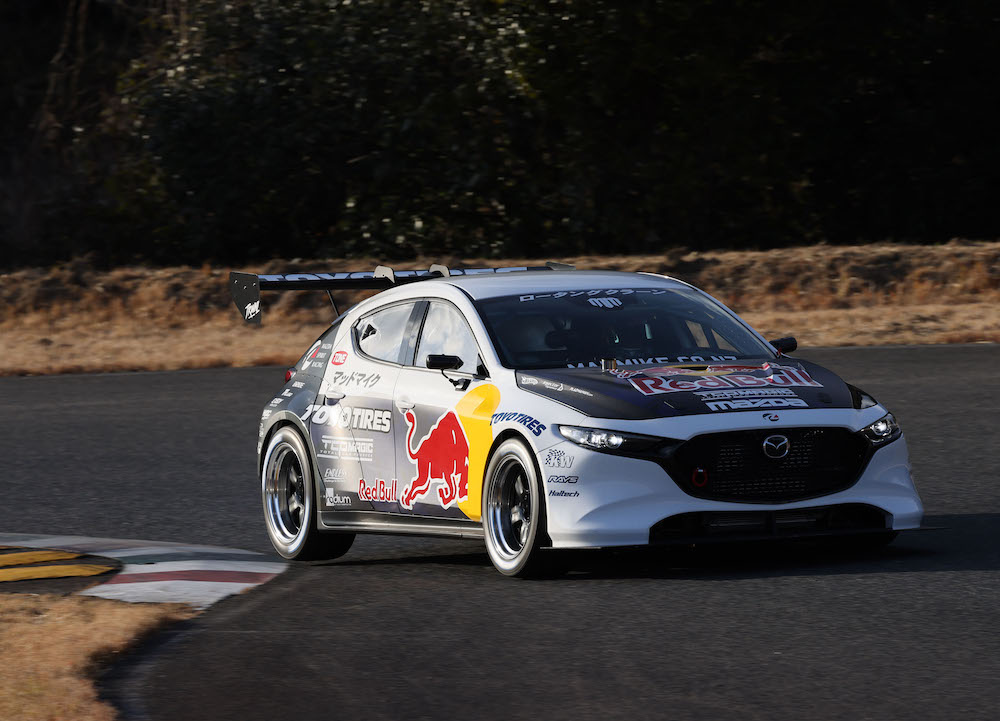 The car is a rear-wheel drive version of the FWD MAZDA3 hatchback, with a twin-turbo 4-cylinder rotary engine mounted longitudinally on the front hood. Taisuke Kawato, representative of TCP MAGIC (Nishinomiya City, Hyogo Prefecture), which was in charge of the vehicle's fabrication, had the following to say about the vehicle. This project started in 2021. Mike wanted to challenge Pikes Peak, a famous hill climb event in the U.S., so we started working on the white body around November 2021. After reinforcing various parts of the body and incorporating a roll cage, we assembled the exterior parts while installing the engine and drivetrain components. The year before last and the year after last, we were frustrated by the lack of delivery of large parts due to the Corona and Ukraine, but we were invited to the Mazda Fan Festa at Okayama International Circuit in November 2022, so from around the summer, we increased the pitch of our work and began to concentrate on building the car. I have built many 4-rotor engines and many drift machines. However, this was the first time we had converted a FWD car to a RWD competition car, so we had a difficult time because there was no precedent. As before, the 4-rotor engine is a single throttle type, controlled by a Haltech ECU. The 6MT gearbox is made by Hollinger of Australia. The differentials, which are transmitted to the drive wheels via propshafts, were selected from Winters of the United States. Suspension is the same as the standard car, with front double wishbones and rear torsion beams, and incorporates a suspension unit by KW. The finished car weighs about 1,250 kg."
On January 18, it was sunny and dry in the Suzuka area, but the shakedown took place in shivering cold weather, with temperatures around 10 degrees Celsius and an occasional cold wind blowing through. Mike, visiting the area for the first time, said, "As soon as I started riding, I could tell that the engine output was powerful enough. Alexander Tanaka, who is in charge of ECU setting, said, "First of all, to conquer Pikes Peak, we need to work on grip and traction, not tail-slide. We need to ensure grip and traction, not tail-slide, so we have made settings that emphasize mid- to low-speed torque. Therefore, we set the maximum output to around 800 PS. As we lapped the short track, known as the Grip C course, we found that the water temperature rose and the failsafe mode was triggered. the radiator and electric fan are located in the rear hatch, which houses the 60-liter fuel tank, but there is insufficient airflow through the rear side windows. We found that we needed to secure a bold air conduction route and devise a way to vent the hot air to the rear. After running several laps, the team repeated pit stops, made ride height and suspension adjustments, and even tried slick tires, which they planned to install on the Pikes toward the end of the day, successfully completing the day's test.
After the test, Mad Mike said, "This project is a massive one. Usually, projects like this use vehicles that are originally rear-wheel drive format, such as the RX-7, RX-8, or MX-5. Such vehicles are already well-balanced, so only a few modifications are needed to implement a rotary conversion or to make it into a race car. However, the MAZDA3 is a front-wheel drive hatchback with a transverse 4-cylinder engine. Therefore, it was difficult to convert it to rear-wheel drive. We also built this car according to the rules of Formula Drift in order to aim for the top of Pikes Peak and at the same time to show the world how fast drift cars can be. There is also a lot of technology behind the car's construction, such as suspension, tire compounds, wheel alignment, etc. It would have been easy to take an RX-7, put big power in it, and give it a new suspension. That might have been an easier option, to drive comfortably and fast to its peak. But we, like Mazda, chose to try the "never-ending challenge. That is our team motto. If we can build a car with such a high level of perfection and bring it to a circuit like today's, we can immediately see the smiles on the fans' faces, and that, in my opinion, is a great success.
The team plans to correct the issues that have been identified, conduct another domestic test in late February, and ship the car to Los Angeles in March. We will deploy further information as we receive it.
Mad Mike MAZDA3 Shakedown Video (YouTube 1:23″)
Text and Photos by MZRacing