Outstanding Motorsports Teams and Drivers Recognized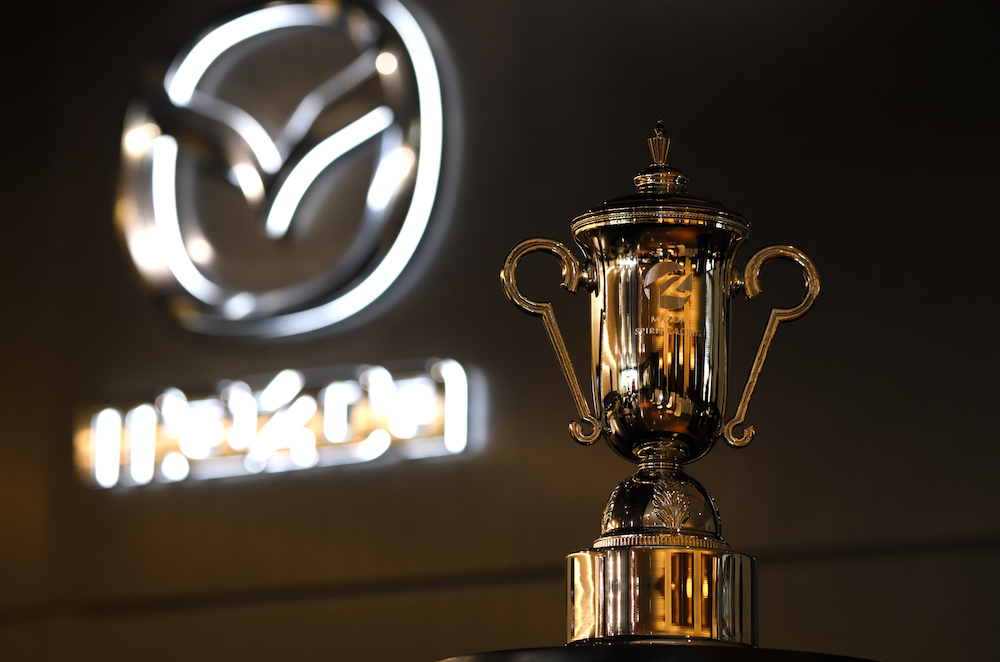 On the day of the event, teams and drivers from all over Japan competed in the JAF All Japan Championship Series including All Japan Gymkhana and All Japan Dirt Trial, Roadster Party Race III, Fuji Champion Race, Mazda Fun Circuit Trial (MFCT), Mazda Fun Endurance (Mazdat), e-sports competitions, etc. Teams, drivers, and their accompanying family members gathered at Mazda's headquarters in formal attire. Since the number of participants, including those from Mazda, was more than 100, they were divided into two groups, which alternated between the awards ceremony and a tour of the Mazda Museum.
At the beginning of the awards ceremony, Yasuhiro Aoyama, Director and Senior Managing Executive Officer of Mazda Motor Corporation, as a representative of the organizers, said, "The Club MAZDA SPIRIT RACING is a place where people can enjoy motor sports in a more familiar and casual way under the slogan of 'Challenge Together,' and where people can connect with and support others who are challenging their speed by using tools, regardless of genre. We also aim to connect with people who challenge and support speed using tools regardless of genre, and to enliven speed sports together. Grassroots Motorsports is at the center of these efforts. In this age when many people can enjoy motorsports, both real and virtual, Mazda believes that it is important to expand the scope of motorsports by enabling people to experience the true joy of driving a car. Based on this belief, we would like to honor all those who took on the challenges of various categories of motorsports with Mazda vehicles and achieved outstanding results last season, and would like to present the MAZDA SPIRIT RACING awards to them." He once again emphasized the significance of MAZDA SPIRIT RACING activities.
The award recipients in each category received their respective trophies and extra prize photo panels, and were photographed with proud expressions on their faces. A special tour of the Mazda Museum was also conducted for the award ceremony participants. The tour was conducted in the style of an in-house bus that took them from the showroom through the headquarters plant, and upon arrival at the museum lobby, they were greeted by dedicated staff members. On the bus, it was impressive to see the participants' eyes sparkling as they saw the sights of the Honsha Plant for the first time. At the motorsports corner in the middle of the museum, former ND Roadster Development Chief Nobuhiro Yamamoto, who will retire this month as a Roadster Ambassador of the Product Division, awaited the group and gave a surprise talk about his episodes of motorsports activities. This must have been a special time for the ND Roadster owners in the group.
Nori Tosaka, who received the "Great Party Racer of the Year" award, said, "This award is given to those who have participated in party racing for 10 years and more than 30 races. 24 people have received this award so far, 9 of them are still active. In my 30s, I was busy raising a family and working, so I drove a minivan and took a break from racing. When I turned 40, I bought an RX-8 and started party racing at the age of 45. The driving force behind my continued involvement is the fun I get from racing my roadster on the race circuit and competing with my friends. I am usually a regular office worker and play on the circuit on weekends, competing in 5-6 races a year. I'm also very careful about my daily food and don't miss muscle training. I live in Kanagawa, so I was not looking forward to the award ceremony in Hiroshima, where I could visit the museum at the same time".
Takayuki Kikuchi, representing the DXL Kurokodan Moties Demio team, who won the Matsudai championship, said, "I am glad that we have continued to participate in Matsudai, and after three years without an awards ceremony, I am very happy to be on this special stage at the Mazda headquarters. I am very happy to be here on this special stage at Mazda headquarters. I have worked hard in the Demio, and I hope that I was able to give people a little bit of hope that an ordinary car can be a champion as well. All of our members live in the Kanto area, so the hardest part is coordinating their schedules to participate in the six rounds of races held all over Japan. The secret of our victory was that each one of us did our part and demonstrated our strengths in our respective areas of expertise, such as fuel efficiency and time, and we could not have done it without any of our members. For those of us who drive Mazda vehicles, Mazda's headquarters in Hiroshima is a special place. I hope to be back on this stage again."
Senior Fellow Ikuo Maeda, Representative Director of MAZDA SPIRIT RACING, commented, "Seeing everyone's smiling faces, I was glad that the awards ceremony was held at Mazda's headquarters. Standing on the podium is not an easy task. I myself have been involved in motor sports for 40 years, so I understand the joy and difficulty of standing on the podium. For a long time, Mazda was unable to take the lead in motorsports. During that time, I would like to thank all of you who have owned Mazda vehicles and participated in motorsports for your support, which has brought us to where we are today. To return the favor, we started the MAZDA SPIRIT RACING team last year." Under the slogan of "taking on challenges together," we hope to create a new kind of motorsports. Let's work up a good sweat together. I would like to congratulate you all today," he said, closing the awards ceremony.
Text and Photos by MZRacing