2016/09/09
Mad Mike's HUMBUL RX-7 Grabs 9th at Formula Drift Okayama Round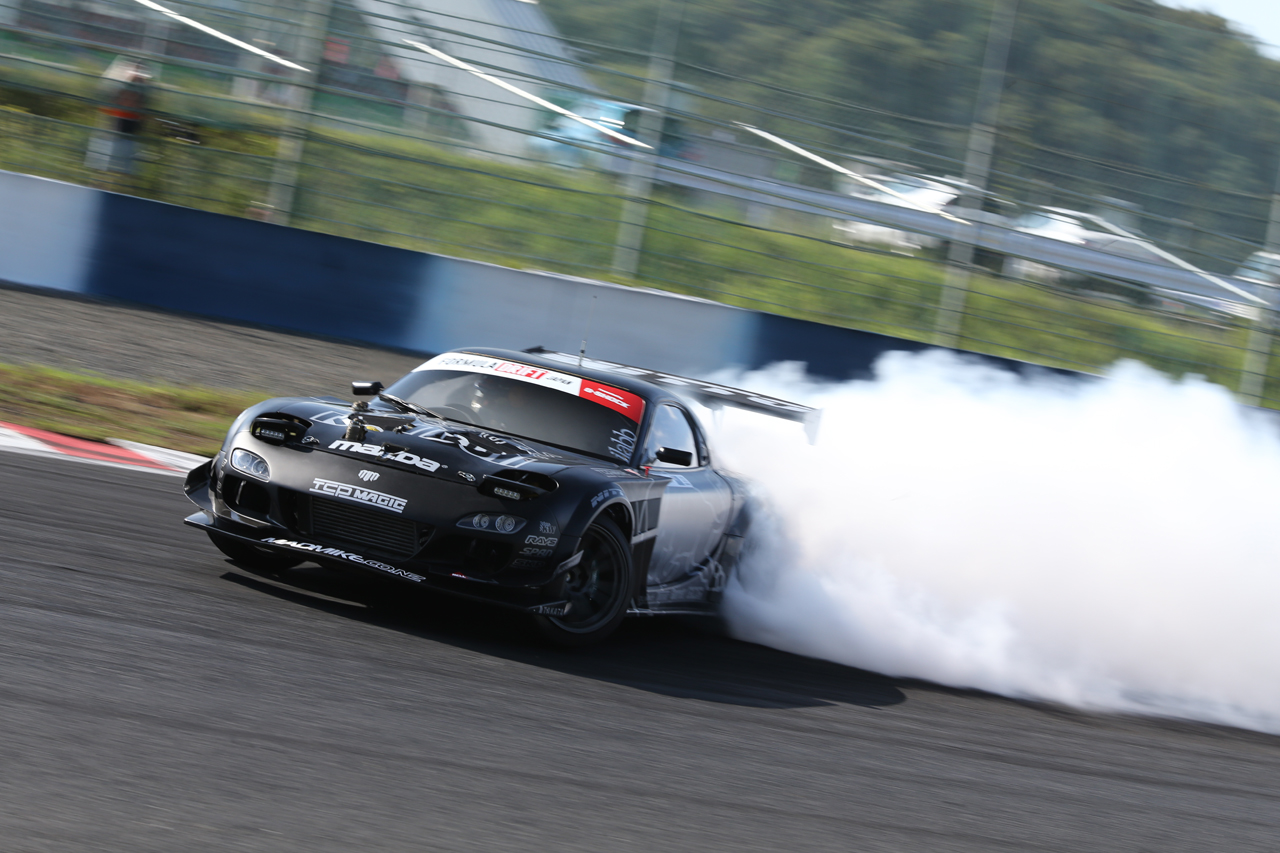 After finishing the first day's qualifying rounds in 3rd place, Mike headed into the second day for the Top 32 showdown. He took the lead run for his first battle up against Kazuhiro Kubo and pulled away from his rival while maintaining deep angled drifts. When it was his turn to chase the differences in speed between his and Kubo's machines made a task of getting in close but by the second half he had reeled him in and he took victory with a judgement of 3-0. With this he advanced into the Top 16 where, in his lead run against Ikuo Saito, he managed to pull well ahead in the first corner but unfortunately clipped the outside of the second and this interrupted his drift. However, he made up for this error in his chase run by being panel-to-panel with Saito and totally in unison with each switch in angle. Too close to call, the judges requested a "one more time" rematch. In his lead run for this rematch Mike pulled out some impressive angles and speed but when he took the chase he seemed to have trouble matching his opponent's pace and then, when going into the final corner, he dropped two tires off the course and this left him unable to advance into the Great 8.
That evening Mike reflected on the weekend. "Everything was really good. Behind the scenes we had a few electrical issues, which was haunting us a little. The car did lose electrical power and then while we were trying to chase that problem it was a little sketchy because the power steering pump and the water pumps are all electric. So we did have some steering issues right before qualifying and also overheating with the water pump. But the team at Magic managed to get the car going really good for qualifying, getting us to 3rd place in qualifying. Then today, in the top 32, everything felt really good. We had a solid chase in the top 32. The hard thing is slowing the car down, usually those first top 32 battles are the most nerve wracking because the cars are a little inconsistent and at a slower pace, so when chasing it's really hard to keep it smooth without pushing them off the track. We managed to breeze through the top 32 but then in the top 16 battle up against Saito, I made one mistake in my lead run and then had a really solid chase to make up for my mistakes so we went one more time. And then we had a massive advantage on my lead run but then on my chase run I just made a stupid mistake. I let the steering wheel come out of my hands. On the last corner I dropped two tires off on the inside so that was a big deduction and unfortunately that knocked us out. But we qualified high so we still finished 9th overall. Which is still not bad. We did win at Ebisu in the same car, but this is only my second time driving it and we're still developing and learning things with it, not only myself as a driver but Kawato from Magic and his team. So it was definitely a very productive weekend that we managed to learn a lot from and still manage to rack up enough points to still keep us in the hunt for the world championship. There are now two rounds to go, Texas and Irwindale, California."
Mike grabbed 37 points at Okayama and is currently sitting in 2nd place in the championship rankings. The next Formula Drift World Championship round for Mike will be in Texas over September 9th (Sat) to 10th (Sun).
[Related links]
>>>
Mad Mike Takes Victory at FD Ebisu in HUMBUL RX-7
>>>
Mad Mike's Mazda MX5 – RADBUL Does Battle in Scorching Hot Orlando Heat
>>>
The Might of Mad Mike's 4-Rotor ND MX-5
>>>
Mad Mike's HUMBUL RX-7 Grabs 9th at Formula Drift Okayama Round
[Related video clips]
>>>
Mad Mike Formula Drift Round 3 Orlando, FL 2016
Photo by N. Kaneko