2018/04/16
Fighting Fourth At Long Beach For Mazda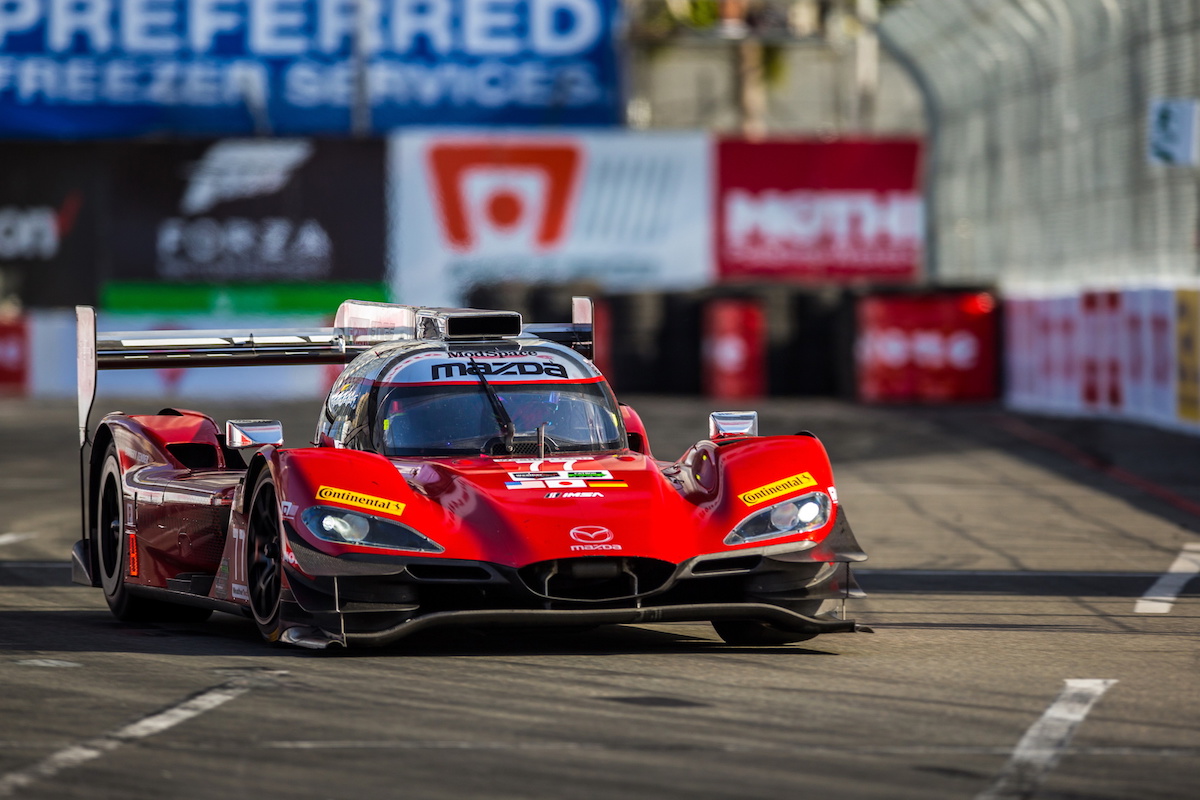 – Tristan Nunez and Oliver Jarvis bring No. 77 Castrol/ModSpace Mazda RT24-P to the checkered flag in fourth position –
LONG BEACH, Calif. (April 14, 2018) – Mazda Team Joest recorded its best result of the 2018 IMSA season on Saturday afternoon when Tristan Nunez and Oliver Jarvis finished in fourth place at the Bubba Burger SportsCar Grand Prix on the Streets of Long Beach.
Competing for the first time at Long Beach, Harry Tincknell enjoyed a clean start from third position in the No. 55 Mazda RT24-P. After an incident-free opening stint he turned the car over to teammate Jonathan Bomarito, and quick pit work put the car up to third position. Starting from seventh position, Tristan Nunez jumped one position during the opening stint in the No. 77 Castrol/ModSpace Mazda RT24-P before it was taken over by teammate Oliver Jarvis who was also competing for the first time at Long Beach.
In an effort to gain track position, the Mazda Team Joest engineers elected to have both Mazda RT24-Ps be among the first cars from the Prototype class to make their second pit stops. However, upon rejoining the track both Bomarito and Jarvis were held up by a group of GT class cars which negated their advantage of pitting early.
Jarvis moved the No. 77 Castrol/ModSpace Mazda RT24-P forward in the final part of the 100-minute race, making a pass for fourth position in the final minutes of the race. He finished in that position, while Bomarito took the checkered flag in seventh position.
The next round of the IMSA WeatherTech Sports Car Championship will be the Mid-Ohio Sports Car Showdown on May 4-6 at the Mid-Ohio Sports Car Course in Lexington, Ohio.
Mazda Team Joest fans can follow the team at @MazdaMotorsports on all social media platforms.
Quotes
John Doonan, Director, Mazda Motorsports
"We were excited to race here in Long Beach, so close to Mazda's headquarters and in front of so many employees, friends and family. And, Long Beach was another step forward for Mazda Team Joest. With such a short race and such a fast lap, we knew that any strategy decision we made we had to decide quickly and then live with it – there's no opportunity to second-guess yourself here. The conditions with the heat were very challenging for everyone in the field, and we had an opportunity to make a strategy decision with both cars in the second pit stop that, because of lapped traffic, didn't work out quite how we would have liked. But fourth represents our best result of the season and we'll build on this for the next round at Mid-Ohio."
No. 55 Mazda RT24-P
Jonathan Bomarito
"The first part of my stint went well. I just focused on getting temperature in the tires and getting into the rhythm of the race and things were going pretty smoothly. After our second stop we had a lot of GT traffic and a big group of them had a big fight into the hairpin which caused us to lose multiple seconds – and then we had a few Prototype cars come out of pit line just in front of us. If we didn't have that minor delay, we would have been further up but it's had to plan things when you are dealing with the GT traffic.  I think everyone only took fuel in their second stint to make it to the finish, so we were all on stint-and-a-half old tires and it was hard to fight at the end. But we brought the car home in once piece and we'll look ahead to the next race at Mid-Ohio."
Harry Tincknell
"I just got passed off the line at the start, but after that I ran smoothly in fourth. Long Beach is really difficult to overtake and the team did a fantastic job in the pit stop to get Bomarito up to third. But I'm happy with my first time at Long Beach – it's a fantastic circuit, one of my favorite street tracks, and has a great flowing nature to it. I think it shows what a great partnership we have with Multimatic that we spent two days on their simulator and then came here and put the car on the second row. Massive credit to the team and to Jonathan for helping me learn the track so quickly, we struggled a bit at the end, but build on this for the next race."
No. 77 Castrol/ModSpace Mazda RT24-P
Tristan Nunez
"We were struggling a little bit in traffic, which made it hard to make moves, but we stuck with the pack which was all we needed to do. That's the biggest thing with sports car racing – you have to give your teammate the car, so I can't really go out there and bang wheels and give him something that he can't race with. The engineers worked on the strategy to get us up there and jump ahead of some cars, which seemed to play out in our favor. So good job to the team and good job to Olly for a great stint at the end. A fourth-place finish is good, we'll take it!"
Oliver Jarvis
"Tristan did a fantastic job at the start and made up one position to sixth place. Unfortunately, we had a few issues at the pit stop which dropped us right back, but the team made a really good strategy call to pit early and top up with fuel so we could run to the end. I got a couple of clear laps and set some reasonable times and Jonathan came out right in front of me, but we immediately caught a group of GT traffic and then got stuck behind the rest of the Prototypes. We followed them for most of the race and then toward the end tire degradation started to play a role. At the end, the No. 7 was struggling massively with tire degradation and I saw an opportunity into turn 11 and dived down the outside. We did everything we could. Fourth is not what we wanted but we have to take the points and keep improving. I think we have a car good enough to win we've just got to put it all together."
Photos and Text by Mazda USA