Rough Day at COTA For the Mazda Prototypes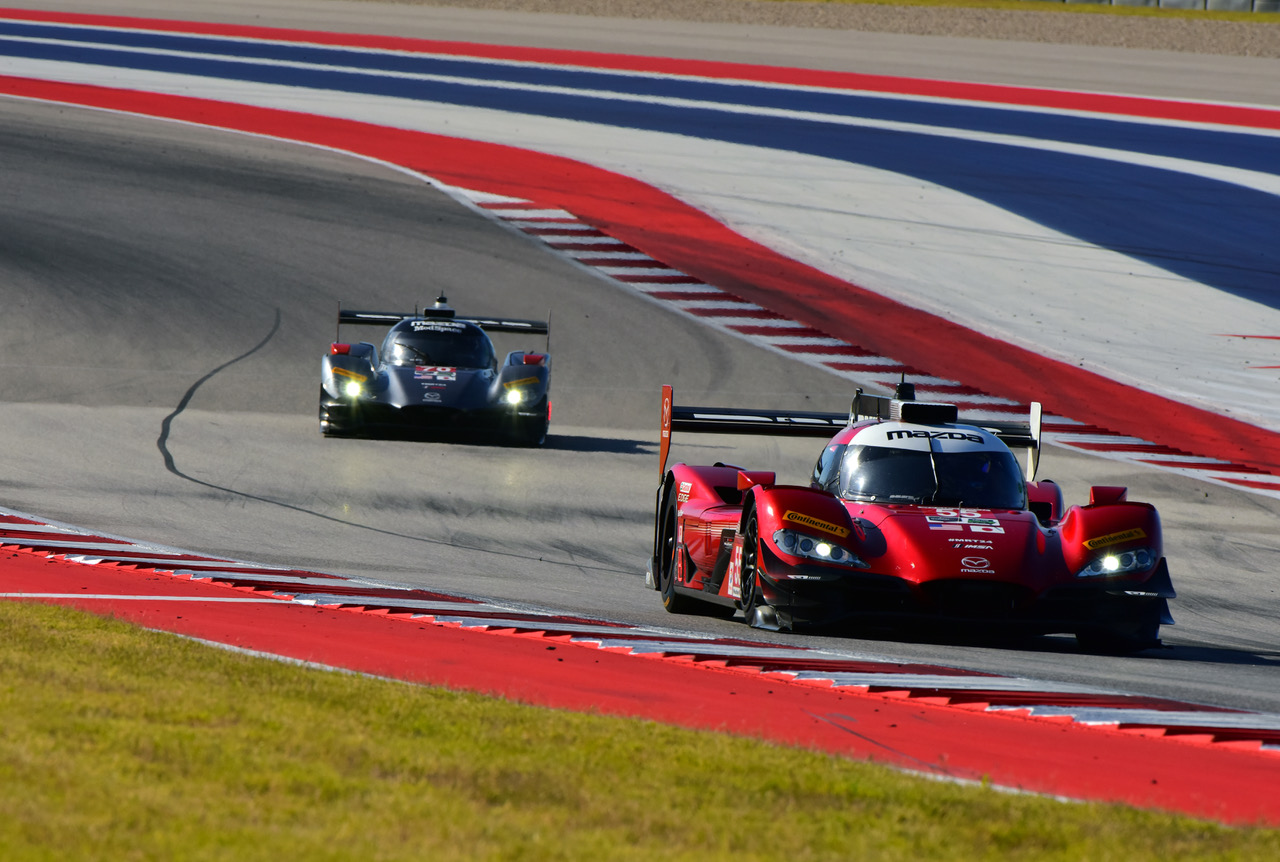 Round 4 of the IMSA WeatherTech Sports Car Championship was held on May 6th 2017 at Circuit of the Americas (COTA), Austin, Texas. Although race day was blessed with fine weather, it seemed as if a dark cloud was hanging over the Mazda prototype team. After suffering from various mechanical and electronic troubles they ended the 2 hour, 40 minute race in class 8th (#70) and 10th (#55).
The Mazda teams got off to a great start. In the #55 Jonathan Bomarito jumped up into 5th from his 8th place qualification, while Tom Long's #70 advanced from 10th to 6th. However, after approximately 20 minutes had passed since the start of the race, the #55 began to experience a misfiring issue that resulted in a loss of power and it returned to the pits. Although they attempted to repair the electrical issue they were unable to discover the underlying cause of the problem. As for the hard charging #70, it gradually began to develop a turbo boost issue. Both drivers handed their respective machines over to their teammate (#55 Tristan Nunez, #70 Joel Miller), however the soul red #55 was ultimately forced to retire. The machine grey #70 experienced some brake trouble but was able to pass the finish line.
Tom Long, starting driver, No. 70 Castrol Edge/ModSpace Mazda
You had a great start and went four-wide into Turn 1:  "We had a great start in the No. 70 Mazda today but I got forced wide. It was frustrating that I wasn't able to make the move at that point but we really pushed forward and made it up to fifth place in our stint. The guys worked hard today. We had some issues, but they kept their head down and focused forward to fix it and to finish the race."
Jonathan Bomarito, starting driver, No. 55 Mazda Prototype
You moved from eighth to fifth right away, and ran with the leaders in the opening segment of the race. "We had a great start, and I was taking it easy, just trying to save my rear tires and running right on pace with the Cadillacs. But then we developed a strange issue where the engine seemed to be running against the rev limiter, but the RPMs weren't that high. It was a false reading and it was causing us to lose power and not able to get to the revs we needed."
John Doonan, director, Mazda Motorsports in North America
"All of us at Mazda came into the Austin event believing that the momentum from our Long Beach podium finish would carry over. Unfortunately, our race did not turn out that way. Mazda is very focused on delivering results for our brand and we will re-group with our technical partners to do exactly that."
Text and Photos : Mazda USA