2018/03/17
Mazda Team Joest Prepared For 12 Hour Challenge Of Sebring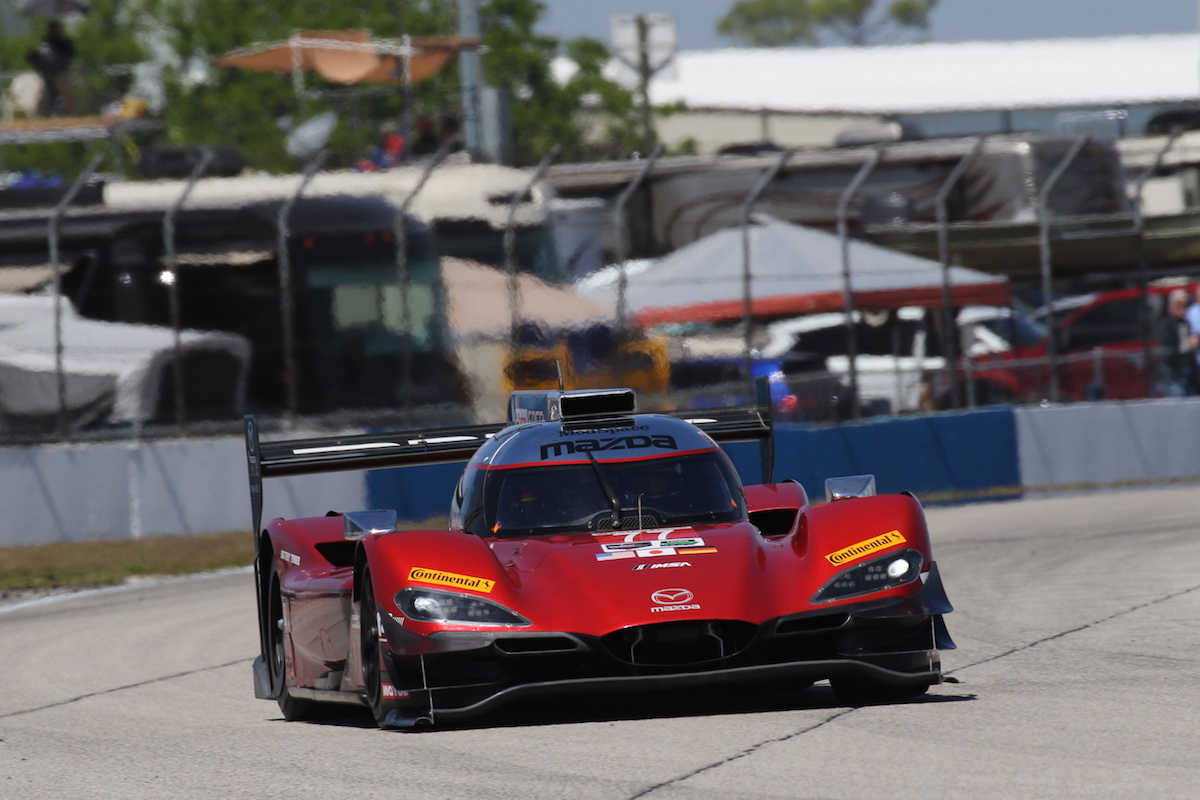 – Pair of Mazda RT24-Ps demonstrate rapid pace during practice and qualifying at Sebring –
SEBRING, Fla. (March 16, 2018) – The pair of Soul Red Mazda RT24-Ps qualified in seventh and ninth position during Friday's qualifying for the 66th Mobil 1 12 Hours of Sebring at Sebring International Raceway.
In Friday's warm temperatures Rene Rast qualified the no. 77 Castrol/ModSpace Mazda RT24-P with a time of 1:48.194 around Sebring's 3.74-mile circuit, just ahead of the sister Mazda Team Joest car. Rast, who led night practice on Thursday, will share the car with Tristan Nunez and Olly Jarvis. However, both cars will start at the back of the Prototype field following post-race technical inspection due to taping of the bodywork seams.
"Obviously, the warm conditions made things a bit more difficult for all of us," said Rast. "The car was very good for the first lap, but then the rear tires began to get a bit warm and it was very difficult to drive the car. But still I think we can be happy with the pace that we had. We improved a lot from Daytona to here and we are much closer to the competition. And, as we saw yesterday in the night practice, as soon as it gets a bit cooler we are working the tires better than the competition. Once we get to the night it should be very good for us. We hope for a clean race, just trying to keep the car safe and get to the finish."
Less than a tenth of a second behind Rast in qualifying was Jonathan Bomarito, driving the no. 55 Mazda RT24-P that he will share in the 12 Hours of Sebring with Harry Tincknell and Spencer Pigot.
"Certainly, the warmer temperatures presented a challenge for us today," said Bomarito. "But our Mazda RT24-P seems to be ready for the challenge. The team has been working non-stop since Daytona, and it definitely showed with our performance this weekend. Even with the high heat, however, I think our car is going to be really good over a stint and for the duration of the race, and we'll just try to stay out of trouble and keep the car under us so we can really push in the closing stages of the race."
While warm temperatures affected Friday's qualifying, they will continue to be a factor in Saturday's race.
"Despite being moved to the back, we've enjoyed a great weekend so far," said John Doonan, Director, Mazda Motorsports. "The goal of yesterday and today was to get ready for tomorrow, and I think that tomorrow is about consistency and being able to be fast over the duration of the race. And I think we have a package that can do that. Tire degradation will be an important factor for the guys to manage, but last night we proved that our car is good at night. Sebring plays tricks on your mind perhaps more than any other place because the race starts out cool in the morning, gets very warm in the middle of the day, and then the sun goes down and it is very cool again. Based on what we saw last night we'll be in the hunt."
Photos by MZRacing, Text : Mazda USA