Okada Demio 15MB Takes 3rd place at JRC round 3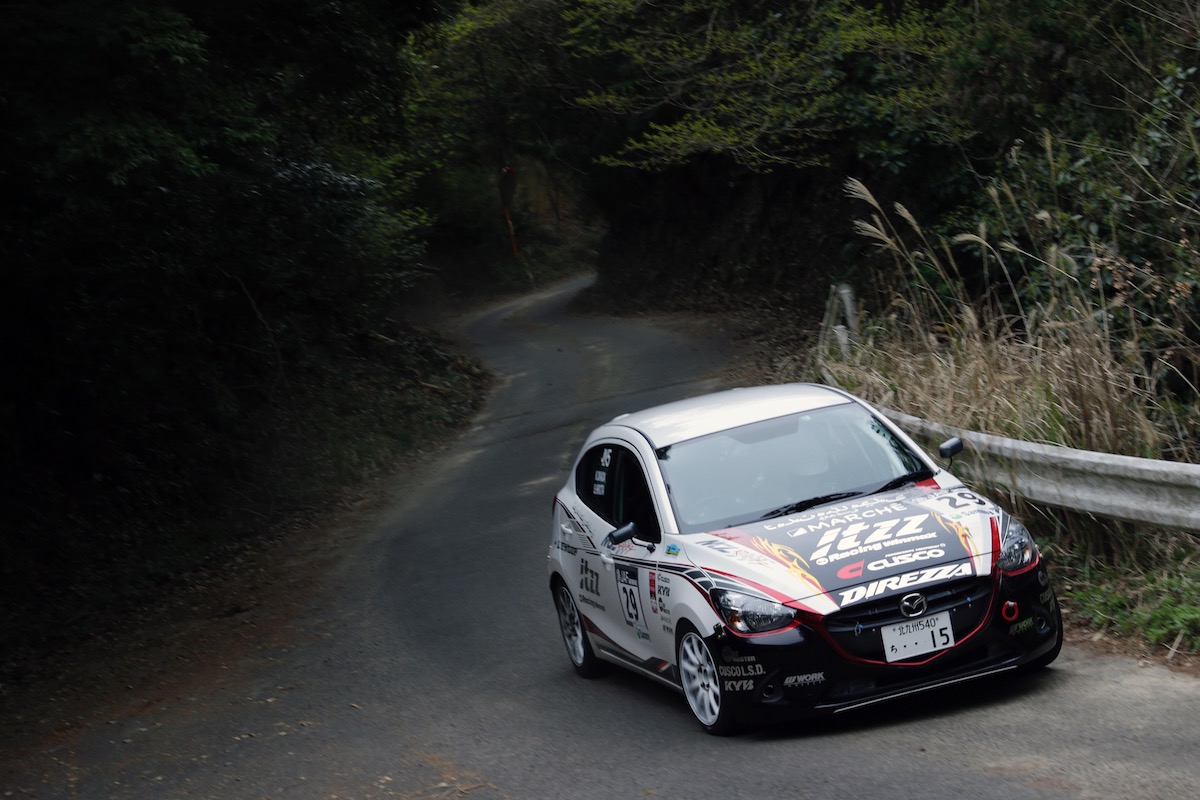 Round 3 of the All Japan Rally, the "Sammy Tour de Kyushu 2019 in Karatsu" was held over April 12 (Fri)-14 (Sun) within the forest road SSs (special stages) around Karatsu City, Saga Prefecture. Here the Koichi Okada / Sachiko Kuwata driven Demio 15MB won 3rd place in the JN5 class.
The rally was held based around the "Boat Race Karatsu" parking lot, located in the outskirts of Karatsu city and consisted of a total running distance of 355.82 km, including a total of 14 SS (total SS distance 74.91 km) and liaisons. Last year, due to heavy rain that hit the area, about half of the forest roads used in this rally were unable to be run, so two new forest road SSs were added. Each SS contains many asphalt sections which are harsh on the tires and many long corners requiring full lock, so this rally is characterized by a heavy load on the tires. Therefore, tire management acts as a key to this tournament.
Of the 40 All-Japan Championships cars that participated in this race, there were 3 Mazda Demios in the JN5 class and 1 Mazda RX-8 with AT specs in the JN6 class. Okada, who participated in the JN5 class with a Demio 15MB, mounted a long-awaited close-ratio transmission and took on the rally. After the now customary annual safety prayer and ceremonial start at Karatsu Shrine, the rally began. Okada made a good start to mark down a class 2nd fastest time in the opening SS1 (9.82km). After that, he again recorded the second fastest time, chasing leader Tomono Amano / Inoue Yukiko (Toyota). "I was finally able to run with a close-ratio transmission but Amano-san is fast and I wasn't able to catch up with him. However, with the new transmission, driving has become quite easy. Tomorrow, we need to figure out the best driving style to match the new transmission. Today, I kept tire degradation in mind and was careful not to wear them down too much. Tomorrow I will be riding on new tires, so I will release today's fustration," said Okada, heading out of leg 1 sitting in a good position of 2
nd
.
On Leg 2, Takeshi Ogawa / Megumi Fujita (Honda), who finished the first day in 3
rd
, strongly chased Okada after marking consecutive best times on SS9 (0.4km) and SS10 (5.00km). However, Okada recorded the second best time in the rally's longest stage, SS11. (9.86km) and successfully defended his 2
nd
place. However, Ogawa's team achieved a reversal at SS13 (5.00km) towards the end of the rally, where wet road surfaces were brought about by sudden rain, and Okada fell back to 3
rd
. Nevertheless, Okada ran through the final SS14 (9.86km) solidly without making a big mistake, and finished 3rd following on from the previous rally.
Okada stated, "On the second day, Ogawa was quick. There was also a moment where it became difficult to engage the gears, but since I just put in the new transmission, we were bound to have some troubles. I am still figuring out the best settings. I will do my best in the next rally." In addition, the Demio of Shuya Honna / Hiromi Minato who participated in JN5 class took class 4
th
and the Shunichi Washio / Takashi Suzuki Demio took 5th place in class. The Masato Nakanishi / Rinken Fukui RX-8, that participated in the JN6 class finished class 6th. Round 4 of the All Japan Rally Championship, the "Kumagen Kogen Rally," is a tarmac rally that will runs through high-altitude mountain roads. It is scheduled for May 3-5, and will be held in Ehime Prefecture, Kamiukena District, Kumakogen.