2016/05/01
Global MX-5 Cup Launches at Mazda USA's Home Course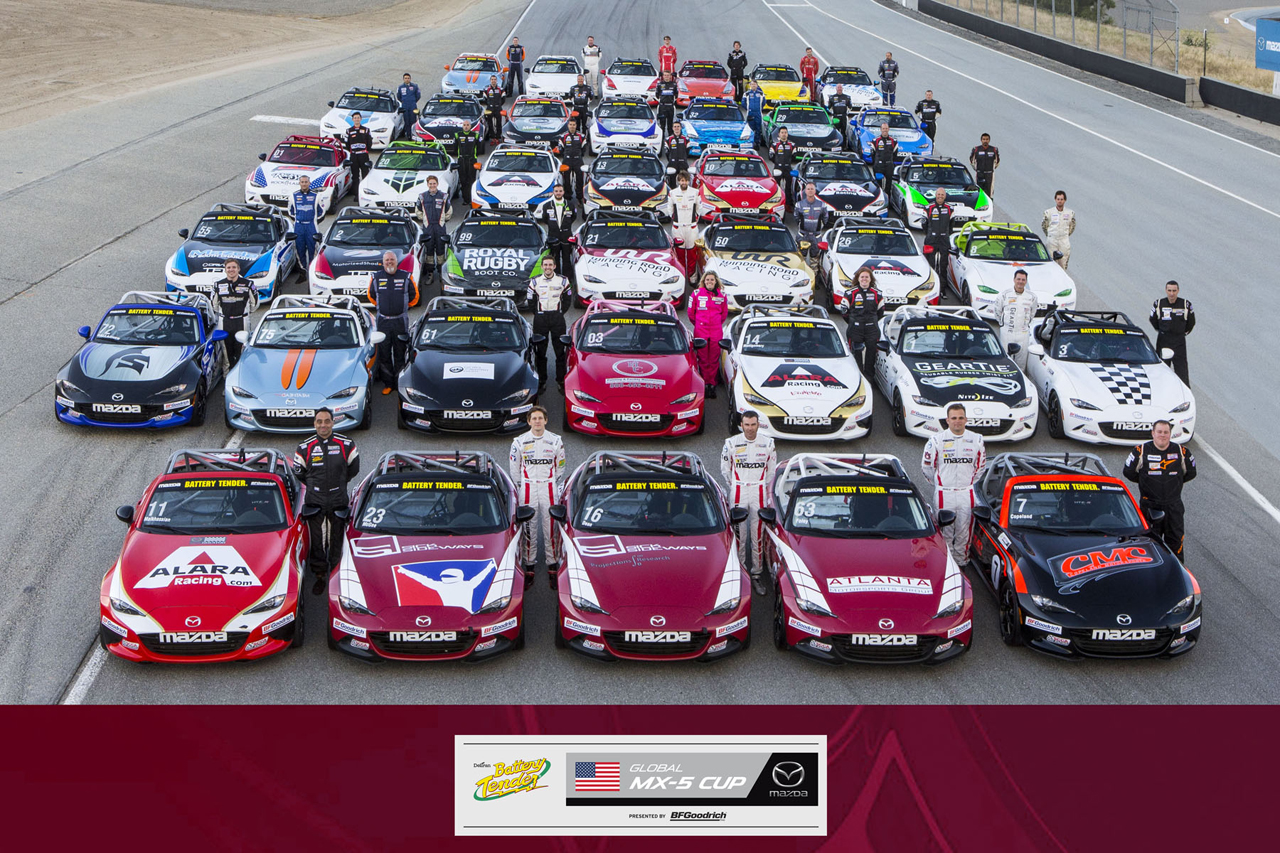 The Global MX-5 Cup Car, which outfits 2 liter, left-hand drive Mazda MX-5 (Roadster) base vehicles with race specific components, safety equipment, data logging systems, and so on, went on sale from Autumn of last year and by the end of April approximately 100 units had been purchased. 60 of these have already been delivered, mostly within the US, 40 of which took part in this opening round. Despite this being the debut race of the series, the paddock assigned to the MX-5 Cup Cars was bustling with activity. Amongst the elite names gathered there, 3 individuals decked out in soul red racing suits that matched the coloring of their cars were particularly conspicuous. One of these was 2015 MX-5 Cup (competed with NC MX-5s) champion, John Dean. Another was Skip Barber class title holder, Robby Foley. The third was racing simulator, iRacing's 2015 champion, Glenn McGee, who took victory in the MX-5 Cup Shootout (final selection meet). All three of these drivers are Mazda Road to 24 scholarship recipients who have received funding to enable them to race behind the wheel of 2016 Global MX-5 Cup Cars. Amongst these three, McGee is fairly inexperienced when it comes to real world racing and thus was one of the more unusual rookies to come out to Mazda Raceway Laguna Seca.
After performing a practice session on the 28th, all 40 MX-5s gathered together to take a commemorative photo. Standing in front of all the cars, Mazda USA Motorsports Director, John Doonan, stated, "I'm ecstatic to be able to launch the Global MX-5 Cup with this many new cars. We've been able to get here through the support of all our sponsors and partners. Welcome to the Global MX-5 Cup. Let's have a great time racing."
The milestone first race of the Global MX-5 Cup was held on the 29th. Pole sitter was #16 Dean, with #72 Patrick Gallagher just to his rear. The pack got off to a clean standing start and shot into the first corner while each machine fended off their competition. They then flew into the the second corner, the first tight turn of the circuit. Although the cars were bumper to bumper, the race managed to get through the opening chaos without issue. Joining the front two in the top group was #63 Foley, while a number of other racers chased from the rear and kept their eyes out for an opportunity to jump up the order. The race leaders couldn't let their guard down for a moment as those chasing would take advantage of the smallest error to push their nose in from the outside. For this reason, 1st place was exchanged several times during the 45-minute race, with #72 Gallagher ultimately grabbing an opportunity on the last lap to take the top spot before passing the chequered flag. This ended the first edge of your seat race of the series. The first winner of the Global MX-5 Cup was Gallagher, 2nd place went to Dean and 3rd place was taken by Foley, meaning that two of those standing on the podium were scholarship drivers.
Starting from a 9th place qualification, rookie scholarship driver, McGee got off to a slow start but managed to regain his lost lost position towards the end of the race. He finished this first race in 9th place. Beaming with a smile, McGee went on to say, "Having managed to become the simulator world champion, becoming a real racer was my dream. I'm so lucky that my dream has come true and I've been able to line up on the starting line in the real world. Thanks to Mazda my life is changing in an incredibly exciting way. I was going up against a lot of seasoned drivers in this, my first professional race, and it was quite a hard slog. I made a few mistakes but I managed to gain back some ground and finish in the top 10. I'm pretty satisfied with this result." MZRacing will be keeping our eyes on this young driver's future development.
[Related video clips]
>>>
Global MX-5 CUP First Race at Mazda Raceway Laguna Seca
Photo by MZRacing