Mazda Prototype Team Grabs Second Consecutive 3rd Place Podium Finish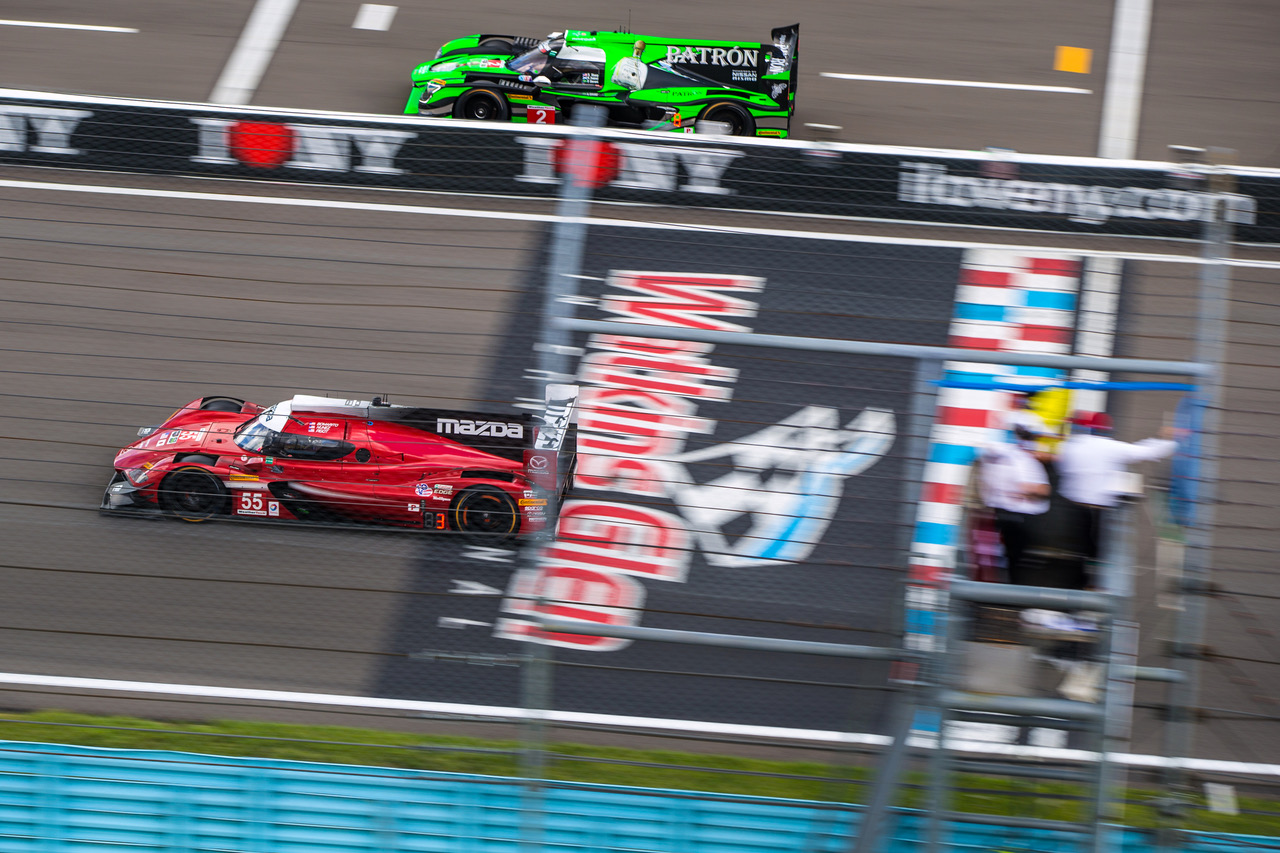 Round 6 of the IMSA WeatherTech SportsCar Championship, the "6 Hours of the Glen," was held at Watkins Glen International, New York, where the drivers and crew of the #55 "Mazda RT24-P" pulled out some impeccable performances to achieve an overall 3rd place finish. This was the Mazda USA team's second consecutive podium following on from the previous round at Belle Isle Park.
Tristan Nunez took charge for the qualifying attack and acted as starting driver before passing the wheel over to Jonathan Bomarito at the mid-point of the race. Throughout the race the drivers continued to tick off consistent laps and the crew carried out rapid pit stops to leap them up through the order from their 9th place starting position. Indy racer, Spencer Pigot carried out a triple stint in the middle of the race and pit timing saw him race for a time as the race leader. After that, the car was handed over to Bomarito, with just under an hour remaining, and he drove strongly to bring the car home in 3rd place. The three drivers ran for a total of 200 laps and 680 miles (1,088km).
Their sister car, the #70 Mazda Prototype (Joel Miller / Tom Long / Marino Franchitti) unfortunately met with some bad luck in the race. Despite being dealt a penalty for changing tires on the starting grid, after about one hour they were back in the prototype fight when they met with some technical issues with their turbocharger. The team did their best to repair the problem but ultimately ended the race in a retirement.
Jonathan Bomarito, driver, No. 55 Mazda Prototype
"I was in a good rhythm. Everybody was doing a great job, so the whole team was in a good rhythm. For me, the spotters were giving me good information when we had light sprinkles coming down. When you see that as a driver, it gets real sketchy and gets your attention. So the spotters Daniel (Trembley) and Andrew (Carbonell) did an amazing job for me. Zach (La Grone, chief strategist) and everyone on the [pit] box was giving me the information I needed. I just had to put my head down. The team kept giving me the gap back to the fourth-place [No. 52] car, which was really quick. I ran my fastest laps of the race right at the end by pushing really hard. My teammates did an awesome job. Tristan started us off and Spencer did a long one in there that allowed me to just do a double stint at the end. I can't thank everybody enough. It's good for Mazda with another podium. The most important thing is we improved the car which is a big help for the next race."
Tristan Nunez, driver, No. 55 Mazda Prototype
"I had the beginning of the race, the first couple of hours, so I was focusing on being smooth and not making any mistakes while passing the GT cars we were lapping. I was really focusing on bringing it back clean to Jonathan for the second segment. Those guys did an incredible job. Jonathan closing it out and Spencer's triple-stint was really fun to watch from my point of view. It's great to keep clicking-off podiums and it's onwards and upwards to CTMP."
Spencer Pigot, driver, No. 55 Mazda Prototype
"It was really fun out there. I thought we made a lot of improvements throughout the weekend and then showed it in the race. Obviously, we were running a lot higher than we had been (in practice and qualifying). And then we ran in the top-three pretty much the entire second half of the race. That's a nice feeling. The car was good and the guys did an awesome job on all of the pit stops. They were flawless and I'm happy to get Mazda back on the podium."
Photo by Mazda USA