2016/07/03
Mazda Prototypes Qualify 2nd and 3rd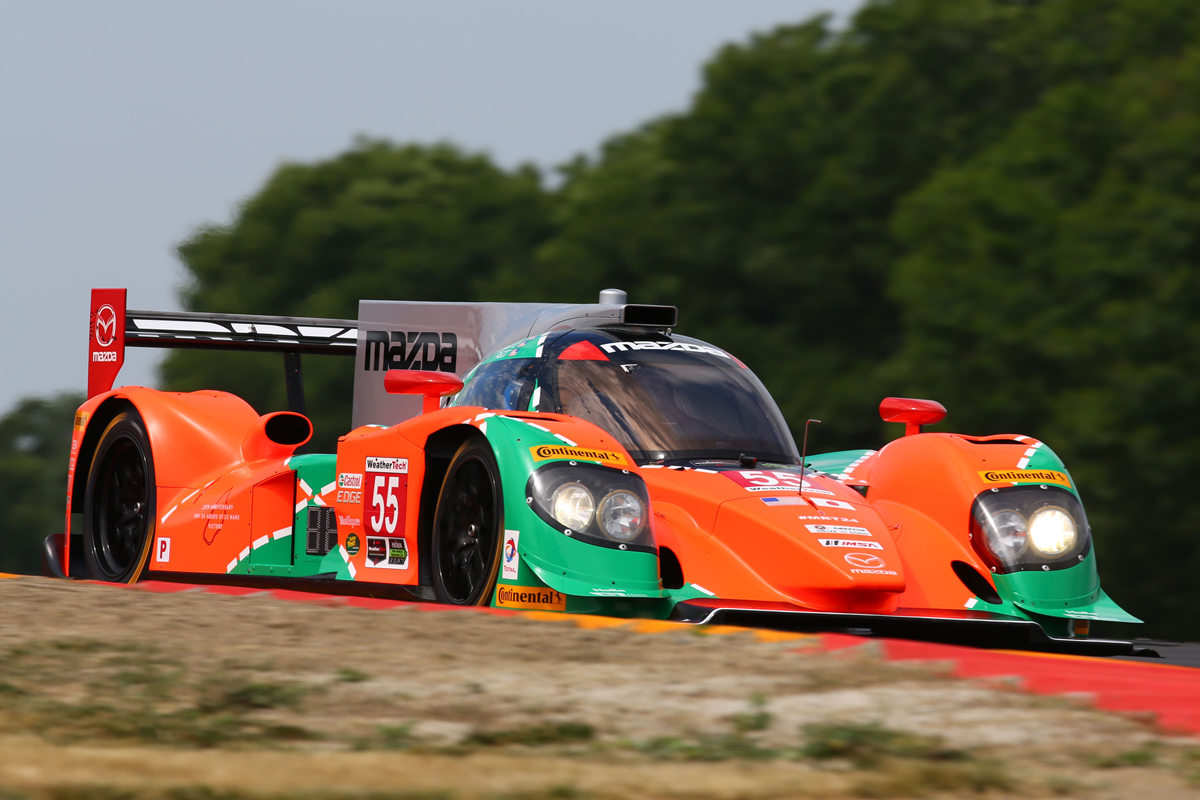 A total of 3 hours of practice runs were held from Thursday, with two 1-hour sessions on Thursday and one further session on Friday. The Mazda machines steadily ticked off laps in each session, with spot third drivers, Spencer Pigot and Ben Devlin taking the wheel for the majority of the first day in order to get them fully accustomed to their respective cars. Decked out in vivid orange and green, the #55 was displaying particularly solid performance. Despite it being Pigot's first time at this track, it wasn't long before he recorded a 2nd fastest time that surprised the whole crew. He went on to again mark the 2nd fastest time in the next session while, after that, Bomarito burst out and recorded the top time. However, right at the end of the session the top spot was relinquished to the Ligier Honda. In the 15-minute official qualifying session, the #55, with Nunez behind the wheel, secured 2nd place on the grid with only a 0.1 second difference with pole sitter, the #2 Ligier Honda. As for the #70, although it had been struggling to lift its pace during the practice sessions and had been sitting at 9th fastest, Tom Long pulled out a valiant effort in qualifying to secure 5th on the grid, only 1 second off the top time.
Tristan Nunez commented, "This qualifying really gave me a lot of confidence. The car performs amazingly, it is very competitive in qualifying and not just fast in the races but a real pleasure to drive. I'm ecstatic to be able to see the starting flag from the front row behind the wheel of our machine that is decked out in livery that commemorates the 25th anniversary of Mazda's victory at Le Mans. I really can't wait for the 6-hour race to begin. I want to send out a massive thank you to our team who have built up this awesome machine and everyone at Mazda USA for their continuous support." #70 warrior, Tom Long followed, "It was an excellent day for Mazda Motorsports. The car felt really great today and I'm sure it will be more than competitive tomorrow. I'm really looking forward to seeing what it is capable of."
The race is scheduled to start from 10:10am on July 3rd.
[Related links]
IMSA DAYTONA 24 Hours 2016
>>>
3 Days Until The Rolex 24 At DAYTONA
>>>
Mazda Prototypes Pass Through Torrential Qualifying Session
>>>
Two Mazda Prototypes Leave Fray Before the Sunrise
IMSA 12 Hours of Sebring 2016
>>>
Keiko Ihara to Compete in IMSA 12 Hours of Sebring in Mazda Prototype
>>>
High Hopes for Success With New "Mazda MZR-2.0T" Engine
>>>
DAY1 Practice Sessions Start
>>>
DAY2 Mazda Prototypes Qualify Their Highest Ever, 5th and 7th
>>>
DAY3 Both Mazda Prototypes Achieve Top 10 Finishes
IMSA Long Beach 2016
>>>
Mazda Prototypes Finish 4th and 5th at Long Beach
IMSA Montrey GRAND PRIX 2016
>>>
Mazda Prototypes Just Miss Out on Podium from Front Row Start
IMSA Belle Isle GRAND PRIX 2016
>>>
Mazda Prototype Grabs First IMSA WeatherTech SportsCar Championship Podium
IMSA SIX HOURS OF THE GLEN 2016
>>>
Mazda Prototype to Compete in 6 Hours of the Glen Sporting Special Livery
>>>
Mazda Prototypes Qualify 2nd and 3rd
>>>
Mazda Prototype Finishes in Top 5 at Watkins Glen
IMSA Sportscar Grand Prix CTMP 2016
>>>
Mazda Prototypes Qualify Pole & 3rd at IMSA Sportscar Grand Prix CTMP
>>>
Mazda Prototype Finishes 5th in Mobil 1 Sportscar Grand Prix at CTMSP
[Related video clips]
>>>
DAYTONA 24 HOURS 2016
>>>
Watkins Glen 6 Hours 2016
Photo by MZRacing