2020/07/06
Mazda RT24-P Welcomes Season Return with 1-2 Finish at Daytona 240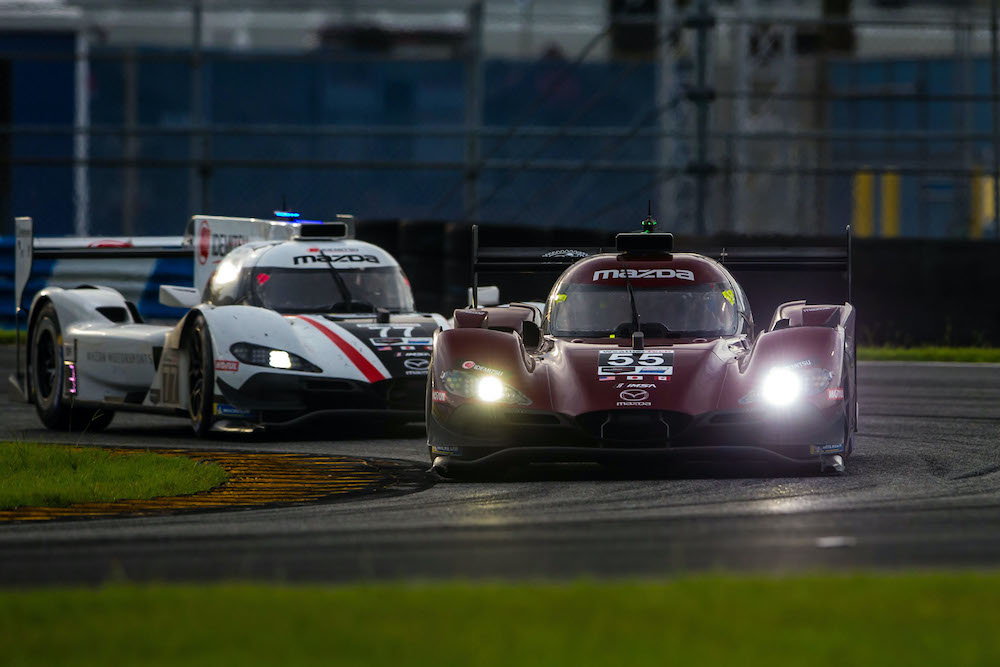 The IMSA WeatherTech SportsCar Championship season resumed at Florida's Daytona International Speedway on Saturday, July 4, Independence Day, for the first time in nearly five months. There the #55 Mazda RT24-P (Jonathan Bommarito/Harry Tincknell) leapt out of its third place grid to take the lead in the 2 hour and 40 minute sprint race, crossing the finish line in the top spot, with the #77 Mazda RT24-P (Oliver Jarvis/Tristan Nunes) following approximately 10 seconds behind to secure a 1-2 finish for Mazda USA Motorsports.

The IMSA series began its season in the last week of January with the 24 Hours of Daytona, but due to the effects of COVID-19, the next four races were subsequently cancelled and it was announced that the series would restart in the first weekend of July. Initially scheduled to be held with no spectators, the IMSA welcomed 5,000 spectators for race week, with race fans from across the country watching on television and online. A total of 26 cars, eight in the DPi class, six in the GTLM class, and 12 in the GTD class, participated in the race. Mazda USA Motorsports changed its team structure after the season opener and from now on, Multimatic will be in charge of both vehicle development and team operations.

The first practice session was held on Friday. Here, the Acura DPi recorded the overall top time, followed closely by the second fastest Cadillac DPi and the thirs fastest #55 Mazda RT24-P, raising expectations for a hard fought race. During this session the #77 Mazda RT24-P was unable to run due to a fuel system problem, which caused some anxiety within the team. However, in the practice session held the following Saturday, the resurgent #77 went on to mark down the top time, blowing away the uncertainty. Then in the 15-minute qualifying session held in the afternoon, Jarvis, in #77, secured the front row with a 2nd fastest qualifying time. Bommarito's #55 secured 3rd place on the starting grid.

The race was scheduled to start at 6 p.m., but just before the race was scheduled to start, the circuit was enveloped by a thunderstorm that brought a downpour and a 41-minute delay to the start of the race. This left the track surface wet and brought 90% humidity, making it tough conditions for racing. While some teams opted for slick tires at the start of the race, many of the DPi cars were equipped with rain tires. However, after the 26 cars shot out of the gate, the race line rapidly dried, and many teams decided to pit early and switch to slick tires. Due to this, despite the Cadillac DPi's forming the lead group in the early stages of the race, after 45 minutes had passed, the Acura DPi took the lead, followed by the #55 Mazda. The #77 was in hot pursuit in 3rd, and the race was over an hour away at 8pm. After the final pit sequence, the two Mazda's moved into the top two spots and kept the competition at bay until just after 9:20 p.m. where they passed the checkered flag.

Harry Tincknell, driver of the winning #55 car, said, "The build up to this event was obviously tricky with the quarantine period and all the regulations in place. We knew with only 15 crew including drivers, we didn't have enough for a pit-stop helper. We practiced it meticulously, and it worked absolutely fine. I had plenty of time to do my belts up after JB buckled me in. To be honest, it was like clockwork like most of the weekend. Literally a dream stop for everyone."

Nelson Cosgrove, Director of Motorsports, Mazda North American Operations, said, "After so many months not only away from the track, but for a large amount of time even restricted from being in the shop, our return to racing could not have gone better.  And when you overlay that with the operational change to now being a fully Multimatic run team, this serves as a great validation of the whole team.  The cars were flawlessly prepared and ran without any issues throughout the race.  The 77 guys missed the first practice due to a contaminated fuel issue but once that was discovered and rectified they were fantastic.  Jonathan was so strong in the first half and Harry matched him to bring the car home for the third win for the pair.  Ollie and Tristan were just as impressive especially in traffic and it was a great performance from everyone in the team. Watching this Mazda RT24-P with the smallest engine in the field – a 2.0L Turbo – powered past the bigger engine cars shows just how Mazda's ingenuity can overcome whatever challenges we face."

Text by MZRacing, Photos by Mazda USA