2020/01/26
Mazda RT24-P earns Daytona pole for second consecutive year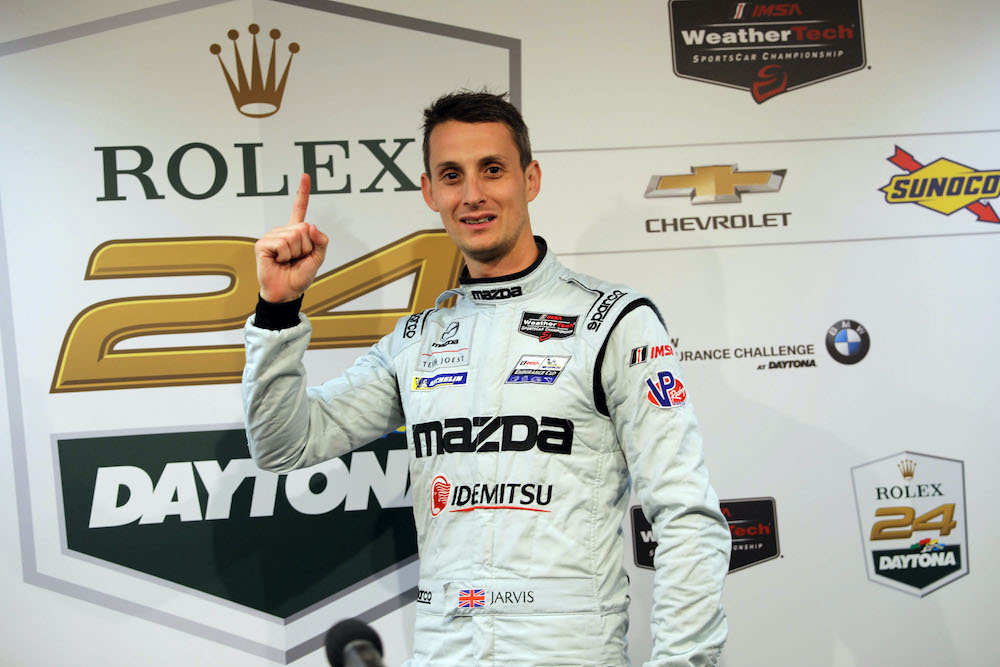 A total of 38 cars will compete in the legendary 24-hours of including the Mazda RT24-Ps and other eight Daytona Prototype International (DPi) cars, five FIA LMP2 vehicles, seven GT LM class cars, and 18 GT Daytona machines. The teams arrived on the race track on January 21, set up their pits and garages on the 22nd, and took part in the practice sessions and official qualifying on the 23rd. The northern part of Florida on the 21st and 22nd was quite cold with temperatures around 10°C or less due to a cold wave, but on the 23rd, when running started, it rose to to over 15°C, more typical of Florida. However, although occasionally blue sky was visible through the clouds, during the morning and afternoon practice sessions, a light shower wet the road several times.
After several endurance tests at Daytona and Sebring during the winter break, Mazda Team Joest entered the new year with a complete overhaul of the two machines. In the Daytona official test day, the "Roar Before the 24" held in early January, the #77 car Olivier Pla (France) recorded an unofficial top time that would have rewritten the course record set by by Jarvis the previous year. The #55 also recorded good times. As a result, the team was confident in the car as they started practice for the opening round, heading out with new brakes. Despite the difficult road conditions that mixed wet and dry surfaces, they recorded the overall second and third fastest times in the second session.
In the official qualifying session, each car entered the course at 17:05. Mazda Team Joest, who had recorded the top time on test day, was given pit 1, so the Mazda RT24-P entered the course from the end of the DPi class and LMP2 class. In the official qualifying, one driver runs for 15 minutes to record their best time. #77's Jarvis returned to the pits after 10 minutes, waiting to see if another car would best his fastest lap. However, no team was able to do better than Jarvis' time of 1'33.711 by the checkered flag, securing pole position for the #77. Jonathan Bomarito (USA) took charge of the time attack in the #55 and grabbed third in qualifying with a 1'34.169. Second place on the grid was grabbed by the #6 Acura DPi, with a 0.4 second difference with the #77, and a 0.04 difference with the #55.
Comment from Nelson Cosgrove, Director of Mazda USA Motorsports
"The qualifying results are a good start for everyone involved in Mazda Team Joest. We expected qualifying to be close, but our drivers managed to use clear traffic well and maximize the performance of the Michelin tires. Pole position and qualifying third place is fantastic but that is not all our ultimate goal. The goal is to maintain the lead in a clean race and finish in the top position. We'll be concentrating on that."
Oliver Jarvis, #77 Mazda RT24-P driver
"The atmosphere of the team this year is completely different. I'm very confident after we took three IMSA victories last year, and I'm more focused than ever on my goal of getting my first overall win at Daytona. In the off-season, the car felt great in the tests and we've made a lot of progress. Now that we have put together all the pieces all we have to do is make it happen in the race. Of course, I am very happy to be able to get pole position here twice in a row. But we're betting on getting the biggest prize."
Text and Photos by MZRacing from Daytona Beach, USA