2016/09/12
Tsutsumi Secures 5th Place in Global MX-5 Cup Invitational Race Qualifying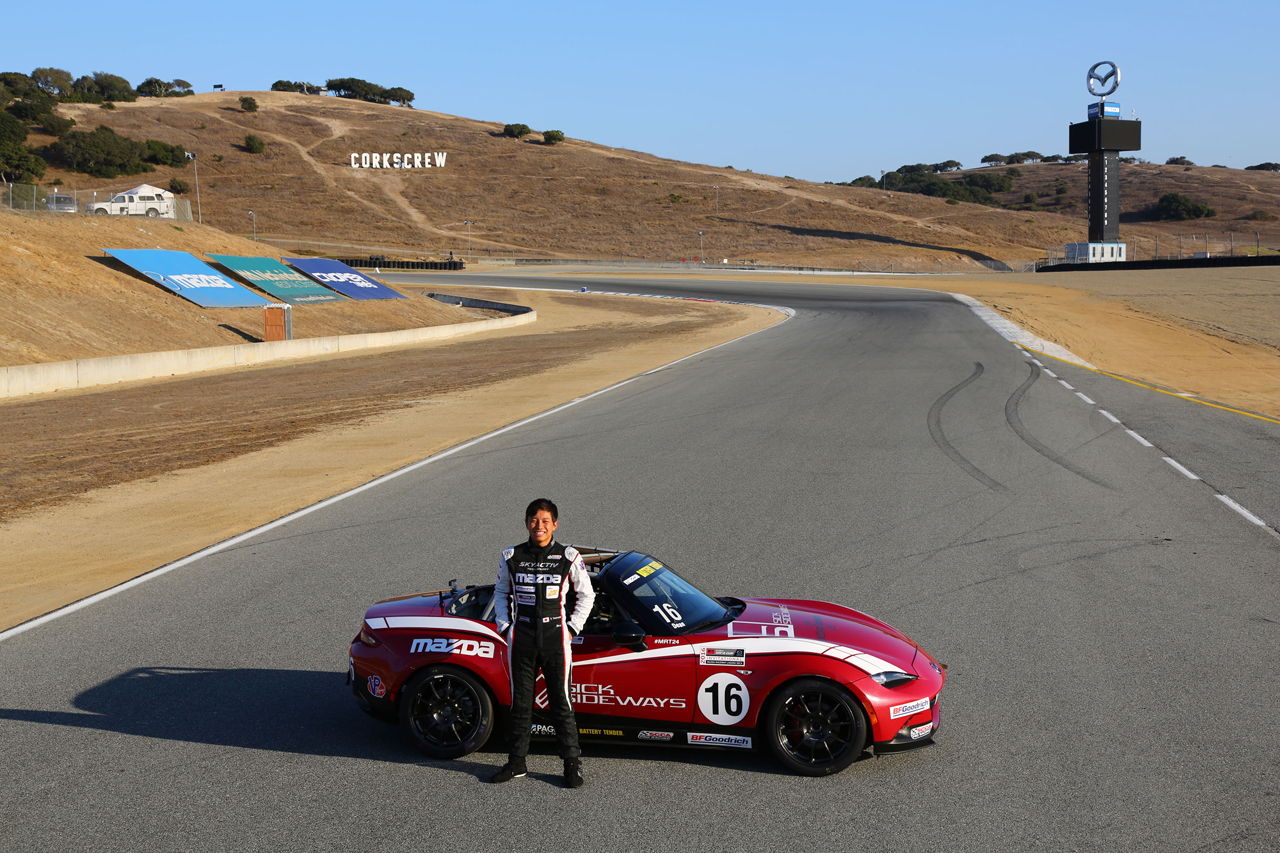 The 19 individuals competing in this invitational race were 10 of the best drivers from the Global MX-5 Cup USA series, 5 drivers from various locations in Europe chosen through a selection process carried out in Barcelona, 2 drivers from Australia and 2 from Japan. This weekend, races by open wheel and prototype cars from the so called "Mazda Road to Indy," that includes the USF2000, Renesis rotary engine mounted Pro Mazda, IMSA Prototype Lights, Indy Lights, and so on were held alongside the MX-5 Cup race and all of these machines are mounted with Mazda engines. The drivers that competed came from 19 different nations meaning that this was a truly global gathering of the Mazda family.
The two representatives from Japan, Yui Tsutsumi and Enami Kitahara came out to Mazda Raceway Laguna Seca on the 8th and, after carrying out seat adjustments on the cars, headed out for a track walk. The two drivers listened intently as Global MX-5 Cup Car development driver, Tom Long, explained each corner's record line, ideal throttle work, the idiosyncrasies of the road surface, and so on. What clearly impressed them most was arguably the track's most unique feature, the "corkscrew." Tsutsumi related, "It's way steeper than I imagined. It looks like it's pretty difficult but I practiced driving over it numerous times on the iRacing simulator so I think I know how to handle the machine there. I can't wait for tomorrow's practice."
On the morning of the 9th all the drivers from around the world gathered to take part in the drivers' meeting. Mazda USA Motorsports Director, John Doonan told them, "Today is a historical day. Today will be the beginning of this auspicious international race that only Mazda could carry out. Everyone here who has been selected from America, Europe, Asia and Australia are part of the Mazda family. You are all perfect ambassadors for demonstrating how reasonable, competitive and exciting the MX-5 Cup races are. Please go out there, have some clean battles and most of all enjoy yourselves."
Although the morning began with fog and the race was delayed for one hour, by the afternoon the track was met with perfect, clear California weather. Throughout the scheduled practice each team focused on getting their driver accustomed to the course and adjusting their suspension. Tsutsumi was driving the number 1 MX-5 and in the first session he recorded a commendable 11th fastest time out of the 19 competitors. However, Tsutsumi stated, "there's a clear difference between us and the faster drivers. Kato (Teruaki) san and I are going to review the videos and see what adjustments we can make." After also receiving advice from Long, he adjusted the car's settings and managed to record the 7th fastest time in the second session. At that point he looked confident and said, "the setup changes really paid off. My rival Glenn McGee also watched the video and gave me some pointers that I want to try out in qualification." Qualifying was held from 4:00pm and, although the red flag was raised with 10 minutes to go, Tsutsumi solidly marked down a 5th fastest time and secured the third row on the grid for race start. As members of the media gathered around him he related, "I've mostly gotten used to the course and made my attack with new tires so I was able to run with a clear image of how I wanted things to go. I'm not totally happy with 5th place but I will be aiming for at least a podium finish tomorrow and victory in race 2."
Kitahara went out for practice and focused on getting accustomed to the course. After completing 20 laps he headed out for qualifying but at about the 20-minute mark she crashed out of the course. As she was entering the corkscrew downhill a car in front spun out and she had to turn hard to avoid it, which saw her go off course and hit the concrete wall. This resulted in a great deal of damage to the car and sadly meant she would not be able to compete in the following day's race. However, she didn't receive any major injuries and after being taken to the hospital to ensure she was OK was able to return to her hotel that evening.
[Related links]
>>>
Tsutsumi Secures 5th Place in Global MX-5 Cup Exhibition Race Qualifying
>>>
Tsutsumi Grabs 8th in Global MX-5 Exhibition Race
>>>
Yui Tsutsumi Takes 3rd Place Podium in Global MX-5 Cup Exhibition Race 2
Photo by MZRacing