2019/09/20
Sixth For Mazda In Monterey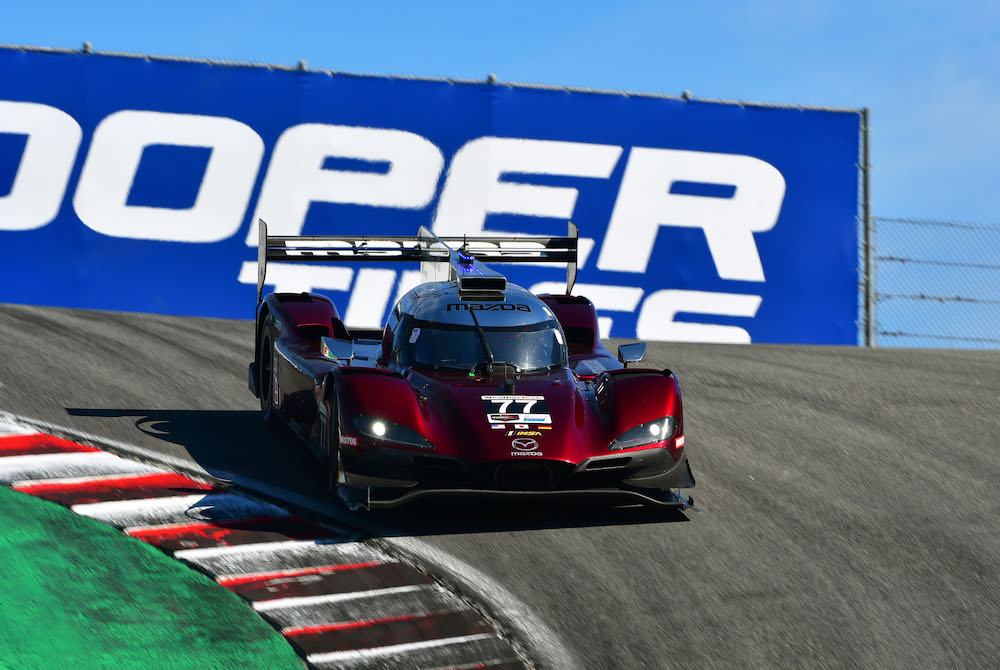 Tristan Nunez and Oliver Jarvis lead Mazda Team Joest effort at WeatherTech Raceway Laguna Seca
SALINAS, Calif. (September 15, 2019) – Mazda Team Joest finished in sixth position in Sunday afternoon's Monterey SportsCar Championship at WeatherTech Raceway Laguna Seca in Salinas, California.
In a race that went the full two hours and forty minutes without caution, Mazda Team Joest employed a fuel-saving strategy with an eye on being in a strong position with fuel and tires in the final stint of the race. Bomarito had a strong start, jumping to fourth position in the opening laps in the No. 55 Mazda RT24-P, while Tristan Nunez led seven laps as he was able to extend his fuel window.
In the final pit stop of the race, with Harry Tincknell at the wheel, the No. 55 had a component failure which forced it to retire from the race. Over the final stint, Oliver Jarvis, who had taken over the No. 77 Mazda RT24-P from Tristan Nunez, made up twelve seconds to the battle between third, fourth and fifth place before taking the checkered flag in sixth position. However, by leading those seven laps, Mazda Team Joest has led laps in every race in the 2019 season.
The final round of the WeatherTech SportsCar Championship will be the ten-hour Petit Le Mans on October 10-12 at Road Atlant in Atlanta, Georgia.
QUOTES John Doonan Director, Mazda Motorsports
"It was a bit of a tough day, for sure. I think we made the right call on strategy, and it's too bad the 55 didn't have the opportunity to see it all the way through because the car clearly had the pace and track position to make a run to the podium. The guys in the 77 nearly made it work, but for some lapped traffic that we couldn't avoid, we may be talking about a podium for them. We've enjoyed a great weekend with a lot of support from Mazda dealers, employees and owners and we'll aim to get them a better result at Petit Le Mans."
No. 55 Mazda RT24-P Jonathan Bomarito
"I always enjoy racing here at Laguna Seca, my home track and with so many friends and family here to support our team. It's unfortunate that we had the problem on the car, because we were working the whole race to put our Mazda RT24-P in a position to charge for the podium in the final stint of the race. We'll learn from today and be ready to go for the win again at Road Atlanta."
Harry Tincknell
"It's a shame we didn't see the checkered flag today. The pace of the Mazda RT24-P was good, the strategy was good, and looking now at how the end of the race played out we would have been in a really strong position at the end of the race. The team did an amazing job all weekend and we've enjoyed a lot of support this weekend, but we'll put this one behind us and look forward to a strong finish at Petit Le Mans."
No. 77 Mazda RT24-P Oliver Jarvis
"The competition in IMSA is so tight that one or two different breaks in traffic can mean the difference between being on the podium and not, and unfortunately I think that's what happened with us today. We may have been the fastest car on track in the final stint, which was possible thanks to Tristan's fuel saving during his stints and the engineers making those calls on our strategy. But we weren't able to take full advantage of that and we came up just short of fifth and not far behind third. But again, we know we have a strong race car and at Petit Le Mans we'll be competitive again and aiming for another victory."
Tristan Nunez
"We feel like we came up a little bit short today, which is a shame because we had a good car and a strategy that would have put us onto the podium. It would have been really tough to be first or second, but third place was definitely in the cards except for one or two instances of bad luck in traffic. We'll put it behind us and finish the season on a high note at Petit Le Mans."
Text and Photos by Mazda USA