2016/07/04
Mazda Prototype Finishes in Top 5 at Watkins Glen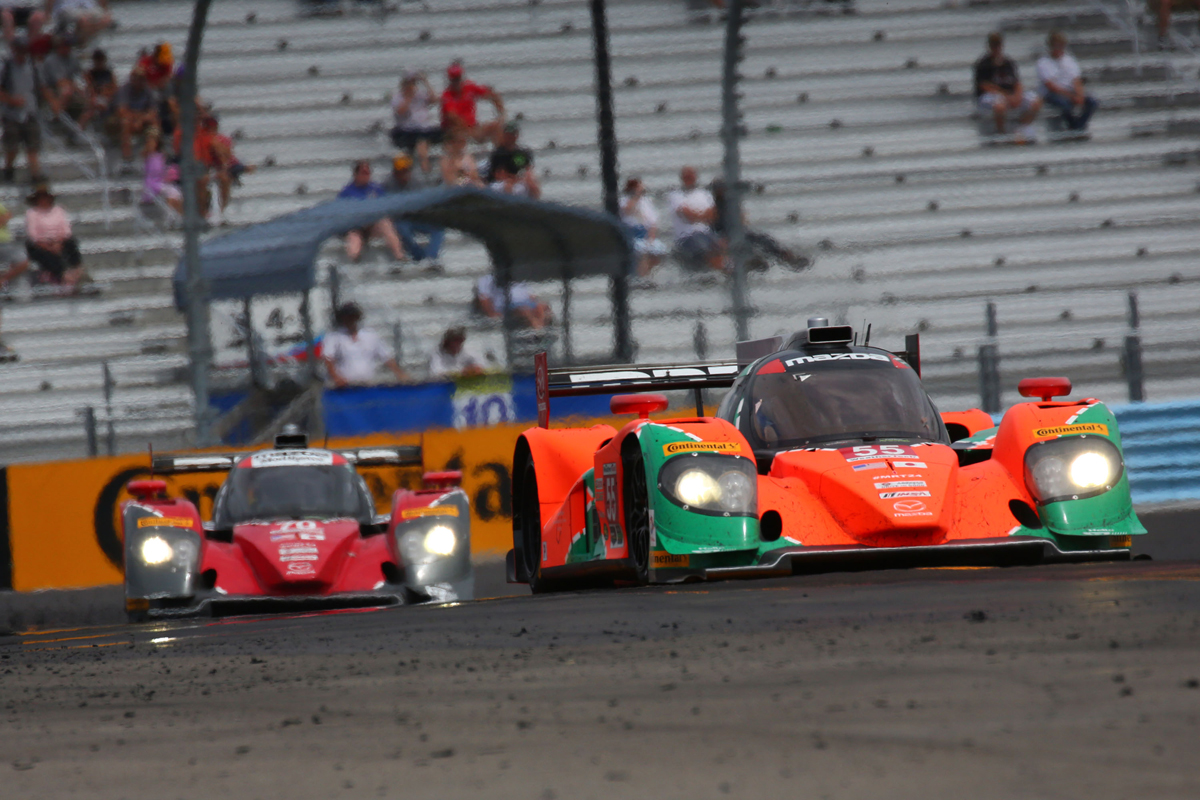 The #55 performed amazingly throughout the majority of the race. Starting driver, Tristan Nunez began from the front row and continued to make inroads at the top spot until he unfortunately spun out after a race restart following a yellow flag caution. Although he dropped far back down the order due to this spin, the machine was left unscathed and Nunez went on to pull out every single ounce of potential the car had. Managing to weave through his formidable competition one after the other, he managed to lift them back up to 2nd place in an extraordinarily short space of time. He then engaged in a battle for the lead with the #2 Corvette DP. Nunez drove 3 sweltering stints under an air temperature over 25°C, before pitting in to had the wheel over to Spencer Pigot. Pigot then went on to jump into the lead and build up a margin of 7.5 seconds. Having only first driven on this course two days ago, this was a phenomenal showing from the IndyCar rookie. Although he briefly relinquished his spot to the DP, he fervently defended his position until handing the machine over to Jonathan Bomarito. However, at this point the engine had begun to misfire at low speeds and after changing to Bomarito this issue became even more pronounced. Although it was initially only a problem experienced at slow speed corners, it gradually became an issue throughout the entire range of acceleration and with only 30 minutes remaining in the race Bomarito was forced to stop by the track side green. As a result, despite having led the race 3 times for a total of 15 laps, the #55 ultimately completed the race in 8th.
On the other hand, the #70 displayed a strong performance with Tom Long serving as starting driver and it rapidly jumped into 4th place. Although they were hit with a drive-through penalty due to some refueling trouble when changing drivers to Ben Devlin, they managed to defend their position. Following on from there, an unscheduled left-rear tire change saw them fall back one place to 5th where they finished the race.
#55 Tristan Nunez
"It was complete chaos from the get-go. Everyone saw we had the car with the pace to win it. The engineers and the crew put together a fantastic car. I had contact with the 10 car, but it was a racing incident. Just racing hard. I got turned around and there was rage inside me and I was able to push harder than ever. I was happy to race through the field and hand it to Spencer in the lead. Everyone did their job – just misfortune at the end. We're going to another fast track next weekend, which should be great for us. Very high speed. It's going to be awesome and we can't wait."
#55 Spencer Pigot
"I was able to learn the track pretty quickly due to the team and my teammates. They did a great job setting up the car and it made my job that much easier. The race was a lot of fun because there's always something going on. In this type of racing, you're always racing or passing someone, battling all the time. Throughout my stint, I had a little bit of everything so I went from leading by quite a ways and then at another point having to battle my way back through the pack. I really just enjoyed the drive."
The next round will be held over July 9th to 10th at Canadian Tire Motorsport Park.
[Related links]
IMSA DAYTONA 24 Hours 2016
>>>
3 Days Until The Rolex 24 At DAYTONA
>>>
Mazda Prototypes Pass Through Torrential Qualifying Session
>>>
Two Mazda Prototypes Leave Fray Before the Sunrise
IMSA 12 Hours of Sebring 2016
>>>
Keiko Ihara to Compete in IMSA 12 Hours of Sebring in Mazda Prototype
>>>
High Hopes for Success With New "Mazda MZR-2.0T" Engine
>>>
DAY1 Practice Sessions Start
>>>
DAY2 Mazda Prototypes Qualify Their Highest Ever, 5th and 7th
>>>
DAY3 Both Mazda Prototypes Achieve Top 10 Finishes
IMSA Long Beach 2016
>>>
Mazda Prototypes Finish 4th and 5th at Long Beach
IMSA Montrey GRAND PRIX 2016
>>>
Mazda Prototypes Just Miss Out on Podium from Front Row Start
IMSA Belle Isle GRAND PRIX 2016
>>>
Mazda Prototype Grabs First IMSA WeatherTech SportsCar Championship Podium
IMSA SIX HOURS OF THE GLEN 2016
>>>
Mazda Prototype to Compete in 6 Hours of the Glen Sporting Special Livery
>>>
Mazda Prototypes Qualify 2nd and 3rd
>>>
Mazda Prototype Finishes in Top 5 at Watkins Glen
IMSA Sportscar Grand Prix CTMP 2016
>>>
Mazda Prototypes Qualify Pole & 3rd at IMSA Sportscar Grand Prix CTMP
>>>
Mazda Prototype Finishes 5th in Mobil 1 Sportscar Grand Prix at CTMSP
[Related video clips]
>>>
DAYTONA 24 HOURS 2016
>>>
Watkins Glen 6 Hours 2016
photo by MZRacing