2016/03/16
High Hopes for Success With New "Mazda MZR-2.0T" Engine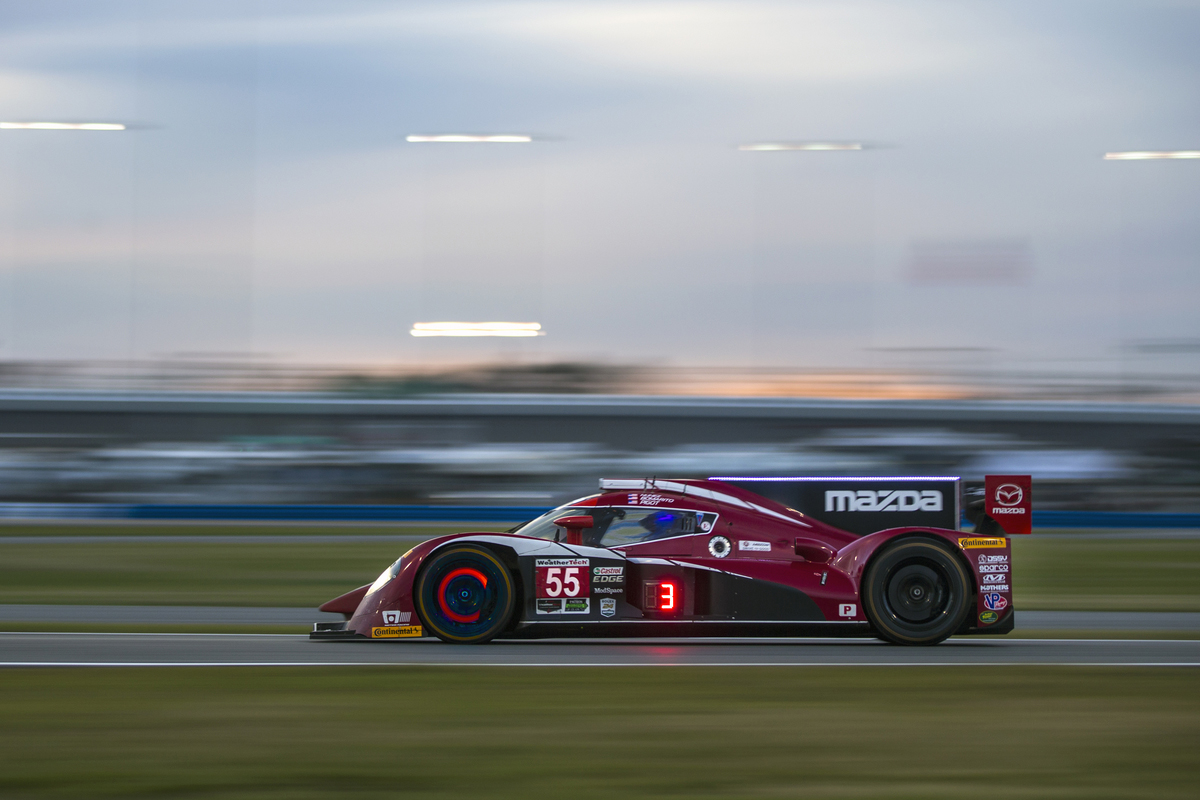 Striving for a 14th class victory
Beginning from 1980, when a rotary engine equipped Mazda RX-7 took victory in the GTU category, Mazda has taken a total of 13 class victories here in the 12 Hours of Sebring. The most recent victory was taken by the Lola/Mazda Prototype in the P1/ALMS2 category. This year the Mazda Motorsports Team is aiming to add an overall prototype victory to this long and distinguished history of glory.
Keiko Ihara to join Mazda prototype team, Pigot and Devlin also return
As we mentioned in previous posts, Keiko Ihara is set to join the driver line up for the #70 Mazda Prototype. Ihara has extensive race experience in a wide variety of machines, from prototypes, to sports cars and open wheel racers. She is the first female driver to rise to the podium of the World Endurance Championship (WEC) and has also competed numerous times in the 24 Hours of Le Mans. She is well known as the leader of Japan's "Mazda Women in Motorsports" project and a key member of the FIA Woman in Motorsports Commission. Ihara test drove the new prototypes at Palm Beach Raceway at the end of last year and carried out virtual tests of the digital versions of the cars using simulators at Multimatic Motorsports, located near Toronto. Spencer Pigot will follow up his IndyCar race debut at St Petersburg with his second time behind the wheel of the #55 car. Veteran Mazda race, Ben Devlin will be joining Ihara in the #70.
*Mazda Prototype Driver Lineup for 12 Hours of Sebring*
No. 55 Mazda: Tristan Nunez, Jonathan Bomarito, Spencer Pigot
No. 70 Mazda: Tom Long, Joel Miller, Ben Devlin, Keiko Ihara
Comment from #70 driver, Joel Miller
"We were disappointed at Daytona [after dropping out of the race], but we left there with a smile because we immediately began looking forward to Sebring. It's a track that seems to suit our cars because it rewards high downforce, and I think we can show a lot of strength. We know the car is competitive, so we're itching to show we can do it. We've done a lot of testing there, we have a proven car and we know how to get the most out of it.
"The strategy of these endurance races is like a long sprint race. You have to push to stay up front, and you want to be at the front before the sun goes down. I think it will be a fast pace and everyone will be 'on it.' For me, personally, I can't wait to get racing. I love Sebring, and it's where I had a Pro Mazda victory back in 2008."
Comment from #70 driver, Keiko Ihara
"I'm very happy to join the Mazda Prototype team," said Ihara. "I've been away from racing for a year to build-up the Mazda Women in Motorsport Project in Japan and I come back to an exciting race. I finished the 2014 WEC race season on the podium back-to-back, so I'd like to finish the race and stand on the podium this time. I got familiar with the car in the test session in December and the engine feeling was very good."
"Mazda Road to 24" also featured at Sebring
The "Mazda Road to 24," driver development program for supporting racers who seek to step up through sports car racing, will be backing up the event in support races to be held on the 17th (Thur) and 18th (Fri). Four Mazda MX-5s from Freedom Autosport and ALARA Racing will enter the ST class of the Continental Tire Sports Car Challenge. The Mazda Prototype Lights 2016 season opener will be held over two races in which two machines mounting 2-liter Mazda MZR engines in Elan DP02 chassis will compete. The most recent Lights champions Kenton Koch and Mikhail Goikhberg stood on the podium for the PC class in January's 24 at Daytona.
Mazda STEM to visit Tampa March 21st.
One of Mazda USA's social contributions, the STEM (Science, Technology, Engineering and Math) program, R.A.C.E. (Racing Accelerates Creative Education), seeks to contribute to the education of young people through the excitement of car racing and its next destination is Florida's Tampa Middleton High School. This program aims to utilize high school students' interest in prototype racing to introduce the numerous career opportunities in STEM fields and increase their motivation to continue study. Up until now the program has touched the lives of over 20,000 young adults. Joel Miller, who is also a race engineer, takes the lead in making these presentations. Students who participate in these special classes are given the opportunity to see the Mazda prototype race car up close and personal.
[Related links]
IMSA DAYTONA 24 Hours 2016
>>>
3 Days Until The Rolex 24 At DAYTONA
>>>
Mazda Prototypes Pass Through Torrential Qualifying Session
>>>
Two Mazda Prototypes Leave Fray Before the Sunrise
IMSA 12 Hours of Sebring 2016
>>>
Keiko Ihara to Compete in IMSA 12 Hours of Sebring in Mazda Prototype
>>>
High Hopes for Success With New "Mazda MZR-2.0T" Engine
>>>
DAY1 Practice Sessions Start
>>>
DAY2 Mazda Prototypes Qualify Their Highest Ever, 5th and 7th
>>>
DAY3 Both Mazda Prototypes Achieve Top 10 Finishes
IMSA Long Beach 2016
>>>
Mazda Prototypes Finish 4th and 5th at Long Beach
IMSA Montrey GRAND PRIX 2016
>>>
Mazda Prototypes Just Miss Out on Podium from Front Row Start
IMSA Belle Isle GRAND PRIX 2016
>>>
Mazda Prototype Grabs First IMSA WeatherTech SportsCar Championship Podium
IMSA SIX HOURS OF THE GLEN 2016
>>>
Mazda Prototype to Compete in 6 Hours of the Glen Sporting Special Livery
>>>
Mazda Prototypes Qualify 2nd and 3rd
>>>
Mazda Prototype Finishes in Top 5 at Watkins Glen
IMSA Sportscar Grand Prix CTMP 2016
>>>
Mazda Prototypes Qualify Pole & 3rd at IMSA Sportscar Grand Prix CTMP
>>>
Mazda Prototype Finishes 5th in Mobil 1 Sportscar Grand Prix at CTMSP
[Related video clips]
>>>
DAYTONA 24 HOURS 2016
>>>
Watkins Glen 6 Hours 2016
photo by MZRacing