#70 Mazda RT24-P Grabs 3rd Place at Belle Isle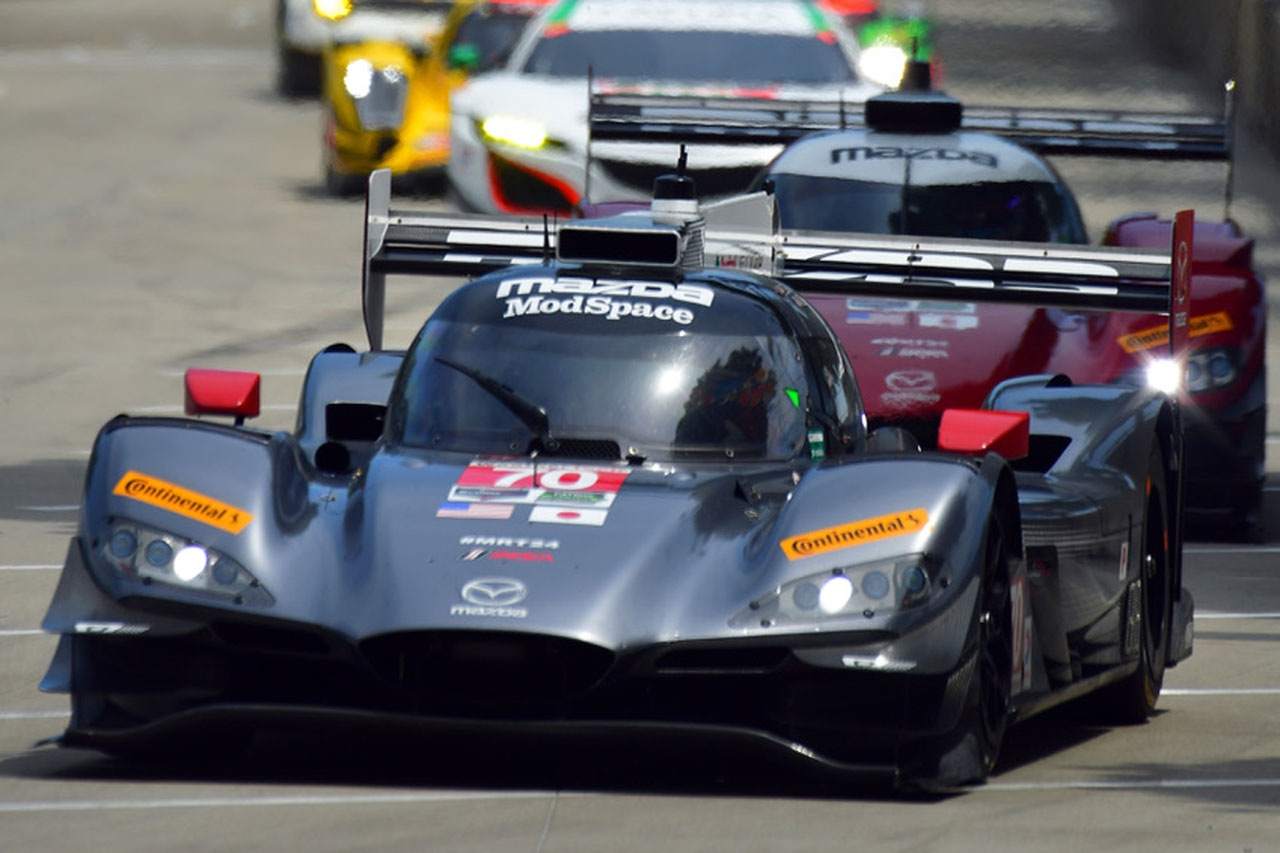 On June 3rd (Sat) the Mazda Motorsports USA Team competed in the Chevrolet Sports Car Classic at Belle Isle Park street circuit, Detroit, where the #70 RT24-P (Joel Miller / Tom Long) took 3rd place on the podium. This was the third consecutive 3rd place for the Mazda USA team on street circuits. The #55 sister car (Jonathan Bomarito / Tristan Nunez) completed the race in 5th.
The #55 (Bomarito) started the race from 5th place on the grid, while the #70 (Long) began from 7th. They ran hard on the 14-turn course to jump up to 4th and 5th early on in the 100-minute sprint race, then continued to tick off laps at a pace on par with the race leader. With approximately 1 hour remaining in the race, a full course yellow caution was called and at this point both cars went into the pits. After carrying out driver changes the #70 passed in front of the #55 to move into 4th. After the restart the #70 pulled out a tenacious run and at turn 1 made a remarkable move from the outside to overtake the cars running in 2nd and 3rd. From that point he was forced to conserve fuel but maintained their position and passed the checkered flag in 3rd.
Miller went on to relate, "Tom did a great job for handing the car over and then it was a sequence of events. The first was a great pit stop and we slotted into fourth-place. And then the restart. I saw a gap and got a good jump and the No. 10 car got held up. Then the No. 5 defended under braking and I thought 'OK I'm going to make the outside work!' We were able to get both of them! Unfortunately (for me), from that point on it became a fuel-mileage race. As a driver, we want to push, but my engineer kept me calm, and he told me to bring it home. It's been long overdue for the No. 70 crew. We're one big team, and getting a podium here is huge, but we want the next step: a victory."
As for the #55, Nunez displayed a bold and daring fight throughout the race. After being slammed once in heavy traffic, he battled on in 7th. Then, with 20-minutes remaining, two prototypes ahead of him became entangled, which sent the #85 into a spin. Nunez's fast reflexes and assistance from team spotter Daniel Tremblay saw him avoid a collision with the rotating machine. After avoiding the carnage, he brought the car home in 5th.
Regarding his close call, Nunez stated, "I definitely had some help from above, because that was… I can't even get my brain around it. They got tangled up in Turn 1, and I saw that from a distance, but I didn't know where the No. 85 was going to go. He let off the brakes and came right into me. I jerked the car to the right – and I was able to do that because the set-up was really good on the car. I know everyone's talking about it, so I can't wait to see it on video." Going on to speak of the heavy traffic, he stated, "It was madness! There was a lot of door-to-door type deals. This track is known for being vicious. But the racing was fun and it was good to be up there in the fight. Huge congrats to the No. 70 car. Joel's incredible move around the outside of two cars was really fun to watch from my spot!"
Photos by Mazda USA