2016/07/04
Mad Mike's Mazda MX-5 – RADBUL Does Battle in Scorching Hot Orlando Heat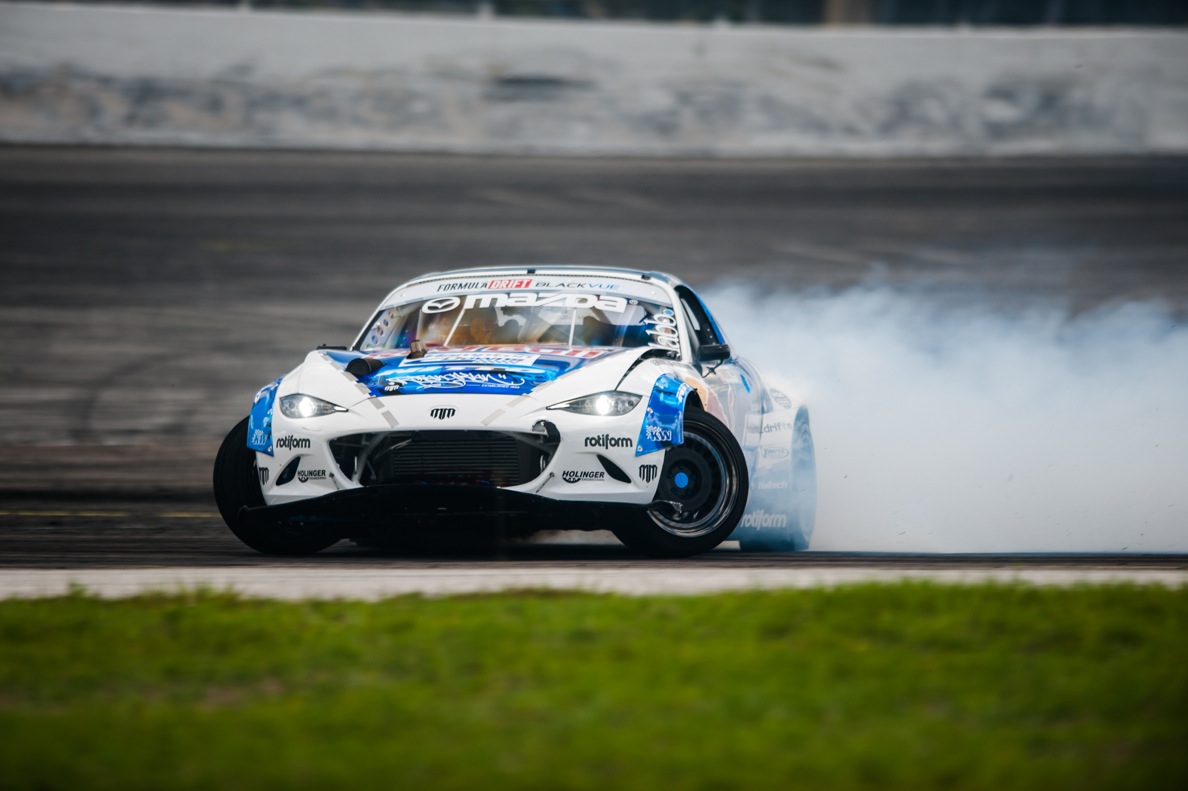 Riding on the momentum of his round 3 victory at Ebisu, Japan, Mike was looking strong heading into Orlando and had steeled himself up to do battle in the extreme summer heat and humidity of Florida. Following a sweltering practice session, he moved into qualifying where he managed to put down 2 solid runs that secured him a spot in the top 32 main competition.
After qualifying Mike related just how tough it was competing in Orlando's oppressive heat, "Today has been brutal, it's qualifying day but the heat is just crazy. Not only on the car but on myself. Nearly passed out and had to hop out of the car just before qualifying and the practice." Despite this he was feeling positive about his performance and stated, "All in all we've gone out. We've had our two qualifying passes. We ran down two 83s… The second run I tried to put a real sharp one in the bag, go up a gear. But made a few little corrections. But good scores, we're in the show. So looking forward to the top 32 tomorrow."
His first battle on the following day was up against the formidable Ken Gushi, a duel that Mike was clearly looking forward to. Gushi led the first run and Mike managed to stay glued to his door with an incredibly solid chase. Unfortunately, as Mike lined back up on the grid he was informed by the Formula DRIFT grid marshal that one of his rear tires had de-beaded and, with the rules forbidding the re-seat of a tire mid battle, this put end to the team's weekend.
Despite the bad luck, Mike composedly took it on the chin and remained positive. "So today didn't quite go as planned at Orlando Speedworld. We had a solid battle in the top 32 against Gushi. It was never going to be easy… [but]… we had a real sick chase run, felt really good. But then [unfortunately] we de-beaded a tire and… [due to the rules] we weren't able to take a 5-minute break to [reseat it]."
Despite this setback Mad Mike remains the points leader in the World Championship.
[Related links]
>>>
Mad Mike Takes Victory at FD Ebisu in HUMBUL RX-7
>>>
Mad Mike's Mazda MX5 – RADBUL Does Battle in Scorching Hot Orlando Heat
>>>
The Might of Mad Mike's 4-Rotor ND MX-5
>>>
Mad Mike's HUMBUL RX-7 Grabs 9th at Formula Drift Okayama Round
[Related video clips]
>>>
Mad Mike Formula Drift Round 3 Orlando, FL 2016
Photo by © Red Bull Media House