2016/04/18
Mazda Prototypes Finish 4th and 5th at Long Beach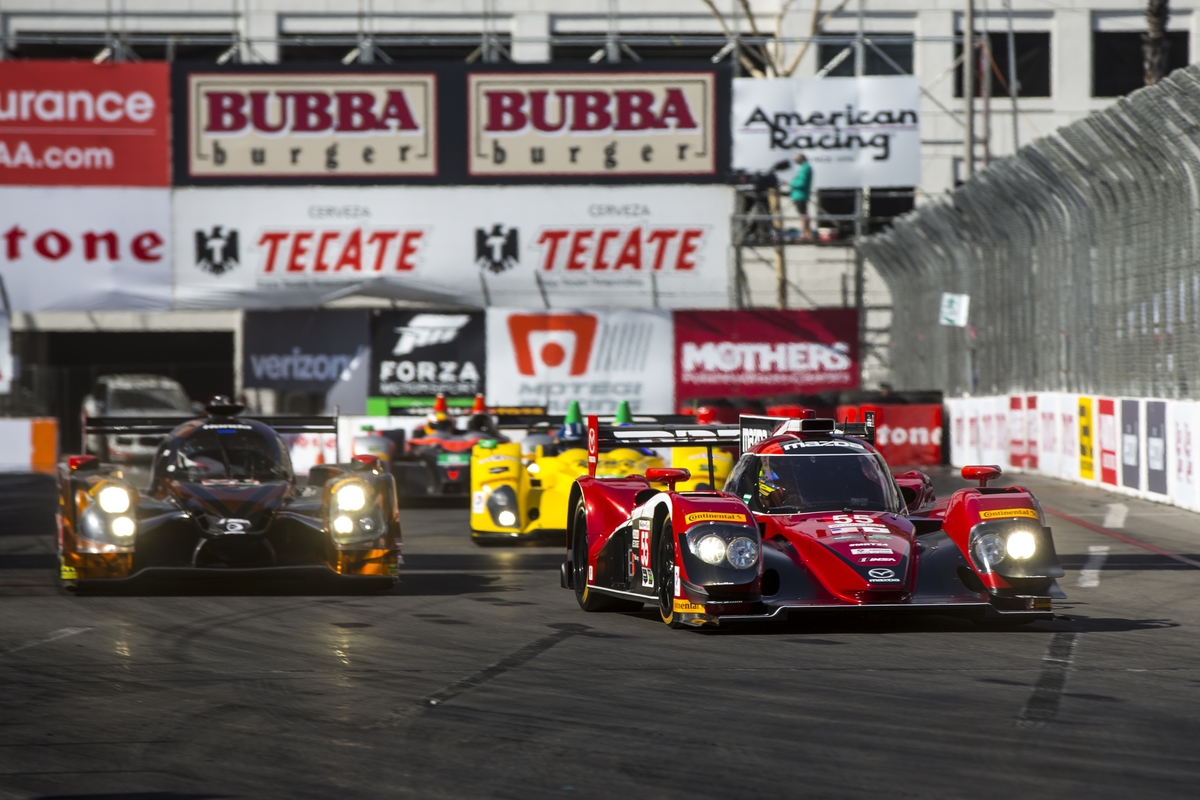 Tom Long and Joel Miller started in their #70 Mazda prototype from a 3rd place qualification and at one point they were running as the race leader for three laps. After 2 hours and 40 minutes they passed the chequered flag in 4th. #55's Tristen Nunez and Jonathon Bomarito marked down the overall fastest time in Friday's practice session, another first for the team. Starting from 7th place on the grid, for a time they were running in 2nd behind the #70, the first time the Mazdas have run in 1st and 2nd together in a race. Ultimately, after they had completed their pit stops, they went on to finish the race in 5th.
As Mazda USA's headquarters are located in Irvine, California, hundreds of Mazda USA employees were out in force to shout out their support from the grandstand. This left the team brimming with motivation. Round 4 will be held in 2 weeks at Mazda's home ground, Mazda Raceway Laguna Seca, where the Mazda Prototype's chassis is perfectly suited to the smooth, flowing layout.
Tom Long (#70) went on to say, "(About jumping into second place at the start of the race) "It was pretty exciting. We had a phenomenal start, and when the front row started to rub going into Turn 1, I thought 'OK, here's our opportunity." As the No. 5 car started to go toward the tires, I just let the brake go and rolled right across the center of the turn into second place. I felt like our Mazda had the pace to stay up there, but traffic was difficult. I got snookered a little bit at some unsuspecting places. So, I'll file that away for next time. Overall, I'm really proud of the effort for the team. Look at how we started the weekend, obviously very quick, but we had so much hard work that the guys put in and we made progress in every session." Partner, Joel Miller continued, "Coming into Long Beach, we knew the track really wasn't the best match for our cars. We didn't expect to be as competitive – but the first practice showed us 'man, we're in this thing!' It raised the spirits and we're happy with the results. The podium finish was right there and it slipped away from us. But, in two weeks, we go to Mazda Raceway, where we will be really strong."
#55's Tristan Nunez stated, "This track is like no other. It's extremely tight and very hard to pass so I was really just maximizing every chance I got and used the controls inside the car [like traction control] to get everything I could out of the car. The car was good, so I could make those moves through the field, but it was a challenge. A really good result for Mazda. It's still pretty early in the year, so it gives us a lot of hope. This is a street course, and we weren't expecting to do what we were able to do. We're scoring as many points as we can. Overall, really happy with it. It's a boost of confidence going into the rest of the season." Jonathan Bomarito followed this up with, "This is great for the program. The cars ran perfect with good pit stops, good driver changes and not a scratch on the cars. We leave Long Beach to our home track Mazda Raceway, and there's a lot to look forward to there, and the rest of the season. We hoped to put a car on the podium – we just missed that. But we're getting there."
Round 4 of the WeatherTech SportsCar Championship will be held over April 29th to May 1st at Mazda Raceway Laguna Seca.
[Related links]
IMSA DAYTONA 24 Hours 2016
>>>
3 Days Until The Rolex 24 At DAYTONA
>>>
Mazda Prototypes Pass Through Torrential Qualifying Session
>>>
Two Mazda Prototypes Leave Fray Before the Sunrise
IMSA 12 Hours of Sebring 2016
>>>
Keiko Ihara to Compete in IMSA 12 Hours of Sebring in Mazda Prototype
>>>
High Hopes for Success With New "Mazda MZR-2.0T" Engine
>>>
DAY1 Practice Sessions Start
>>>
DAY2 Mazda Prototypes Qualify Their Highest Ever, 5th and 7th
>>>
DAY3 Both Mazda Prototypes Achieve Top 10 Finishes
IMSA Long Beach 2016
>>>
Mazda Prototypes Finish 4th and 5th at Long Beach
IMSA Montrey GRAND PRIX 2016
>>>
Mazda Prototypes Just Miss Out on Podium from Front Row Start
IMSA Belle Isle GRAND PRIX 2016
>>>
Mazda Prototype Grabs First IMSA WeatherTech SportsCar Championship Podium
IMSA SIX HOURS OF THE GLEN 2016
>>>
Mazda Prototype to Compete in 6 Hours of the Glen Sporting Special Livery
>>>
Mazda Prototypes Qualify 2nd and 3rd
>>>
Mazda Prototype Finishes in Top 5 at Watkins Glen
IMSA Sportscar Grand Prix CTMP 2016
>>>
Mazda Prototypes Qualify Pole & 3rd at IMSA Sportscar Grand Prix CTMP
>>>
Mazda Prototype Finishes 5th in Mobil 1 Sportscar Grand Prix at CTMSP
[Related video clips]
>>>
DAYTONA 24 HOURS 2016
>>>
Watkins Glen 6 Hours 2016
Photo by Mazda USA