2016/05/03
Mazda Prototypes Just Miss Out on Podium from Front Row Start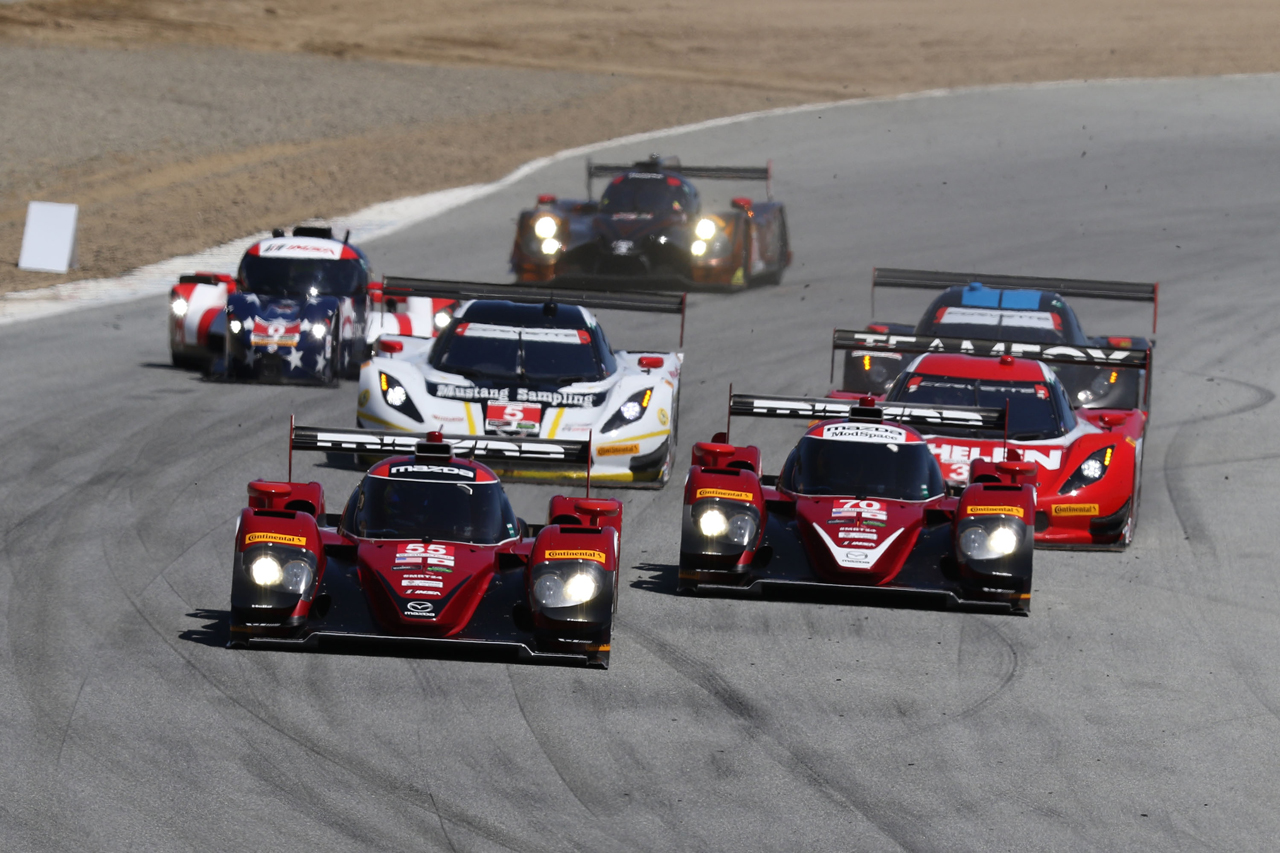 In the #55 Mazda prototype, Tristan Nunez had displayed phenomenal pace in qualifying, rewriting the course record and taking pole position, while the #70 of Tom Long was only 0.2 seconds behind to qualify 2nd and see Mazda secure the front row. 25 laps (approximately 40 minutes) into the race, these two were still running as the top spots. This was the first time the Mazda prototypes had both taken the front row of the grid and run as overall race leaders. Nunez managed to extend his lead over the competition to as much as 16 seconds. When the yellow flag was raised and the pace car dispatched to the head of the pack, the two Mazda prototypes both pitted for refuelling, tire and driver changes. Unfortunately, some problems that occurred during refuelling saw #55 Bomarito fall back to 6th place upon returning to the track. Bomarito then went on to carry out a furious come back to raise them back up to 2nd. Making a further push to get passed the lead car, he unfortunately got caught up in traffic at a congested turn 10 and spun into the gravel. The damage incurred to the tires while getting out of the gravel left him unable to return to the pace that the car had been showing earlier in the race and ultimately he passed the chequered flag in 4th.
Nunez went on to say, "It was a beautiful feeling. No one in front of me, just a clear track ahead and leading in a Mazda at Mazda Raceway is an incredible feeling. Really a dream come true for me. There's a lot of positives that came out of this weekend, and that's all we can look forward to. We take the positives, get rid of the negatives. Whatever we need to work on, we learn and work on it at the shop. Look forward – that's all we can do." Just like the #70, Long had also been showing phenomeal speed in the #55 in the opening stages of the race but unfortunately after pitting and changing to Joel Miller, the car's oil pump failed. The engine came to a stop at the top of Rahal Straight, where they were forced to retire.
The two Mazda prototypes were the top two fastest machines in all three practice sessions performed over Friday and Saturday. To top that off they secured the top row in qualifying and in the final race they led the pack for 25 loops and recorded the fastest lap. It really was a weekend that should make it into the pages of the Mazda Motorsports history books.
#70 Tom Long reflected, "We had an incredible effort from our whole Mazda Motorsports team. The car that they gave me to race was absolutely fantastic. It was on rails around Mazda Raceway. It felt so good to be out there and set the fastest lap of the race. We certainly had the pace, but things didn't fall our way today. It's difficult to deal with, but you just swallow it and it fuels you for for the next time."
[Related links]
IMSA DAYTONA 24 Hours 2016
>>>
3 Days Until The Rolex 24 At DAYTONA
>>>
Mazda Prototypes Pass Through Torrential Qualifying Session
>>>
Two Mazda Prototypes Leave Fray Before the Sunrise
IMSA 12 Hours of Sebring 2016
>>>
Keiko Ihara to Compete in IMSA 12 Hours of Sebring in Mazda Prototype
>>>
High Hopes for Success With New "Mazda MZR-2.0T" Engine
>>>
DAY1 Practice Sessions Start
>>>
DAY2 Mazda Prototypes Qualify Their Highest Ever, 5th and 7th
>>>
DAY3 Both Mazda Prototypes Achieve Top 10 Finishes
IMSA Long Beach 2016
>>>
Mazda Prototypes Finish 4th and 5th at Long Beach
IMSA Montrey GRAND PRIX 2016
>>>
Mazda Prototypes Just Miss Out on Podium from Front Row Start
IMSA Belle Isle GRAND PRIX 2016
>>>
Mazda Prototype Grabs First IMSA WeatherTech SportsCar Championship Podium
IMSA SIX HOURS OF THE GLEN 2016
>>>
Mazda Prototype to Compete in 6 Hours of the Glen Sporting Special Livery
>>>
Mazda Prototypes Qualify 2nd and 3rd
>>>
Mazda Prototype Finishes in Top 5 at Watkins Glen
IMSA Sportscar Grand Prix CTMP 2016
>>>
Mazda Prototypes Qualify Pole & 3rd at IMSA Sportscar Grand Prix CTMP
>>>
Mazda Prototype Finishes 5th in Mobil 1 Sportscar Grand Prix at CTMSP
[Related video clips]
>>>
DAYTONA 24 HOURS 2016
>>>
Watkins Glen 6 Hours 2016
Photo by MZRacing