2016/03/11
Mazda Racers Take 3 Class Victories and 8 Podiums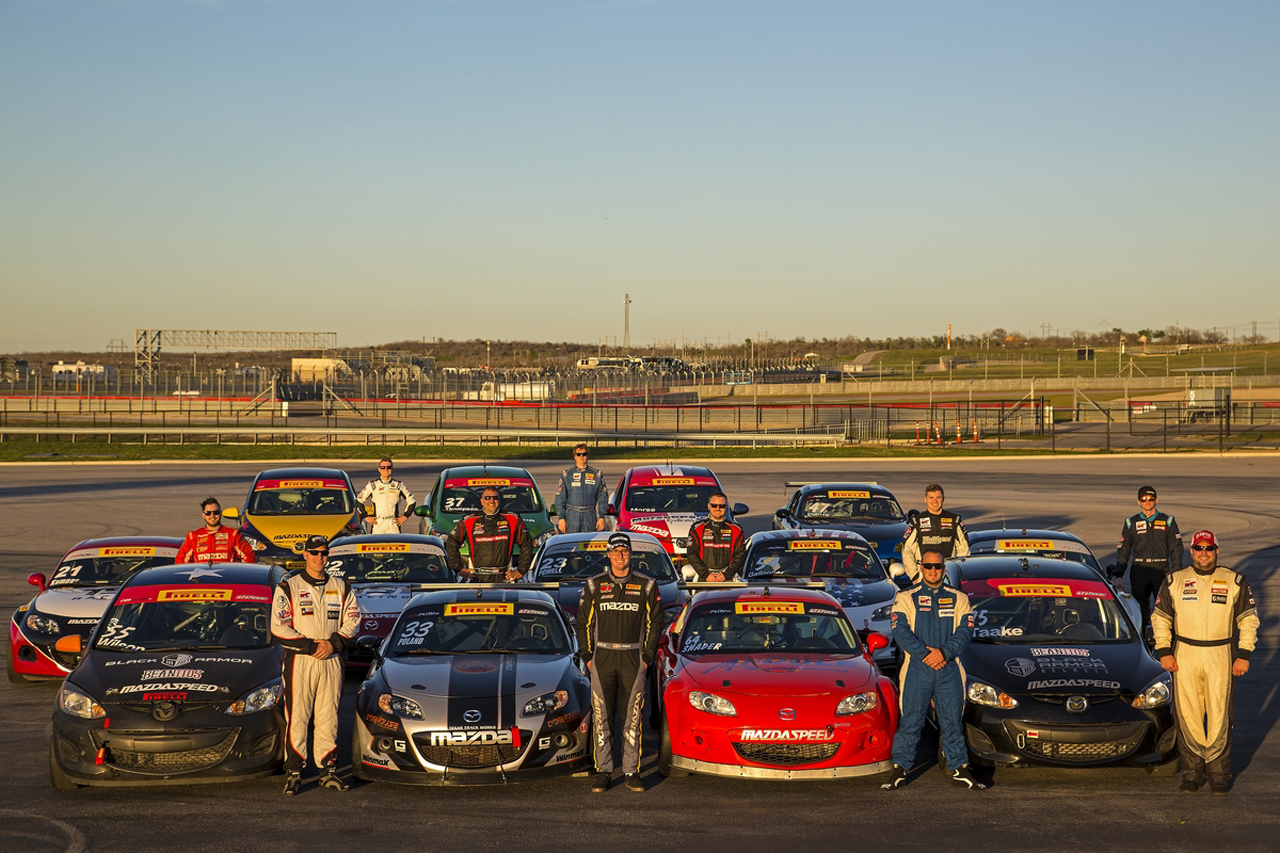 John Doonan, director of motorsports, Mazda North American Operations said, "Congratulations to Elivan Goulart, Ted Hough, and Will Rodgers for great wins at COTA. Thanks to a great effort by all of our customer teams in the Pirelli World Challenge, the season is off to a great start. I'm sure the battle will be fierce all season long until the finale at Mazda Raceway in October"
The most successful Mazda drivers are outlined below.
Touring Car A (TCA)
Elivan Goulart from Shelton, Connecticut drove his S.A.C. Racing Mazda MX-5 to victory in the opening round and took 2nd place in the second.
Eric Powell from Orlando, Florida took 3rd in the first race and started from pole position in the second to record the fastest lap in his Tech Sport Racing Mazda MX-5.
Joey Bickers from Moorpark, California propelled his Atlanta Motorsports Group Mazda MX-5 to a 3rd place podium finish in race 2.
Touring Car B (TCB)
Ted Hough from Farmington, Minnesota took victory in the first race driving his Breathless Racing Mazda2.
Will Rodgers from Murrieta, California compelled his Hale Motorsports Mazda2 to victory in round 2. He actually passed the checkered flag in 1st in the first race but was disqualified on a minor technical infraction.
Henry Morse from Redondo Beach, California took 3rd place finishes in both the first and second race behind the wheel of his Hale Motorsports Mazda2.
These were the first pro races for Rodgers and Morse. Rodgers has moved up from the Spec Miata Teen Mazda Challenge and 15-year old Morse has come straight from karting.
Several of the COTA Mazda race cars could be seen sporting artwork from the Austin Humane Society (AHS). The AHS sold over 5000 raffle tickets during the race, the first prize of which is a 2016 Mazda MX-5 thanks to Roger Beasley Mazda.
AHS
http://www.austinhumanesociety.org/
2016 Pirelli World Challenge (TC/TCA/TCB) Race Schedule:
May 19-22 Canadian Tire Motorsport Park Bowmanville, Ontario, Canada
June 23-26 Road America Elkhart Lake, Wisconsin
July 29-30 Mid-Ohio Sports Car Course Lexington, Ohio
Aug 12-14 Utah Motorsports Campus Tooele, Utah
Oct 7-9 Mazda Raceway Laguna Seca Monterey, California
* Each race event of the 12-race season is a double-header, with two races per weekend
Photo by Mazda USA