2014/03/15
Anomalies with two Mazdas during the 12 hours of Sebring Qualifier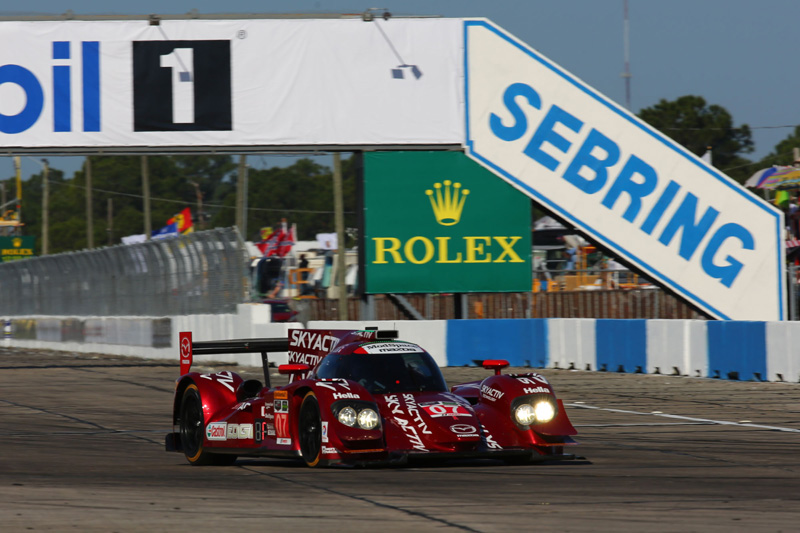 Due to beautiful weather which began from the morning, the temperature at Sebring rose to a maximum temperature of 25°C during the day and during the fourth practice held in the morning, the two Mazda prototypes showed steady performance on the track. However, during the 15 minute qualifier which began at 5:30pm the cars just didn't seem to run as expected. The Rookie Ben Devlin was named as the #70 qualifying driver and he entered the track in high spirits. However, the pipe for sending compressed air from the intercooler to the engine began to leak, resulting in the engine being unable to perform efficiently and making it impossible to rewrite the best times that were consistently achieved during practice. On the other hand there was the 18 year old Tristan Nunez who got behind the wheel of the #07 car to face the time attack. However, in his car also the fuel pressure failed to increase beginning immediately after starting and the team, concerned about damage to the engine, made the decision to withdraw from the qualifying session early. Thus, they were unable to record an official best time on the result sheet.

Nunes remarked, "During the morning practice the car ran beautifully and so I didn't think there was anything to worry about. However, when it came to the qualifier, the fuel pressure wouldn't rise completely and I couldn't attack the course properly. The team is trying to determine the cause but it could be the fuel pump or possibly an electrical problem. Still, there isn't any damage to the engine itself and the crew chief has said there shouldn't be a problem in tomorrow's race so I'm optimistic."

Although they have come here and ended with a slightly worrying qualifying result, if recovery is confirmed during the 20 minute free practice scheduled for the morning of Saturday the 15th, then both cars should be able to compete in the race starting at 10:15.