2016/09/12
Tsutsumi Grabs 8th in Global MX-5 Invitational Race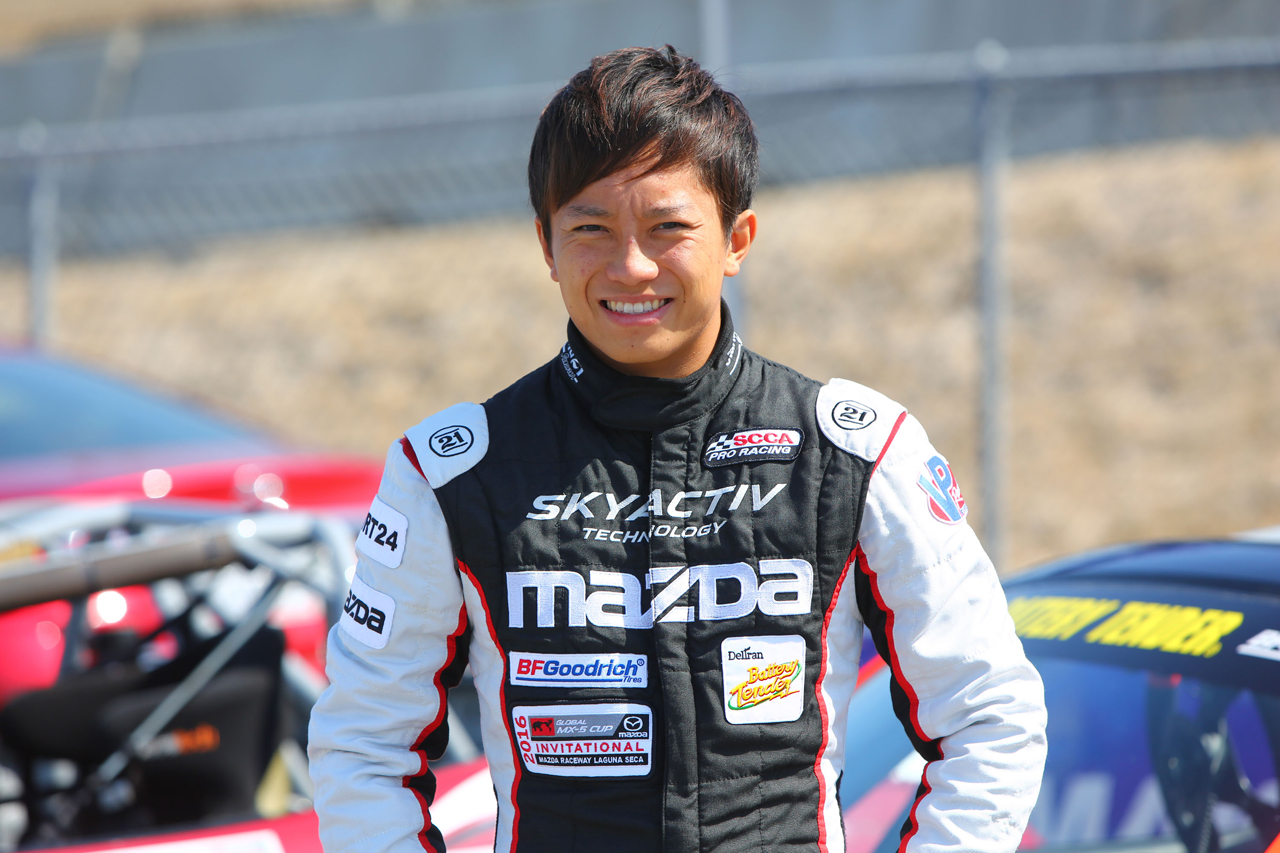 The race started after one formation lap. By the second corner Tsutsumi had already moved up into 3rd place and demonstrated his abilities early on. However, he would later get embroiled in heavy traffic that saw him go off course at turn 6. He managed to return to the track unscathed but he had fallen back down to 14th place. From then on he steadily overtook rival after rival and by the race's midpoint had risen back up to 9th. He continued to fiercely pursue the remaining cars in front but in the final stages a machine running in the top group made contact with a back marker. Going off course, the car hit the concrete barrier and stopped, resulting in a full course yellow caution. Time ran out as the officials were removing the car from the track and this meant the checkered flag was flown behind the lead of the safety car. With this Tsutsumi finished the race in 8th.
Tsutsumi went on to relate, "I got off to a good start but at turn 6 I entered the corner following the line of a car in front and lost my footing which left me running off course on the outside. I managed to avoid hitting the concrete barrier but it cost me quite a few positions. It's a bit disappointing. However, this was my first long run and I've got a handle on how the tires degrade here. I'm sure the top group were also struggling with their tire grip so I thought if I could just keep them within sight and take care of my tires then I would have a chance. This race is carried out under completely equal conditions so it really requires the driver to have setting know-how and the ability to remain composed and adapt. The entire grid is evenly matched so there aren't a lot of opportunities to overtake but I carried out my race hoping for some chances to present themselves in the second half. I will be starting tomorrow's race from 5th on the grid so I will do everything I can to makes sure I have a mistake free run."
TCR's Teruaki Kato, who has come along to assist Tsutsumi stated, "He was marking down stable, fast lap times and was handling the car well. If he can drive like this tomorrow I think he definitely has the potential to finish in the top rung."
The one to take glory in this first Global MX-5 Cup Car race was American series top driver, Robby Foley. Foley came out on top of a close battle with 2nd finishing Nathanial Sparks, who recorded the top time in the previous day's qualifying session, while 3rd was taken by John Dean II who, like Foley, is a Mazda USA scholarship driver. After the race Foley commented, "It's a real honour to be able to participate in this race. Not only that, I was able to grab the win. I'm really proud to be able to run alongside all of these drivers from different countries in this truly international event. I think I can say I carried out my race according to plan. I didn't let Sparks get away from me at the start, managed to get passed and from then on it was game on. After that I just concentrated on achieving a stable pace and in the end my lap times were fairly uniform. I want to thank all those involved in carrying out this race, from Mazda USA to Atlanta Motorsports Group."
The driver that takes the most points in this race and the race to be held from Sunday morning will be crowned the invitational race champion. We can't wait to see how the next race unfolds.
[Related links]
>>>
Tsutsumi Secures 5th Place in Global MX-5 Cup Exhibition Race Qualifying
>>>
Tsutsumi Grabs 8th in Global MX-5 Exhibition Race
>>>
Yui Tsutsumi Takes 3rd Place Podium in Global MX-5 Cup Exhibition Race 2
Photo by MZRacing