2021/05/13
Mazda 2 Rally5 puts up tough fight at Rally RAC 1000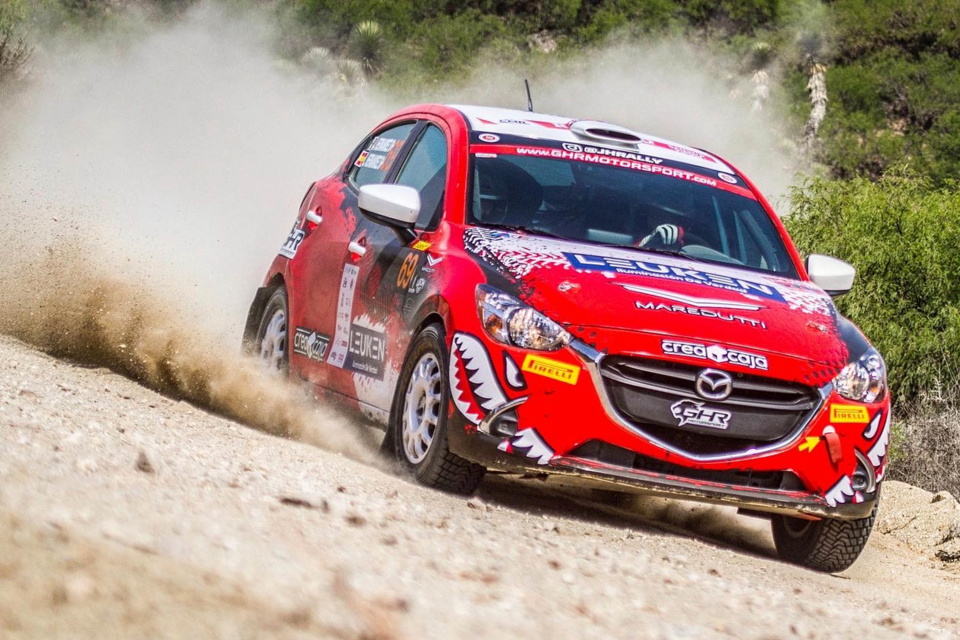 The rally was held over May 7 and 8, with the shakedown and starting ceremony occurring at Parque Tangamanga (one of the biggest and most beautiful national parks in the country). The surface was 100% gravel and the rally consisted of a total of 333 kilometers, 113km of which were high speed stages. The rally was made up of 12 stages (La Encarnacion 1 & 2, El Arenal 1 & 2, Las Petronillas 1 & 2, Ahualulco 1 & 2, Arenal De Morelos 1 & 2, Santa Teresa 1 &2) with a 45 minute service park at midday to carry out maintenance on the cars. The temperature was over 30º centigrades, with hot and dry conditions for almost the entire event, until the last stages where heavy rain created muddy and wet conditions.
Car 69 finished P1 in the Rally 5 light class (P7 overall). The team damaged their skid plate, radiator frame and some other parts during a jump, so they needed to complete the remainder of the rally at a moderate pace. However they won 2 stages going up against some high powered rival cars like the Renault Clio RSR 170hp sequential and Lancer EVOX, which showed that the Mazda 2 Rally5 can be a very fun and fast car when well driven. Car 24 finished P2 in the Rally 5 light class (P 10 overall)
Comment from Jerry Hernandez
"I am very happy to complete this rally, it was the first gravel event for the Mazda 2 Rally5, we came from less to more, gaining rhythm at each stage. My co-driver's notes were very good, but it became tough because of the weather conditions when it started raining and the roads became completely different. So after that we were forced to be cautious to put the car across the finish line. We will keep on fighting hard in the coming rallies."
The Mazda rally cars continue developing and getting better every rally. The next event is the FIA NACAM Rally Championship's Rally León to be held over August 13-15th on the same stages as the WRC MEXICO.
https://www.youtube.com/watch?v=OKYiIGukEak
SNS
@GHRmotorsport
Text by MZRacing Photos by GHR Motorsport