2017/09/05
Reeves' Mazda 2 AP4 Takes Rally Coromandel Victory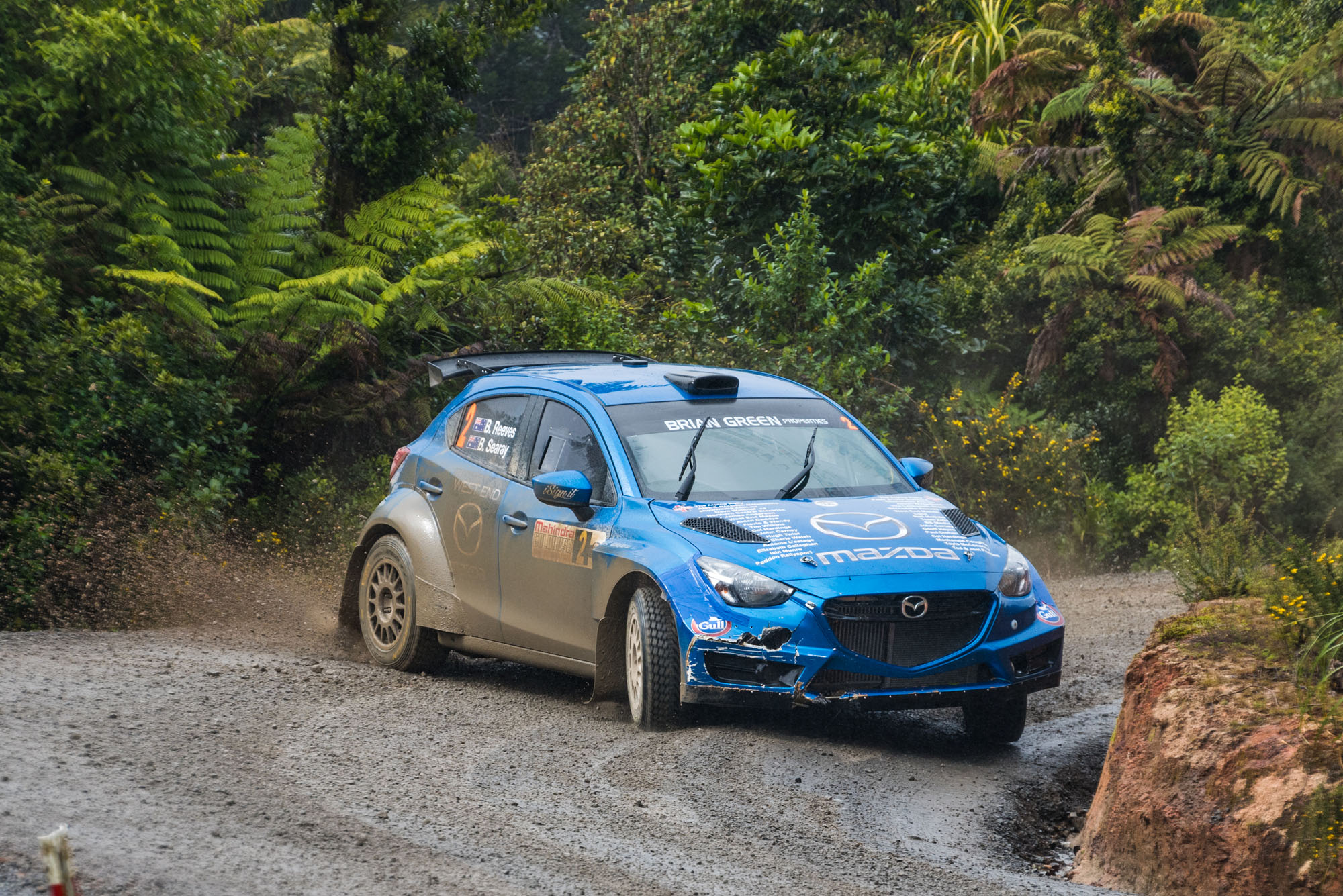 Australian rally driver, Brendan Reeves, drove his Mazda 2 AP4 rally car to victory in round 4 of the New Zealand Rally Championship (NZRC), the Rally Coromandel, held over August 24th-26th.
This is Reeves' second consecutive victory at the Coromandel Rally, held on New Zealand's North Island, following on from his winning performance last year. Reeves and his co-driver, Ben Searcy drove the new Mazda 2 AP4 rally car of New Zealand team, Force Motorsport. This machine is a New Zealand FIA ASN approved AWD rally car that generates 275hp through a 4-cylinder, 1.6 liter direct injection turbo engine and is equipped with a SADEV 6-speed gearbox, along with an AP racing brake system. The weight of the car is 1,230kg. Vehicles that conform to the AP4 standard are not only able to compete in the New Zealand championship, but also other international series such as the FIA Asia Pacific Rally Championship and Japan's Super Rally Championship.
As many as 56 teams competed in this year's Rally Coromandel, including New Zealand's own WRC driver, Hayden Paddon, current NZRC champion David Holder and this year's current points leader Matt Summerfield.
Reeves' Mazda 2 got off to a great start in the opening stage, finishing in the lead with a 4.1 second margin. Although he would unfortunately spin out in Stage 2, losing more than 1 minute, he went on to recover back up to 2nd place. In Stage 4 his strongest rival, Paddon's Hyundai i20 AP4+ went off course and was forced to retire. This took the pressure of Reeves and he was able to ease off the pace a little in the last 3 stages to safely achieve a 2-year winning streak at Rally Coromandel.
Reeves went on to comment, ""We've had a great day and are really happy to have made it two wins from two starts for Force Motorsport. It's a real shame that Hayden wasn't able to continue after stage four as we would have had a great battle, but that's how rallying goes sometimes. The car was brilliant today. Force Motorsport have built a fantastic rally car in the Mazda 2 AP4. The feeling is amazing. You can really throw the car around and feel the grip, especially in the front. The gearbox is  incredible, flat changing every gear. It was great to be part of their team again today." A number of supporters and small businesses pledged money to have their names included on the Mazda 2, and Reeves and Searcy were humbled by their support.
Force Motorsports team owner, Andrew Hawkeswood, came in 2nd driving his Mazda 2 AP4+ making it a 1-2 finish for Mazda.
Photos by Reeves and Allan Pritchard