2017/10/07
"Mazda 2 SKY-D" Becomes TSS Champion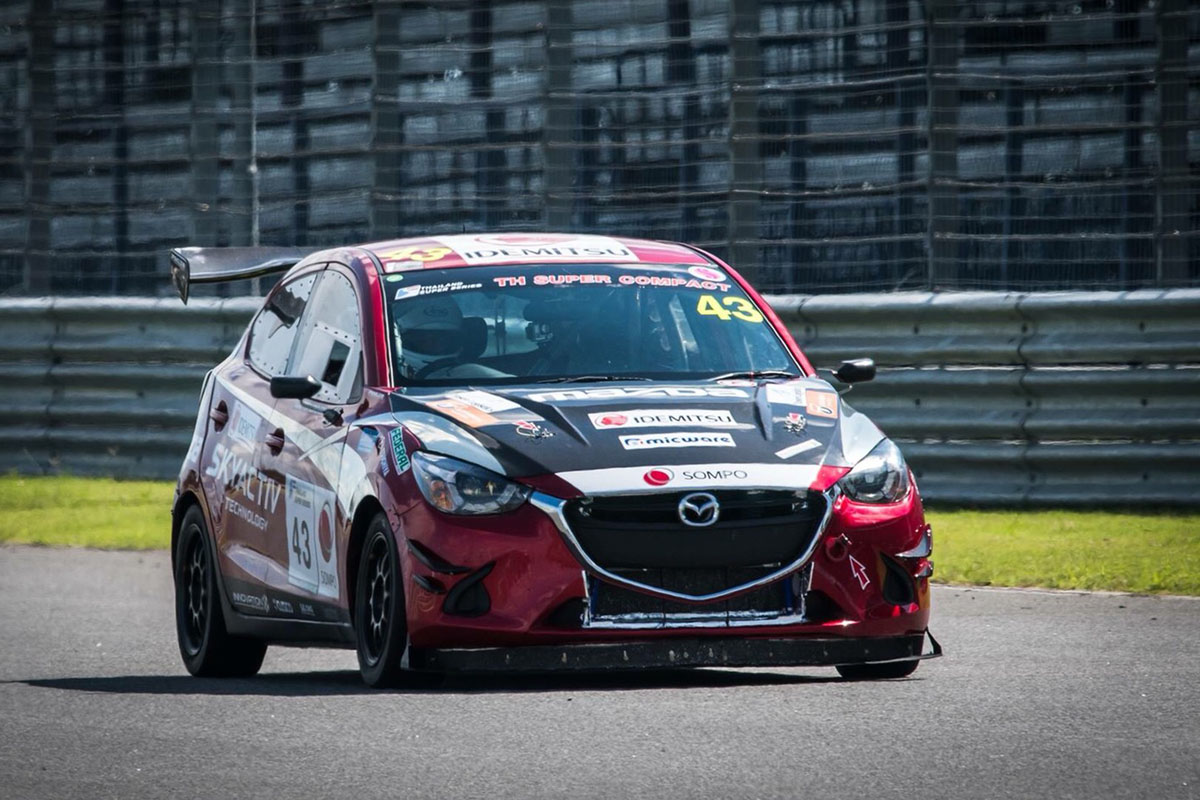 Rounds 7-8 of the Thailand Super Series (TSS) was held at Thailand's Chang International Circuit over September 23rd to 24th where the official team of Mazda Sales Thailand, Innovation Motorsports' entry into the Super Compact class, Mana Pornsirichard secured the series championship. With this the Mazda 2 SKYACTIV-D that Mana drove also became the series championship machine.
These two races were the final rounds of this year's TSS season. The point standings at the end of round 6 saw the top three as Mana (84 points), Michael Freeman (Mazda 2 SKY-D, 72 points) and Hideharu Kuroki (Fit, 68 points), in that order and these three were the only drivers still in a position to take home the title. There were high hopes for good performances from the two Mazda drivers who have been dominant this season.
The Buriram region, in which Chang International Circuit is located, was met with rain on the 23rd. This meant the race for round 7 would be held under wet conditions. In qualifying Mana secured 2nd place and the front row of the grid, while Kuroki grabbed 3rd and Freeman 4th with a mere 0.1 second difference between them. Pole sitter, Anon (Fit) recorded a time that was slightly ahead of the rest of the pack. However, in the wet final race Kuroki shot out of the blocks like a rocket to move into 2nd. Mana and Freeman ticked off the initial laps in 3rd and 4th respectively. Then, in lap 9, Mana seized an opportunity and pulled in front of Kuroki and then shifted his aim towards Anon, catching him with two laps remaining and ultimately taking the lead. Throughout this wet race, Mana overcame his rivals with skillful driving technique and with this victory was able to secure the season championship. Freeman finished the race in 4th.
Despite the championship fight being decided, round 8, held on the following day, saw a fierce battle unfold. The race began with the top 5 from the previous race beginning from a reverse grid and this saw Freeman begin from 2nd place but he unfortunately spun out and fell down to 13th place. This left the top four carrying out an intense fight in the opening stages of the race. However, in lap 4 they fell into the order of Anon, Kuroki, Kajonsak Na Songkhla (Fiesta), Mana and they continued on in that fashion for the remainder of the race. Mana ultimately finished in 4th. Having fell down the order in the opening stages, Freeman pulled out a furious fight back from 13th to finish the race in 6th.
[Comment from Mana Pornsirichard ]
"I was really relieved to be able to win yesterday's race and secure the championship. I was feeling the pressure but the car drove really well in the rain and allowed me to take the win. I'm really happy that I was able to take the title in my first year of competing for this team. The Mazda 2 is fast and easy to handle. It's a really good car. I really want to express my appreciation for the support from Mazda Thailand, our sponsors, and everyone on the team. I really hope that I will be able to drive for this team again next year."
[Michael Freeman]
"It's really great that Mana was able to grab the title. For myself, I was aiming to win the final round and finish at 2nd in the rankings but I ended up only grabbing 3 points with a 6th place and so I finished at 3rd, which is a little disappointing. This year was a happy year, though, so I'm going to take a bit of a break and consider various aspects that we can work on for next year. A big thanks to everyone for their support."
Photos by Mazda Sales Thailand