2016/08/26
Mazda Belgium Press Team Competes in Global MX-5 Cup Car at 24 Hours of Zolder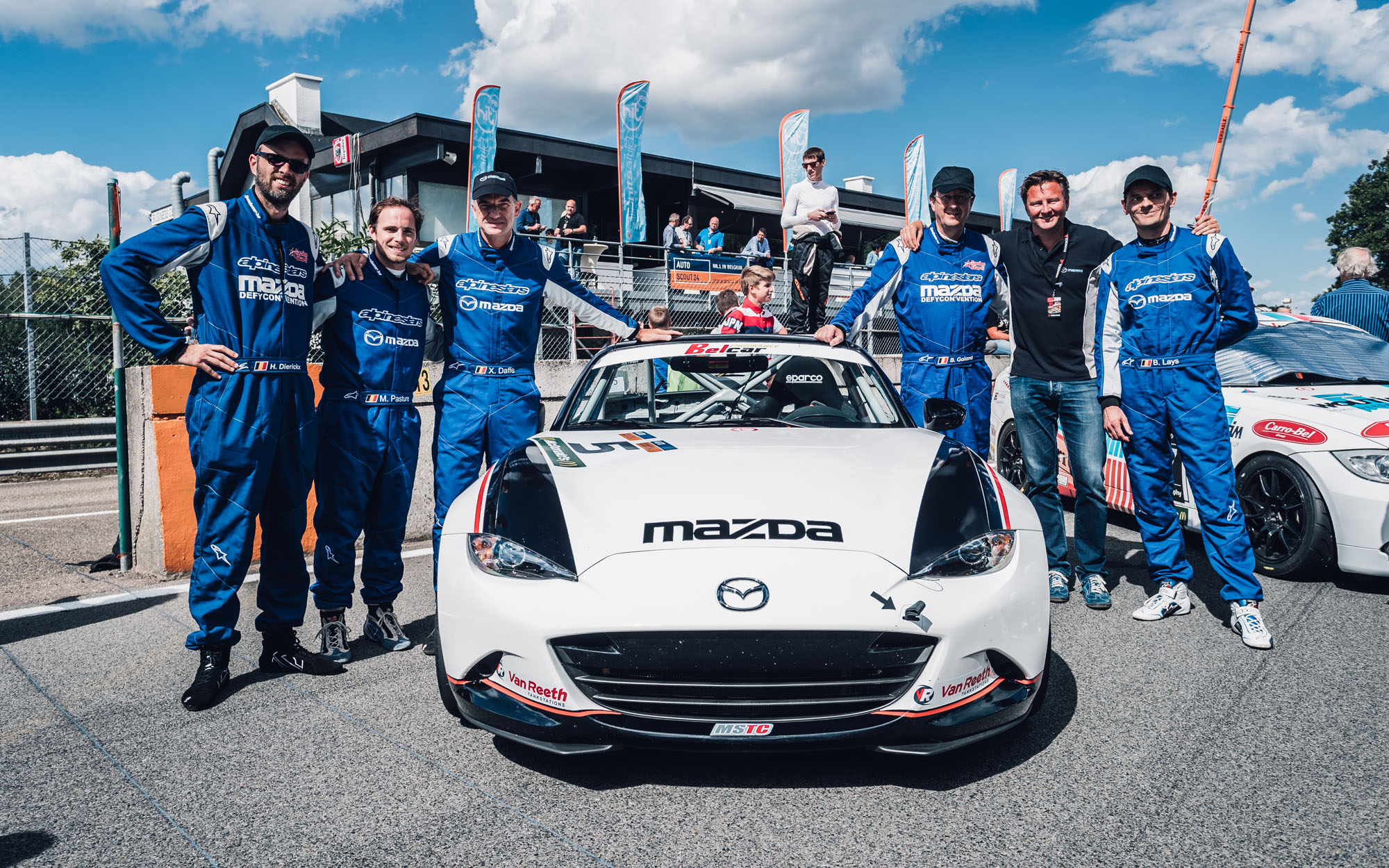 The 24 Hours of Zolder is a round of the Belgian Racing Car Championship (Belcar) in which privateer entries are permitted. There are five main categories, Belcar 1- Beclar 5, and the cars range from outright prototypes, to 911s, to BMW M3s. For this year's race Mazda Belgium entered one Mazda MX-5 Cup Car into the Beclar 5 category, going up against nine BMW Clubsports and one BMW E90 325i. Driving the car would be 5 journalists from the biggest motorsports magazines in Belgium.

Despite being journalists, all five of the drivers are far from amateurs. MZRacing readers might recall that Xavier Daffe, Editor in Chief of Le Moniteur Automobile/AutoGids, the No. 1 Car Magazine in Belgium, drove alongside Maeda-san in one of the R100 Rotary Coupes that competed in Spa last year. Benoît Galand, Editor in Chief of Turbo Magazine (a motorsports and sports car magazine) has extensive experience in racing and competed in the 2014 24 Hours of Zolder, also driving in an MX-5. Hans Dierckx, journalist for AutoWereld (No. 2 car magazine in Belgium) was also part of the same 2014 MX-5 team. Although this would be the first full-fledged sports car race for Benoît Lays, freelance journalist for AutoNews (Motorsports and sports cars magazine), has had a long background in karting to work with. As for Maxime Pasture, freelance journalist for AutoTrends (No. 3 car mag in Belgium), he has competed in endurance races such as the Volkswagen Fun Cup and was a wild card journalist entry into the Global Cup Final held in Barcelona.

The Global MX-5 Cup Car that the team competed in was provided by Mazda Motor Europe and was uniform US specifications, except for the tires, which, due to local circumstances, were Yokohama slicks and rain tires rather than BFGoodrich slicks. The team got off to a strong start on Saturday, qualifying 3rd in class and 35th overall, raising expectations for a positive result in the race. However, it is difficult to predict what can happen in a marathon 24 hours, no matter how good a team may be.

The race began under clear dry conditions at 4:30pm on Saturday. The Mazda Belgium journalist team got off to a strong start from their 3rd place on the grid and were more than holding their own up against the BMWs. The MX-5 competed fiercely for the entire 24 hours under various conditions that included heavy rain that began from morning on the following day that lasted until around noon. Unfortunately, the car lost a wheel mid race and had to be towed back to the pits. Then later in the race a fuel issue again resulted in the machine being brought back to the garage for repairs, which cost them a great deal of time.

However, despite the setbacks, the team managed to complete the entire 24-hour race, in itself is no small feat, to place class 8th and overall 35th. Mazda Motor Belgium Public Relations Manager and team representative, Peter Gemoets related, "The car was amazing. All the drivers agree that the chassis is exceptional. So easy and balanced and really quick in the corners. They had a lot of fun, for 3 of them it was the first 24H of Zolder. They will now be Mazda-fans for life! We know that if we hadn't had those two incidents that we could have battled it out for class victory. So the final result was a little bit disappointing but we're very keen to get out revenge next year!"

Acting as spokesperson for the rest of the team of drivers, Xavier Daffe stated, "For me personally, it was a terrific weekend at Zolder. I had a great time with everyone in the team and also on the track thanks to the MX-5, which really is a sensational drive in all conditions and circumstances. Yeah, the result is not exactly what we aimed for and doesn't truly reveal the real potential of this team, but that's motorsports. It was a great adventure, we met lots of great new people and have big hopes for next year if we ca do it again. In any case, I would be thrilled to drive the MX-5 again."

Mazda Belgium is looking to compete at the 24 Hours of Zolder again next year and there are talks of competing in more rounds of the Belcar Championship as well as the possibility of entering a second MX-5 into the fray. MZRacing will keep you Abreast of any news to come out of Mazda Belgium in the future.