2017/06/27
Mazda 3 Axela Finishes 6th After Intense CTCC Battle at Guangzhou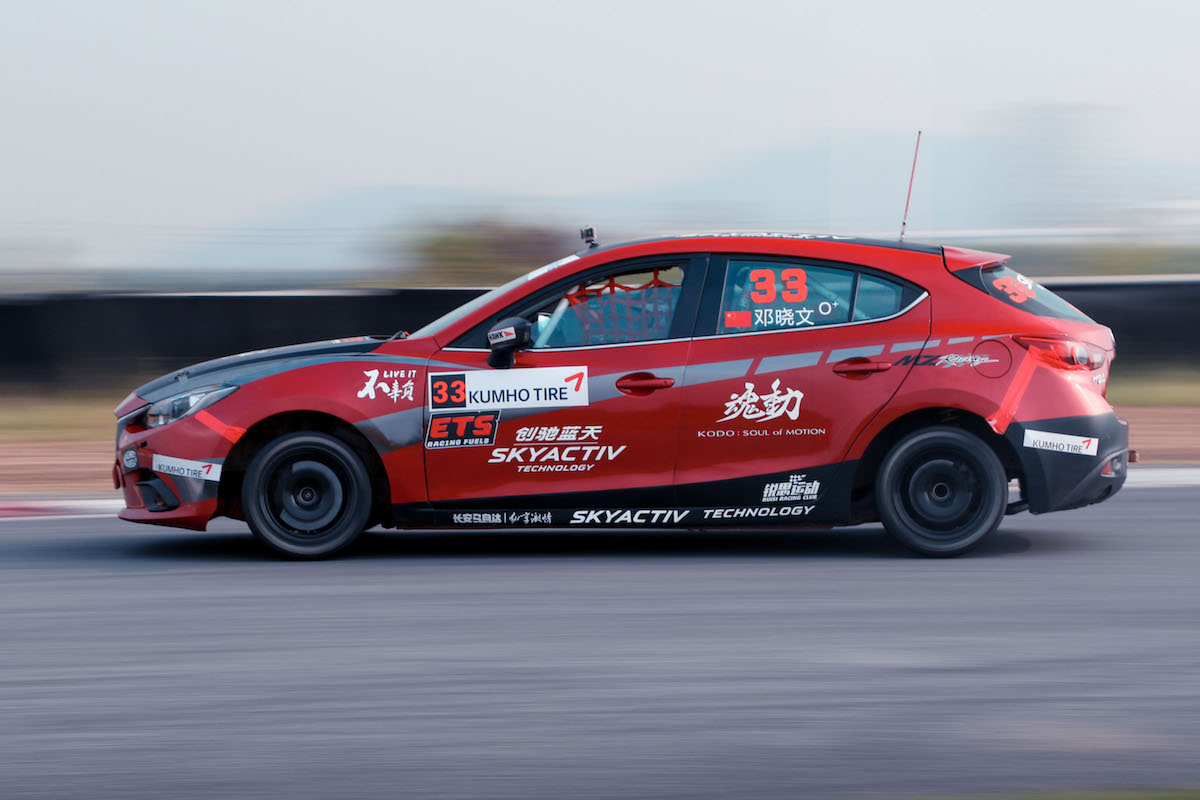 Round 2 of the China Touring Car Championship (CTCC) was held over June 3rd (Sat) to 4th (Sun) at Guangzhou International Circuit where the Mazda supported Běi Jīng Ruì Sī racing team entered two Mazda 3 Axelas into the Mass Production Class. In race two, the #33 driven by Dèng Xiǎo Wén finished in 6th place.
The Běi Jīng Ruì Sī racing team have upgraded from the Mazda 3 Axela, that they competed with for the last two years, to the latest 2017 model and the #11 sedan saw its first race in thei Guangzhou round.  Unforeseen circumstances meant that team regular, Hè Zé Yù had to be absent from this tournament and so veteran, Dǒng Liàng was brought into to take his place. As for the Mazda 6 Atenza that competes in the Super Cup class, which this year is designated for 2.0 litre turbo engines, its engine mount and other adjustments couldn't be completed in time and it would have to miss this round.
Official qualifying was held on Saturday with occasional rainfall bringing muggy weather. The #33 Mazda 3 Axela Sports qualified 18th within the 22 car mass production class, while the #11 Mazda 3 Axela sedan grabbed 22nd. Sunday's final races were held under sultry conditions of sensible temperature of around 40°C. In race 1, #33 Dèng ended an intensely fought battle in 10th place. With the reverse grid held for race 2, he secured a 3rd place start. On the other hand, #11 Dǒng finished the race in 18th. The 340 people strong Mazda cheering squad watched #33 Dèng's performance in race 2 intently. In last year's Guangzhou round, the talented Dèng grabbed Běi Jīng Ruì Sī racing team and Mazda's first CTCC victory. Straight after the start of the race, he faced fierce competition from surrounding machines and he was blocked from grabbing the lead. The team instructed him to maintain their position until the finish line. However, in the mid-stages of the race Dèng was caught up in a midfielder crash, which saw him drop temporarily down to 9th. In spite of this, he went on to pull out a tenacious run that brought them back up to 6th before he passed the checkered flag. The Mazda cheering squad were delighted by Dèng's tough performance. As for #11 Dǒng, he skilfully dodged the multiple car crash that occurred in lap 7 and completed the race in 12th to grab the team some essential points.
A Mazda brand experience event, the "Jinba Ittai (unity of rider and horse) College" was held by Mazda China for Mazda owners, fans and cheer squad that gathered from Guangdong city. Here, Mazda's brand heritage, development philosophy, commitment to driving position, and G-vectoring control were explained.
Text : MZRacing, Photos : Mazda China