2016/06/01
Mazda 3 Grabs Third Step on Podium at CTCC Opening Rd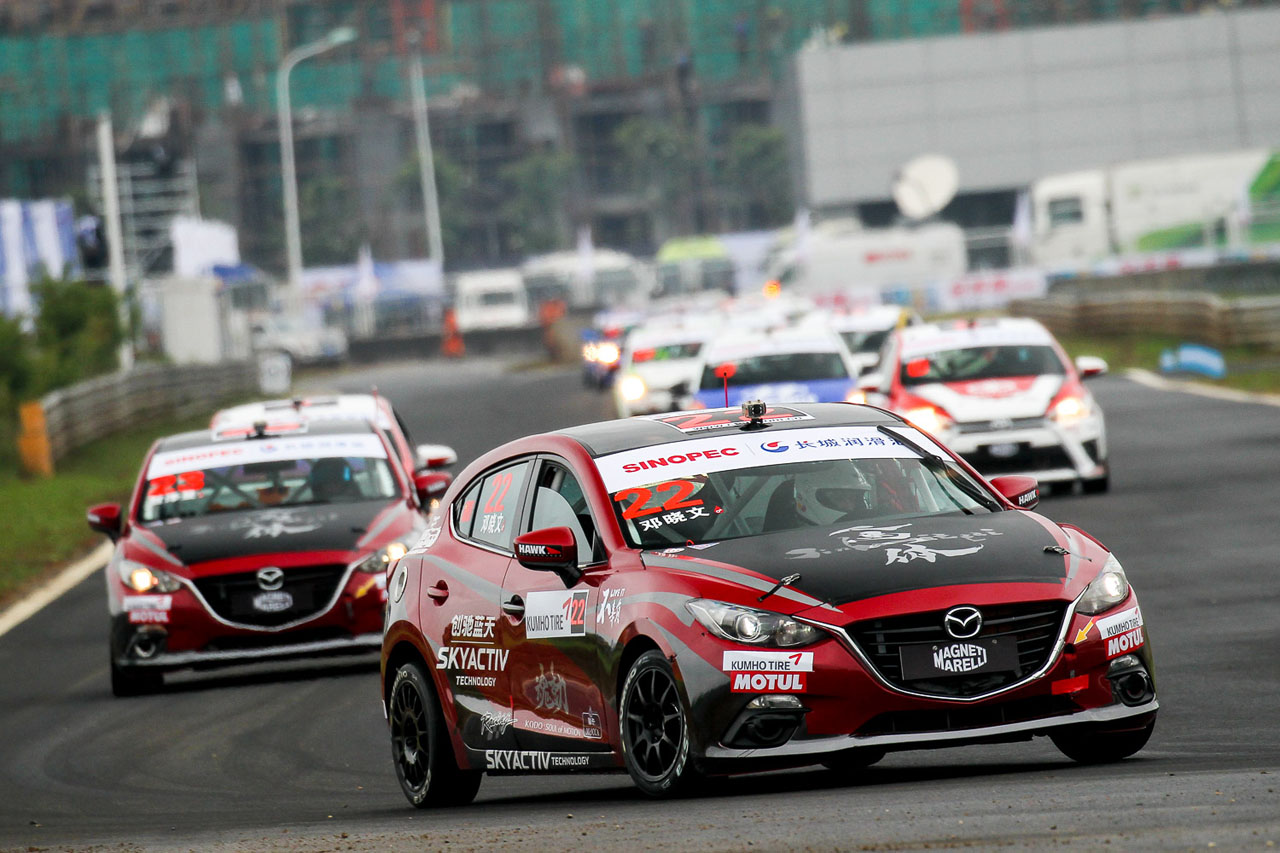 Eight races are scheduled for the CTCC calendar, starting off with the opening round in Nanjing, followed by Zhuhai, Shanghai F1, Korea, Guangzhou, Jiangsu, and Shanghai Tianma circuits. Mazda China is supporting the Beijing Luisu Racing Team, which is competing in the Production Class (1.6-liter NA) with two Mazda 3 Axelas and the Super Production class (1.6-liter TC) with one Mazda 3 Axela and a Mazda 6 Atenza. Driving in the Mazda 3 Axelas was China Rally Championship 2015 champion, Dèng Xiǎo Wén and rookie, Hè Zé Yù (16 y/o). Unfortunately, the 2.4 NA engines for the Super Production class had trouble at customs and could not make it to the circuit in time to compete.
Due to rainy conditions during qualifying, the usually 30-minute session for the Production Class was reduced to a one lap time attack. In spite of this, the two talented Mazda drivers displayed their merit and secured 6th and 7th in their debut CTCC qualifier. Dèng pushed hard right from the start of the first race and successfully passed a number of rivals. He then went on to pass the checkered flag in 3rd. Starting from 7th, Hè moved up into 5th before being hit by another machine, which caused engine trouble that left him finishing in 23rd. In the second race, Dèng started from 14th and achieved a phenomenal comeback to finish 4th, while Hè again finished 5th, making it a great start to the season for the Liusu Racing Team.
On top of this, with Mazda owners being invited to join the cheer squad, a total of 270 Mazda owners gathered to fill the stand and cheer on the team. 15 pairs were selected by lottery to receive a tour of the pits after the race where they were able to meet the drivers, get their signatures and shake their hands.
Round 2 will be held over June 4th to 5th at Zhuhai Circuit.
[Related links]
>>>
CTCC Rd.1 Mazda 3 Grabs Third Step on Podium at CTCC Opening Rd
>>>
CTCC Rd.2 Mazda 3 Finishes 7th in CTCC Rd. 2 at Zhuhai International Circuit
>>>
CTCC Rd.3 Mazda 3 Axela Finishes 7th in Both Classes at CTCC Rd. 3 Shanghai
Photo by Mazda China