2017/08/23
MX-5 Cup Car Takes Class 2nd at 24 Hours of Zolder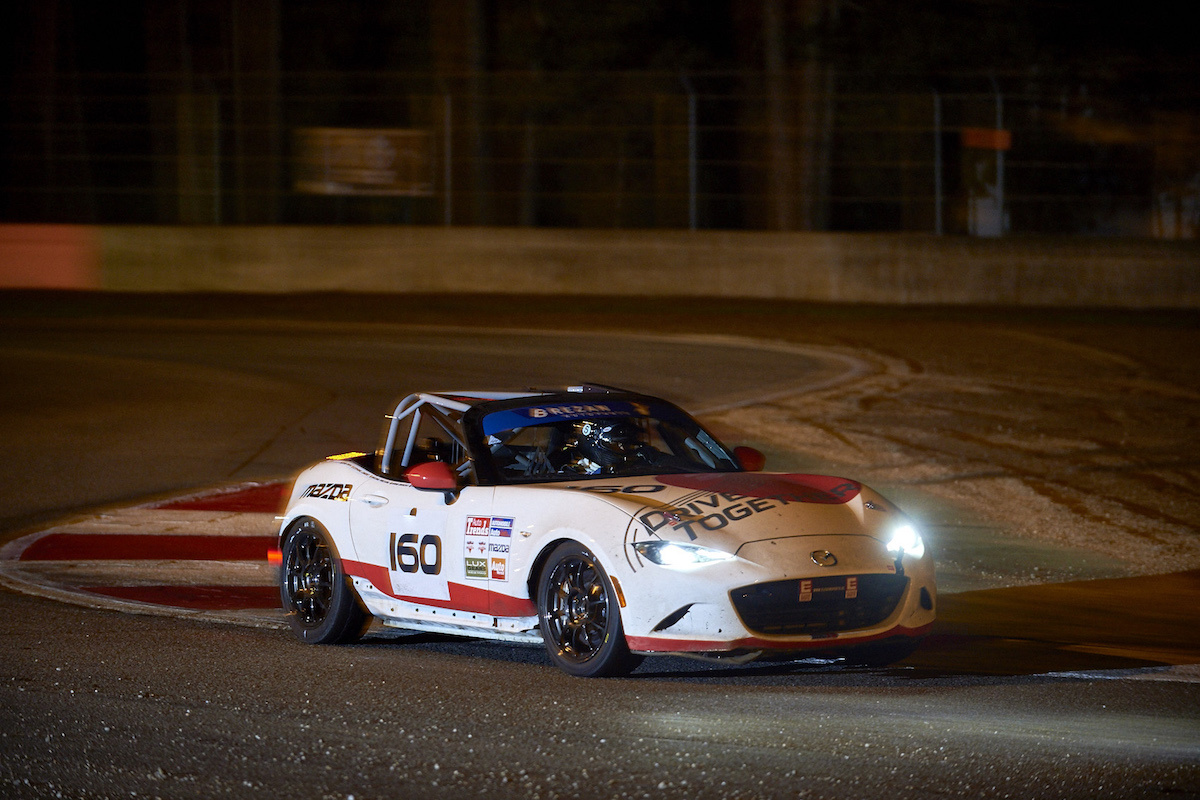 The 2017 24 Hours of Zolder was held over August 19th to 20th at Zolder Circuit in Northern Belgium where the Mazda Belgium MX-5 Cup Car entry grabbed class 2nd (28th overall within 43 competitors) and saw its 5 journalist drivers standing on the podium.
Class 7C, in which the Mazda MX-5 competed, consisted of 6 cars, all of which were BMWs (excluding the MX-5), two of which were BMW M3s. In official qualifying, the MX-5 grabbed 5th , more than 10 seconds behind the more powerful BMW M3s. Taking the wheel of the MX-5 was Xavier Daffe, Hans Dierckx, Stéphane Lémeret, Maxime Pasture, and Antonio da Palma Ferramacho, all of whom are motorsports journalists. Each one of these drivers has racing experience, and Lémeret even competed in this year's 24 Hours of Le Mans. The MX-5 Cup Car they used was the GLOBAL MX-5 Cup entry car developed by Mazda Motorsports USA and utilizes the same roll cage, suspension, etc. as the US model. However, after competing in last year's 24 Hours of Zolder, the brakes were changed to endurance race specifications to ensure safety.
Due to being standard specifications, the MX-5 has relatively low engine output and so the team was hoping for rain in order to reduce the difference between the other more powerful machines. Then, as hoped, when the race started at 4:00pm it fortunately did begin to rain. Early into the race they were able to jump up to 3rd from their 5th placed grid position. However, shortly before midnight, the front suspension suddenly broke on the approach to the chicane and the car lost a wheel and tire. This saw it towed back to the pits where the team began repair work on the left-front suspension, which cost the team approximately one and a half hours. The MSTC crew diligently carried out the repairs and smoothly implemented parts replacement. With that, the MX-5 was back out onto the course again. While this was happening, the top running BMW's began to fall back down the order and this raised hopes of a podium finish for Mazda Belgium's MX-5.
In the morning the team's ace, Lémeret began to close in on the car in 2nd and in the afternoon he carried out a double stint where he implemented a fierce pursuit in an attempt to grab 2nd place. He finally succeeded in pulling in front of his rival and the MX-5 passed the finish line in 2nd place. The team finished in overall 28th place and had built up an 18-lap margin over the BMW in 3rd.
The overall top 3 was dominated Norma M20 FC prototypes. In the 7C Class1st place went to the BMW E90 (650 laps), 2nd place to the ND type Mazda MX-5 Cup car (613 laps), and 3rd to the BMW 120D (595 laps).
Photos by Mazda Belux