2020/10/04
GHR Mazda 2 R1 Takes R1 Class Victory at Rally Patrio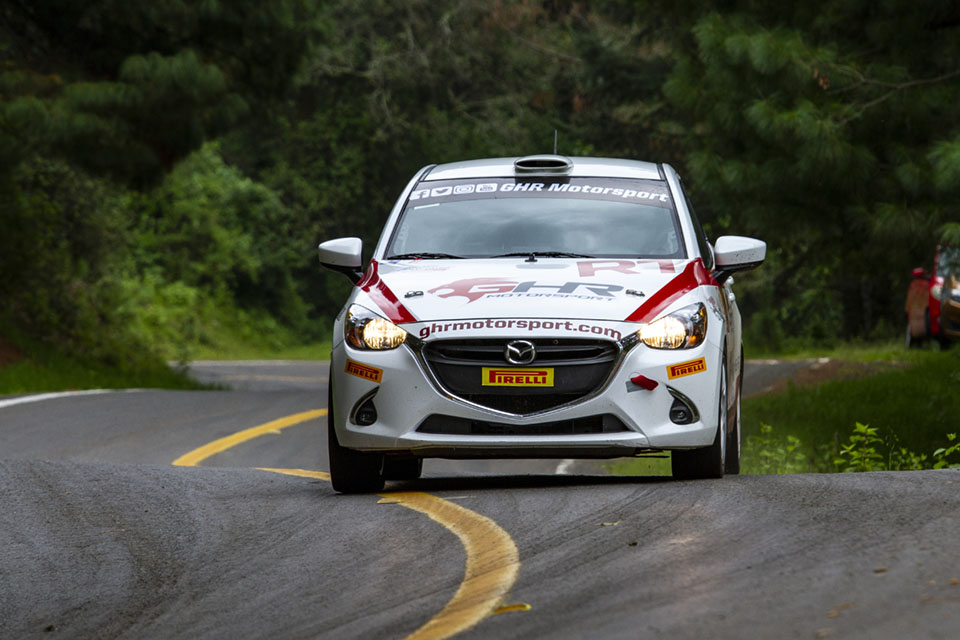 The Team GHR motorsport brought their Mazda 2 R1 to Morelia, Michoacán (300km away from Mexico City) over September 25th and 26th for the second round of the Mexican Rally Championship, the "Rally Patrio," which is held on some of the most emblematic roads of the country, dubbed the "Mil Cumbres." The "Mil Cumbres" consist of a 37 Kilometer stage that is raced up and down twice for a final total stage total of 148 kilometers and is considered by some to be a mecca for the rally discipline in Mexico.
Scrutineering was carried out on Friday 25th where the rally organization checked all technical and administrative processes for the rally, the entry list, homologation papers of cars, carried out Covid-19 tests, drivers meetings and so on.
On the next day, Saturday, the rally began. Driver, Jerry Hernandez Jr and co driver, Jerry Hernandez Sr competed in the R1 class (1.6 litres or less) and competed against models from other R-categories that included the Peugeot 208, Renault Clio, Ford Fiesta, Suzuki Swift, and SEAT Ibiza.
They got off to a really good morning in the first leg and finished the first half of the rally at the mid day service park in 1st place. The second leg in the afternoon started under heavy rain and heavy mist that resulted in greatly reduced visibility and the team struggled with the tyre compound and the wet road surface. However, despite having to run at a lower speed in the downhill stages, the team ultimately took R1 Class victory and finished in 3rd overall in the R-category.
"The car is working great, it feels like it is all coming together, the way it turns and jumps at high speeds simply makes you trust in its incredible stability. I'm very proud to be leading this amazing project, we have a car that already proved that we can fight against our opponents and I feel motivated to keep up the development so we can aim to win championships" said Jerry Hermandez JR.
Rally Stats
Driver:
Jerry Hernandez JR (@jhrally)
Co-driver:
Jerry Hernandez SR
Started
8:30 am
finished
around 5:30pm
Weather:
10°C – 22°C
Altitude:
Climb started from 1670 meters above sea level and reached 2450 meters at the highest point of the rally.
Text by MZRacing Photos by GHR Motorsport