2020/11/20
Mazda2 SKY-D Takes Championship in Thailand's TSS Series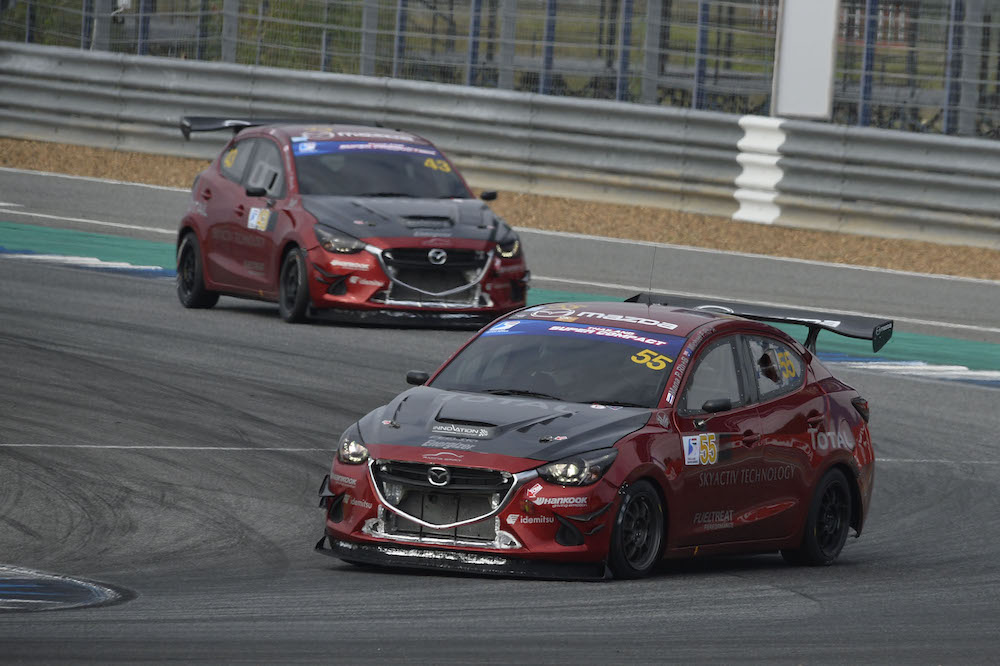 Rounds 3 and 4 of the Thailand Super Series (TSS) were held at the Chang International Circuit in central Thailand on November 14-15, where the two Mazda2 Diesels from Innovation Motorsports, which also competed at the opening and second rounds of the series held on October 31 and November 1, scored a 1-2 finish in Round 3. Despite both cars suffering mechanical problems in Round 4, they managed to score enough points to take both the team and driver championships in both the Super Compact and 60-minute race categories.
This year Innovation Motorsports revamped the control systems of the Mazda2 diesels to be able to compete with the 240hp Honda CRZ and the 250hp Jazz (Fit) Turbo, and the two Mazda2 diesels have come away with phenomenal results. The Mazda 2 is equipped with a proprietary cross-ratio gearbox, which is another advantage.
In Saturday's round 3, the No. 55 Mazda2 hatchback, driven by Mana Pornsiricherd and team principal, Michael Freeman, led the race until the 45-minute mark, when Jarut Jonviset, in the No. 43 Mazda2 sedan, turned the tables and the two Mazdas took the chequered flag side by side. In Sunday's Round 4, both cars experienced mechanical problems and qualified on the back row. However, in order to win the championship, the No. 43 needed to finish the race in seventh place or better, but Jarut pushed hard and finished the race in sixth place. As for the #55 car, it ultimately climbed up as far as second place to finish the race on the podium.
Team Principal Michael Freeman went on to say, "We heard that the Mazda Prototypes took overall victory at the 12 Hours of Sebring. We've managed to take our own championship over here, so we are very proud to see Mazda achieving success in both the West and the East. It has been a difficult season this year due to COVID-19, but the competitiveness of the Mazda2 has definitely evolved during this time and we have found new and young talent. I'm already looking forward to next season."
Text by MZRacing, Photos by Mazda Sales Thailand