2017/06/22
The Legend, Yojiro Terada, Races at Road to Le Mans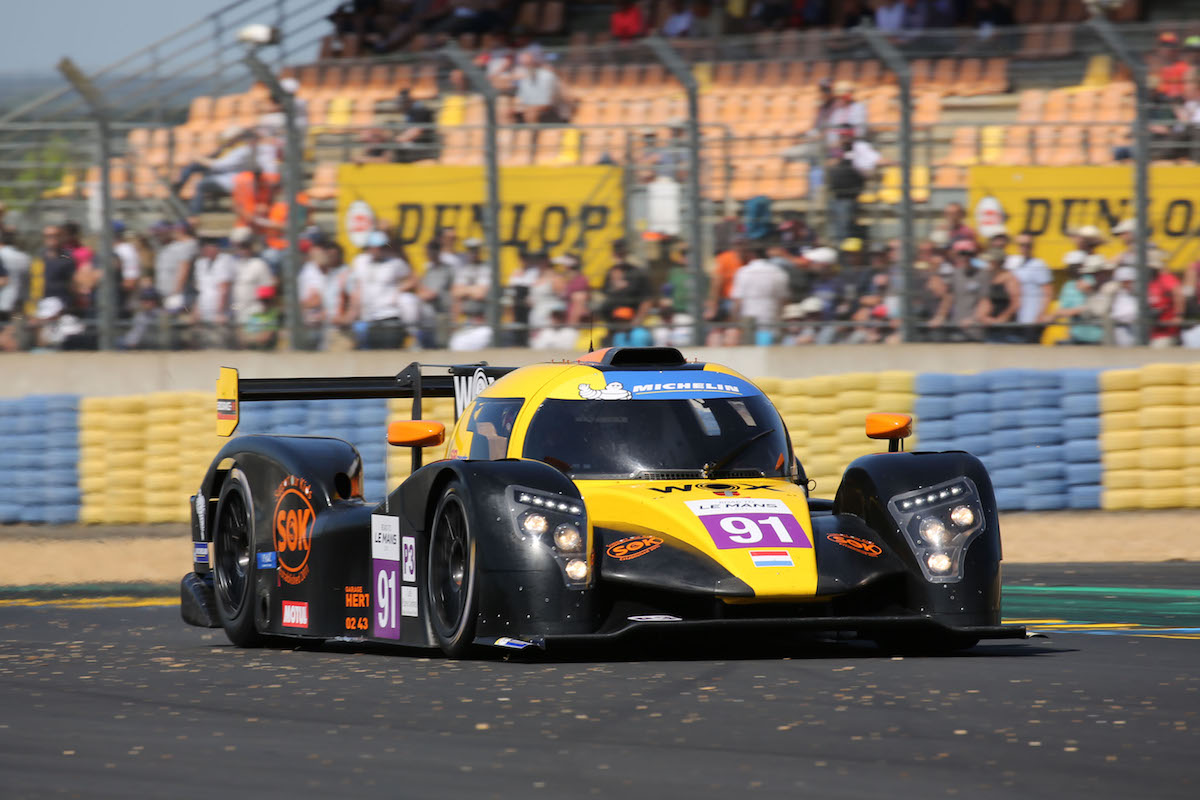 Legend Mazda driver, Yojiro Terada competed at the Road to Le Mans race held at France's, Circuit de la Sarthe over June 15th (Thur) to 17th (Sat). Due to technical troubles he wasn't able to see Thursdays race through to completion. However, Saturdays race was carried out without a hitch in front of a huge crowd that had gathered for the 24-hour race.
The Road to Le Mans was scheduled to consist of two 55-minute races to be held as support events for the 85th 24 Hours of Le Mans. The car that Terada drove was DRK Engineering's LMP3 Adess-03. The owner of the car is Terada's friend, Sylvain Boulay, who partnered up with him to take the wheel of the machine. However, it turned out their preparatory settings for the suspension and other areas weren't appropriate and they also experienced some electrical issues, which meant they were unable to run during Wednesday's practice session as they had planned to. In other words, for Terada, Thursday's qualifying session would be Terada's first time in the car. On top of that, when Terada jumped in the car for the start of the qualifying session, a red flag cessation was called and he wasn't able to effectively carry out a time attack. In spite of this, Terada would go on to take the reins for the first stint in race 1, where they would begin from the tail end of the pack. The day was met with fine weather of a temperature that hovered around 25°C and brought a sweat to one's brow. When the race first started, Terada struggled a little with the car's unbridled performance. However, he later related, "After about 2 to 3 laps I started to get used to the machine's characteristics and decided to try and push a little harder but then I spun at Porsche Curb. I managed to avoid hitting anything and stop the car but after that the car wouldn't start." At this point the #91 LMP3 Adess-03 would unfortunately retire. The crew felt that the cause of the inability to restart the engine was a lack of voltage in the battery.
Members of the "Support Our Kids" (SOK) program came out to enjoy a portion of the 24 Hours of Le Mans schedule. This program, which is supported by Mazda, seeks to encourage the independence of junior-high and high school students effected by the 2011 Tōhoku earthquake and tsunami through language and cultural exchanges held at Le Mans and in the surrounding areas. 9 kids from Fukushima, Miyagi, and Iwate prefectures took part in home-stays in a town called, "Chahaignes," which is located approximately 50km away from Le Mans. There they mingled with the local people and experienced a number of different activities, including introducing Japanese culture to a local junior-high school and giving them a presentation about the earthquake. They then joined Mazda General Manager, Design Div., Ikuo Maeda at Le Mans and headed to a cart circuit to get their first experience of hands on racing.
As a Japanese driver who has competed at the 24 Hours of Le Mans 29 times so far in his life, Terada is well known as a director of the ACO (Automobile Club de l'Ouest) and the announcement of his return to Circuit de la Sarthe, local newspapers and TV stations took up the topic of Terada and the SOK kids.
At 11:30am, three and a half hours before the 24-hour race was set to begin, the second Road to Le Mans race started with the SOK kids watching from the grand stand. Again, Terada would serve as the starting driver. The black and yellow machine sported the SOK logo. Terada pulled out a spirited drive right from the start and handed the car over to Boulay at the mid point of the race. Boulay also carried out a steady run and ticked off laps to eventually pass the checkered flag in overall 24th place. Terada went on to relate, "the LMP3 is a very fun car to drive, but I didn't really have much of an opportunity to prepare for it and so I struggled a little to get everything out of it. That being said, it was really exciting and fun to drive on the full Le Mans course for the first time in a while. I really hope that the kids got something out of watching a 70-year old racer like me driving at this course."
The SOK kids had a lot to say. One of them commented, "This was my first time watching a race and I've come to think that race cars are really cool!" Another related, "I was really moved watching Mr Terada and the 24-hour race car drivers competing." Yet another stated, "The elation of the drivers and mechanics at the end of the race was impressive." Mazda's Terada went on to say, "I think that through Le Mans, the kids learned how people who race will never give in and that it is all made possible through the cooperation of numerous different people. I hope that all of you who have had such a good time here, will use this as a springboard to become the future leaders of Japan. Never forget the importance of a challenging spirit and always keep the lessons you have learned here close to your heart."
Text and Photos by MZRacing