"The Spirit of RE Legend Yoshimi Katayama Will Live on Forever"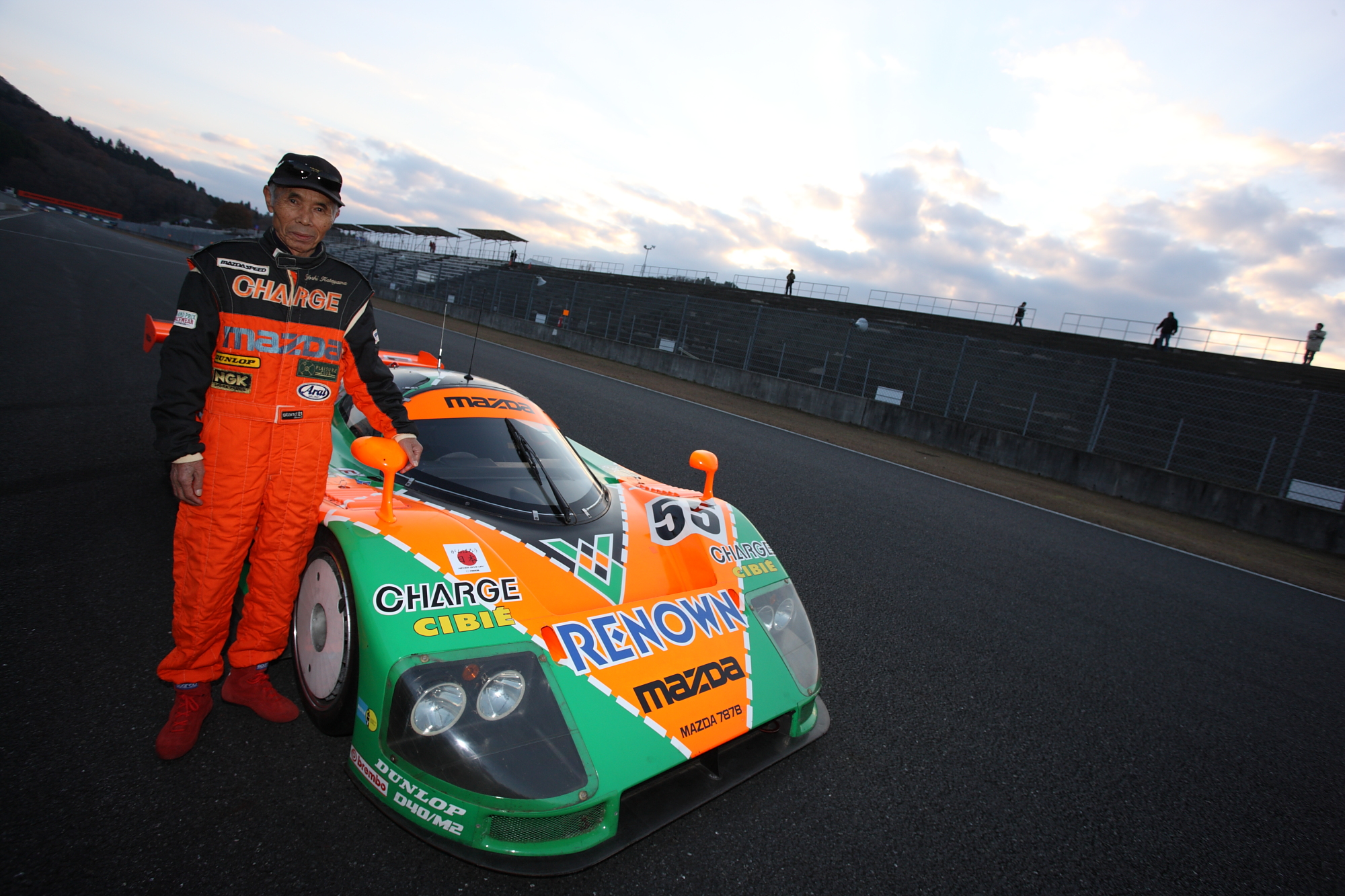 Three years and five months have passed since the former Mazda contract driver Yoshimi Katayama passed away in March 2016. Following the third Bon Festival since then, Katsumi, Yoshimi's eldest son, who has begun to get over the loss and took over his father's business, told MZRacing about some unknown memories regarding Yoshimi Katayama. Katsumi-san is now focusing on the revitalization of the prestigious Katayama Racing.
When speaking of Yoshimi Katayama, one thinks of a racing driver who was active in the 1970s to 1990s. However, it is not well known that he continued to develop Mazda vehicles and in-house test drivers after his retirement. Within current development drivers, there are more than a few who received training under Yoshimi Katayama. Not only that, few are aware that the i-DM (Intelligent Drive Master) installed in current vehicles uses Katayama's driving data. Mr. Katsumi related, "The i-DM, which was first installed in the DE-type Demio in 2011, impressed my father. Every time he got in the DE-type Demio, he would laugh while driving saying "The car is angry at me" (laughs). "The best driving data for that system was that of my father," he said.
Katsumi also said, "My father was proud to be involved in the final check of the RX-8 before mass production. I was also proud when it was acclaimed for its chassis on a famous British TV program. My father often went to the Mazda tertiary test site. Once, when he was setting up the ECU for an FD3S type 4, he happened to come across another team testing the Titan and, without hesitation, he joined them in driving it. The people around us were taken aback, but my father seemed perfectly comfortable driving the Titan," he continued. Yoshihide Kuramoto of the current guided vehicle association, who had been in and out of Katayama Racing as a helper since that time, said, "At that time, I was also a trailer driver, but every time I met the president (Yoshimi Katayama) ) he would always say "I want to drive it." One time I rode in the passenger seat while he was driving. It was so exciting"
Katsumi also said, "He went to Miyoshi frequently for vehicle development tests and sometimes Mazda employees would come to pick him up. At such times, my father always switched into the driving seat. I think my father saw driving as his task in all situations. There was deep meaning to having employees study driving next to my father. My father always thought how to drive to make the passengers feel comfortable. Of course, he didn't really give lectures, but I think the people who watched him drive gained a lot.
The test run of the 787B, which completed its restoration in 2011, was carried out at the Proving Ground in May of the same year. My father did the test as usual. Actually, his physical condition was not perfect at that time. The Great East Japan Earthquake occurred in the same year, and it was a tough time. Everyone felt the importance of cheering on Japan."
Journalists also participated in that test, and I (the writer) remember well that he called out to me with a smile saying "Oh, Miura-kun, long time no see". When Katayama grabbed the steering wheel of the 787B, the characteristic high-pitched sound of the exhaust sounded like a violin that played clear highs without vibrato. It was a nostalgic sound, so I felt elated while looking through my camera's viewfinder.
In December of that year, at the Mazda Fan Meeting held at the Okayama International Circuit, I asked Mr. Katayama to speak directly with the organizer to see if he could drive in front of the fans. "At first, he was going to decline because of his physical condition, but you demanded it (laughs), and so my father was happy. I was touched that he was happy to interact with the fans at this time," said Katsumi. "My dad always said that it was important that he feel joy watching pros running on the course. However, driving the C-car after such a long time, took a toll physically, and he unfortunately couldn't drive it for a long time, which he really felt disappointed about."
Mr. Kuramoto (current Katayama racing employee) said, "This may be surprising, but the president (Katayama) always said after a few drinks, "It's not that I like Rotaries. I like the Mazda company itself. I think the president really loved Mazda," he said.
Katsumi related, "It was the respect my father had for the then company President Tsuneji Matsuda. He always said that he was able to grow due to the support from Matsuda. He also really valued the fans. He was such a person, the real Yoshimi Katayama," he continued.
At the farewell party for Mr. Katayama, Kazuyoshi Hoshino of Hoshino Racing said, "After we competed together in Rokko, Katayama and I had a rival relationship between Nissan and Mazda. When I met him, he praised me saying, "You've gotten faster, Hoshino." That was really happy time for me. I'm still racing, so one day I hope I can drive for Katayama Racing again." It was a message that expressed the strong affection between two famous drivers.
If you are ever in the neighborhood, please take a look at Katayama Racing's shop that Katsumi Katayama has taken over. You can get a sense of Katayama's spirit there. Katayama Racing goods will also be available at the MZRacing store.
Profile of Yoshimi Katayama
Born May 15, 1940 (Showa 15) in Kobe, Hyogo Prefecture.
In 1960, Yoshimi Katayama first competed in a domestic race as a motorbike rider. Despite being a privateer, he took a stunning victory in his debut against works teams and lapped all competitors below 3rd place. He competed in the World Grand Prix from 1962. He won numerous races including the Japan Grand Prix, the West German Grand Prix, the French Grand Prix and the Dutch TT. In 1964, he signed a driver contract with Toyo Kogyo. He competed in major races in Japan and overseas as a Mazda Chief Driver. He took the helm of rotary machines such as the Familia Capella rotary coupe and the legendary Savanna RX-3, and also worked together with Mazda contract drivers Koji Yono and Yojiro Terada, racing 100 races with rotary cars in domestic races. He contributed to the golden age of rotaries in touring car racing. From 1977, he competed in the Fuji Endurance Race with the March 75S Mazda from Katayama Racing and the Porsche 956 from the Trust Racing Team in 1984 and won the series championship. In major overseas races, he competed 6 times in the Le Mans 24-hour endurance race as a chief driver for Mazda Speed until 1990. In addition, he drove in the Daytona 24-hour race three times, the Spa 24-hour endurance race twice, and the Nurburgring (Marathon de la Route) 84-hour race twice. After retiring as an active racing driver in 1991, he continued to be active as Mazda's vehicle development consultant and the company's test driver instructor. He passed away on March 26, 2016 (Heisei 75)
Photos by Katayama Racing Text by MZRacing