2014/06/22
Mazda MX-5 retires due to crash (3:00am report)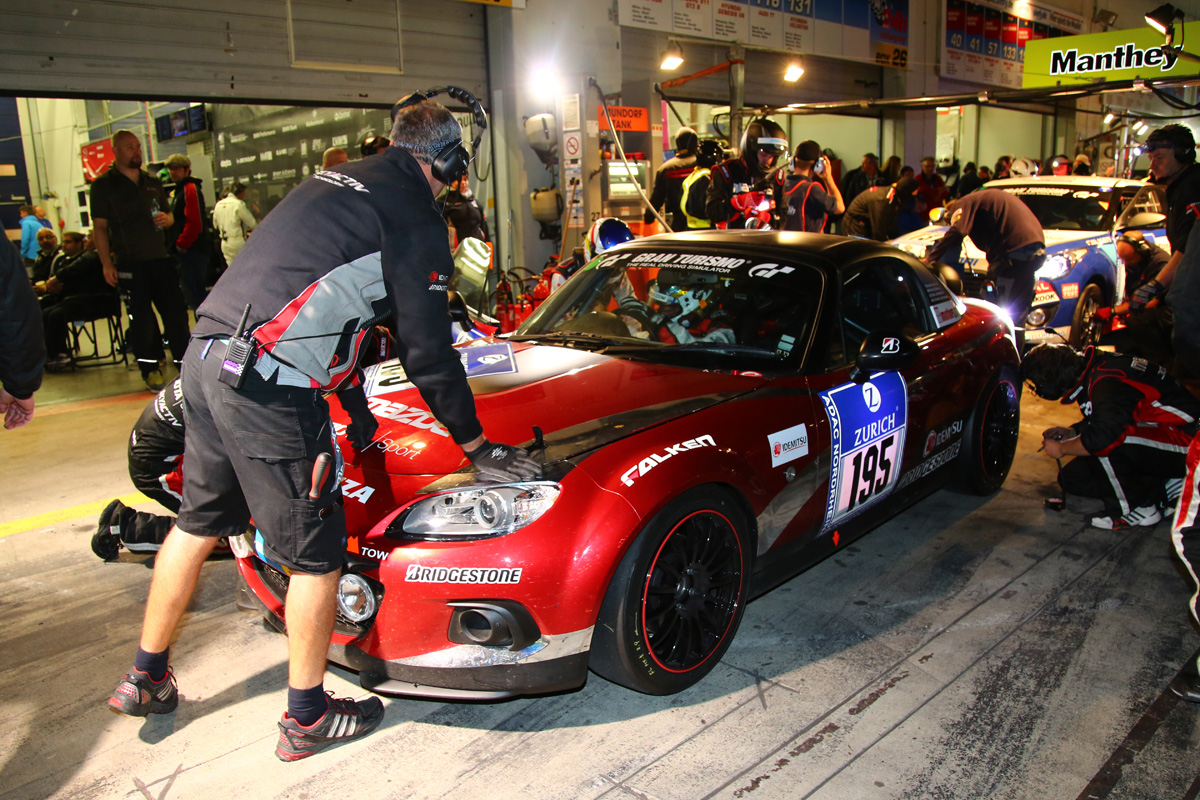 Mazda MX-5 retires due to crash (3:00am report)
After carrying out repair work on the body and suspension, Kato went back out onto the course. However, after about one and a half hours he unfortunately made contact with the guardrail just before Adenau and was forced to stop. After that he couldn't manage to restart the car. The machine was then towed back to the paddock, however the damage to the front of the car was too severe and the team decided to retire.
Kato went on to say, "As soon as I went off the track I hit the guardrail, spun and smashed the front of the car. I slowed it down from 6th gear but the impact was considerable. I feel a little banged up but don't have any serious injuries. I want to seriously express how sorry I feel to all the fans who have supported us.
Ladies and gentlemen, this marks the end of this year's Nürburgring special feature. Thank you for all your support.
---
The Mazda MX-5 has weathered through some tough moments in order to survive.
This year's 24 Hours Nürburgring was blessed with fine weather and under the watchful eyes of numerous fans the race was begun. On the previous day, while carrying out maintenance, some engine issues were discovered with the MX-5 and so the mechanics had worked throughout the night to carry out an engine change. Although this meant that the car was unable to take part in race day's morning warm up runs, after receiving a re-check from the vehicle inspection committee, it was granted permission to line up on the starting grid.
Behind the wheel for the start of the race was Stefan Johansson. During the early stages he could be heard yelling over the radio, "I was hit in the rear by someone. The steering feels weird but I'll keep going." When he came into the pits after an hour and half it was clear that the left rear wheel had been damaged but it was decided to leave it as is and return the race after only carrying out a driver change. Taking the reins this time was Kato who was also hit by another car but it was again decided that they would just continue the race as planned. Kauffman took charge of the MX-5 following Mildenhaul's stint but during his run a GT-3 plowed into the car and destroyed the rear suspension and a portion of the bodywork which made it impossible to keep racing. After about 2 hours spent carrying out repairs the team managed to put the machine back out on the course.
▼ Feature:Nurburgring 24 hours
https://mzracing.jp/en/feature/27
Photo by MZRacing