2014/06/21
Mazda MX-5 qualifies 4th place in class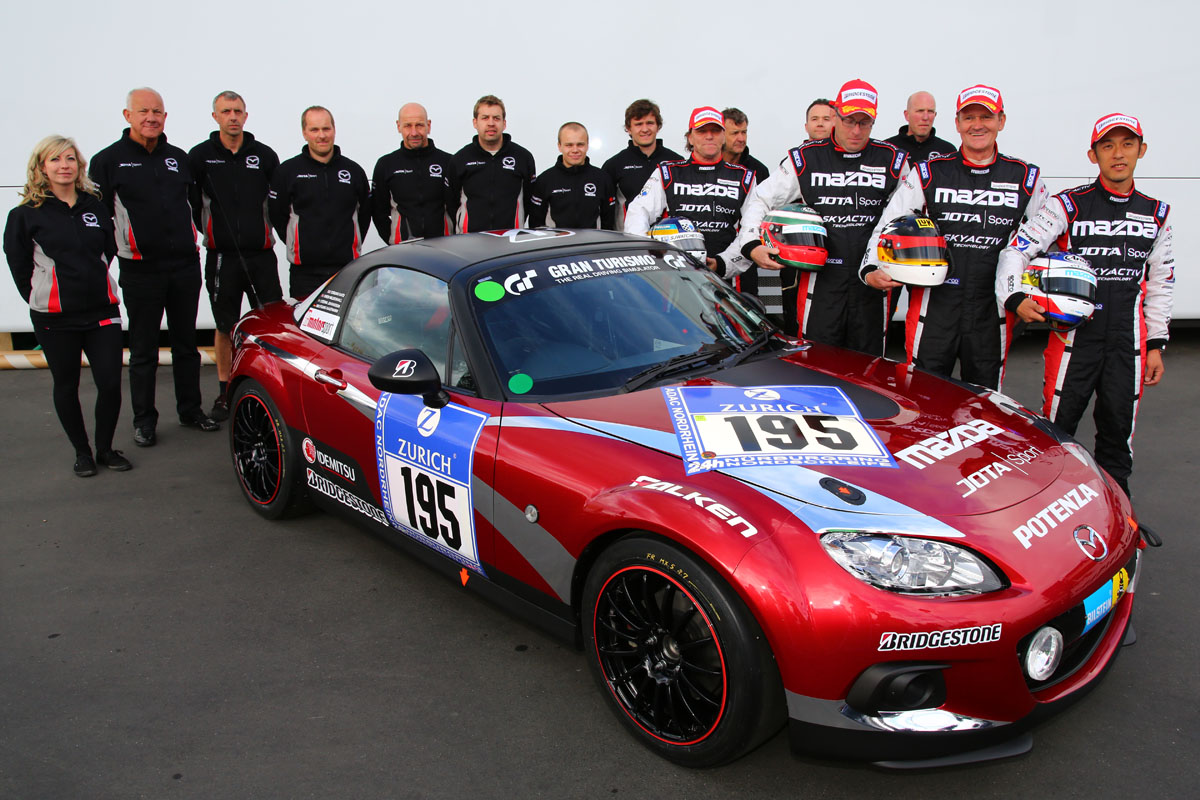 First of all fog lamps have been attached to the front bumper. This is to deal with the darkness of the old course which has no street lights. On this narrow track with plenty of blind corners, all the drivers can depend on are the car's headlights and fog lamps. Along with this, the engine, transmission, etc. were overhauled and the machine generally renewed. In addition a white sheet has been inserted into a new slit attached to the rear window. This is an anti-glare film. The V3 category is for relatively slow speed vehicles, so with FIA GT3 cars looming in from behind the driver can be dazzled by their bright headlights. With 200 machines all competing at the same time at Nürburgring, safely giving way is essential sportsmanship.
A practice run and the first qualifier were held on the 19th (Thur). The free runs were held under relatively warm conditions that, though cloudy, occasionally saw some blue sky peak through. Due to this the MX-5 undertook repeated runs to confirm the car's settings during the entire 2-hour session. It goes without saying that the road surface was dry. However, after qualifying began, at around 6:45pm, low clouds began to accumulate and it seemed like it could rain at any moment. At this point Kato was appointed to take charge of the attack lap. He drove for three laps and on the uncongested track he recorded the best time on lap 3. He was then instructed over the radio to return to the pits. At Nürburgring, once you have passed the control line and completed the timing, you enter into pit lane at the point where you round Grand Prix Course without making another lap. At the in-lap Kato found himself surrounded on all sides by high-speed cars and at the entrance to the first corner he had nowhere to go and made contact with the guardrail. This resulted in some damage to the front section of the MX-5.
Fortunately the damage was not severe and the front section was repaired, the bumber replaced and the car put back out for qualifying. However, due to the time taken to make repairs, only Kato and Johansson were able to qualify which meant that in order for all 4 drivers to do so, they had to wait for the second qualifier on Friday morning. There was light rain on Friday morning but it was not enough to prevent the session from being held and the last two drivers were able to perform their obligatory laps and complete qualification. In the end, the best time was recorded by Kato on the first day which placed them in 4th position in the 13 car V3 class.
▼ Feature:Nurburgring
https://mzracing.jp/en/feature/27
Photo by MZRacing