Mad Mike's Newest RE Beast, MADBUL Gen 7.3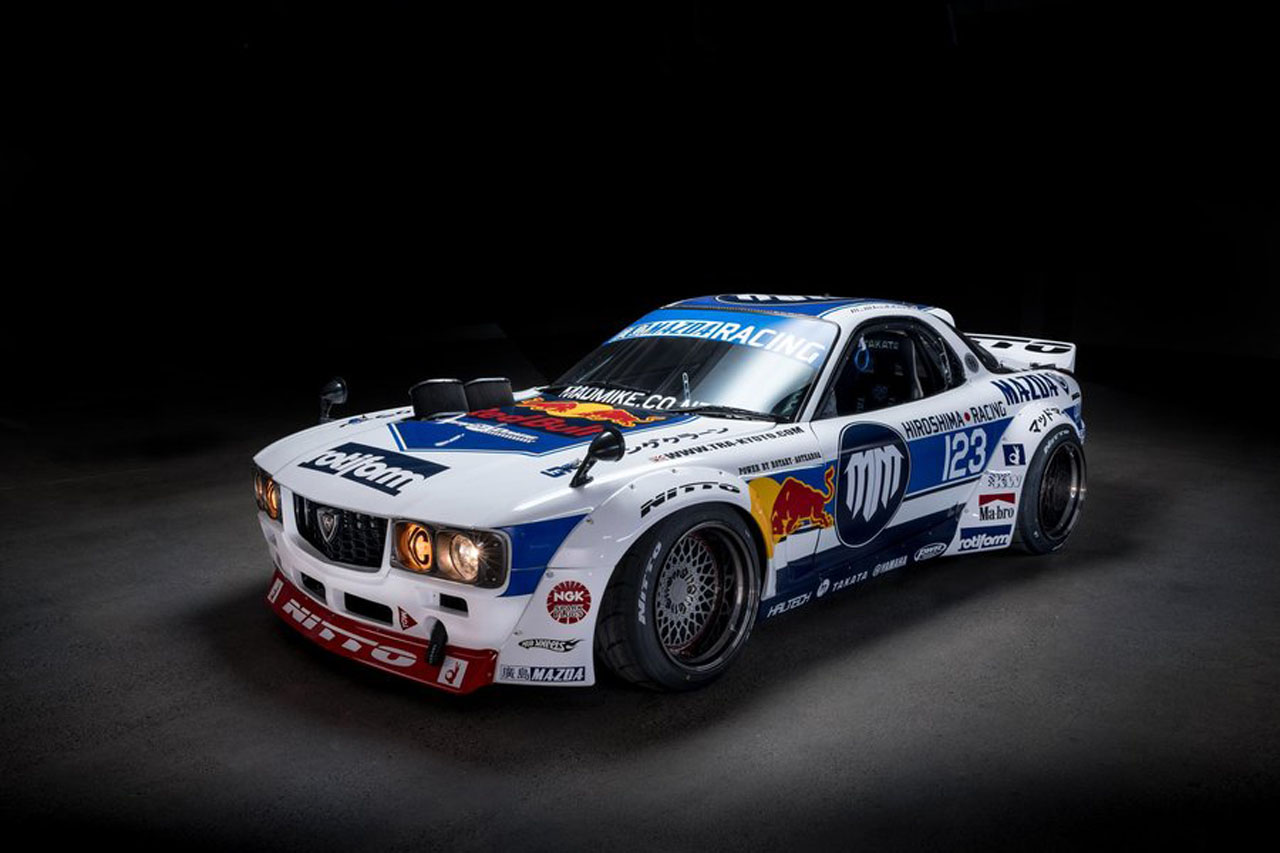 Last year "Mad" Mike Whiddett competed in the Formula Drift World Championship driving his "RADBUL GEN2" that grafted an ND MX-5 rear end panel and nose onto that base of an NC MX-5 that he used the previous year. He also competed behind the wheel of a 4-rotor, twin turbo FD3S RX-7 (nicknamed "HUMBUL") at round 3 of the Formula Drift (FD) World Championship held in May at Ebisu Circuit, Japan where he went on to take overall victory.
Earlier this year Mike revealed his newest creation, the FD3S-based RX-7 MADBUL generation 7.3. Stating that his dream was to build a 4-rotor RX-3, that he says is his favorite car of all time, the car utilizes the first full-drift chassis his team ever built. This chassis started its life as a 1992 Mazda RX7 FD and was Mike's first truly international drift car with a history stretching back over a decade. Over the years the car has undergone numerous face lifts with this latest Gen 7.3 being one of the most visually striking.
Dubbed Gen 7.3 because it combines an RX-3 with RX-7, the aim was to build a machine that was a throwback to old-school Mazda racing. To accomplish this he worked with Rocket Bunny's Kei Miura in Japan on a custom kit that blends the '70s-era RX-3 with the '90s-era RX-7. The RX3 nose cone was skillfully grafted onto the RX7 body and combined it with '70s-style over-fenders and a duck bill wing.
 Additionally, the car has retro touches everywhere, with an original 12A Savanna grill, a slightly larger 10A rotor emblem, an RE (Rotary Engine) badge on the front, Savanna badges down on the rear corners and original fender hockey-stick mirrors. The exterior makeover is completed with Rotiform LHR mesh rims with matte anthracite centers, candy black lips, and anodized candy red hardware.
Even the license plate comes with its own piece of history. It belonged to Kawato-san and was on the HUMBUL RX7 when Mike drove it to victory at the Japanese round of the Formula Drift Championship in 2016.
The MADBUL v7.3 engine package has remained the same as last year, a peripherally ported quad rotor, with only the computer being upgraded to Haltech's Elite engine management system and is fitted with an IQ3 logger dash. The steering utilizes the same setup used on the HUMBUL FD3S RX-7 and the car rides on new 3-way adjustable KW Suspension.
During the filming of his documentary, "The Mad Life" Mike travelled to Mazda HQ in Hiroshima and met with MX-5 ambassador and former 4-rotor RE head engineer Nabuhiro Yamamoto, an experience he says inspired him to build the motor that's in MADBUL. According to Mike, Mazda's motto of "Never stop challenging" perfectly sums up both Yamamoto and himself.
This season Mike is stepping outside of Formula Drift U.S.A. for a season to focus on growing his New Zealand Drift Shifters event into a global series.
Photos Graeme Murray and © Red Bull Media House