In Memory of RE Development Leader Kenichi Yamamoto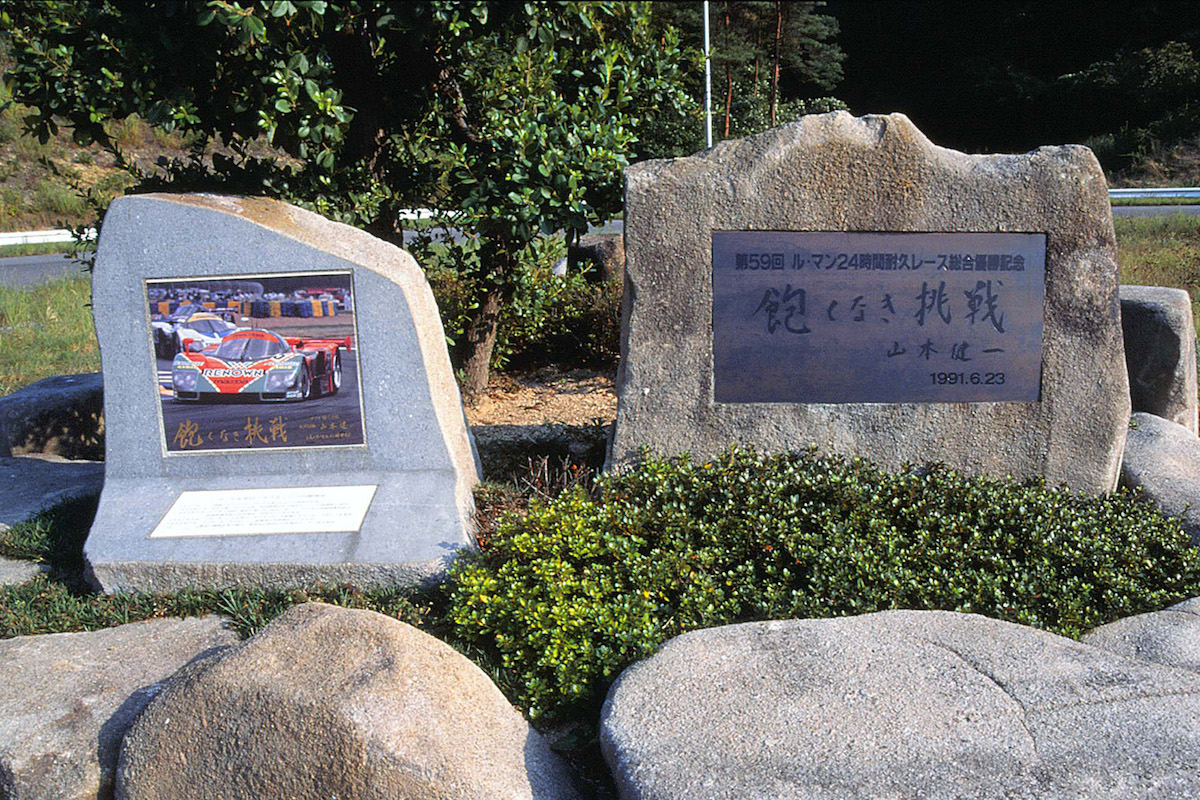 'The "Never Stop Challenging" spirit was the driving force behind Mazda's development' – (in memory of Kenichi Yamamoto) – Mazda OB Kobayakawa Takaharu
Kenichi Yamamoto passed away in late December. This was a man who was not only integral to Mazda's automobile production but also played a massive part in Japanese manufacturing in general. A large number of people from various fields have come out to take a look back on the life of Yamamoto-san.
In 1960 Tsuneji Matsuda made the decision to take on the challenge of commercializing the rotary engine (RE) and appointed Kenichi Yamamoto to be the development leader. He acted as manager of the RE research department that was founded in 1963 and took the reins of the research team. He faced numerous challenges in trying to create a practical engine but he continued to "never stop challenging" and in 1967 the first RE car, the "Cosmo Sport" was released. However, pollution concerns and the energy crisis of the mid 1970s resulted in a management crisis due to a sharp decline in sales of RE cars. Through the introduction of the RX-7 in 1978 they were able to avert the crisis and, including the 2nd and 3rd generation RX-7 and then the RX-8, the cumulative production number of RE cars reached just under 2 million units. The "never stop challenging spirit" still continues and it has been confirmed that before long we will be seeing the next generation of rotary engines.
The 1991 Le Mans victory was, at the time, the first victory at that prestigious race for any Japanese manufacturer and it is the only overall victory by a non-reciprocating engine on record. Mr Yamamoto left an indelible footprint in the history of the RE that will not be forgotten. From that starting point the Cosmo Sport, which was built with an aim to achieve "durability, reliability and proof of performance for the RE," went on to compete in the 1968 84-Hours of Nurburgring, where it took overall 4th place. From that point on, successive RE cars competed in various races and the Le Mans challenge was taken on by Mazda Speed from 1974, which was based on Mazda's efforts to support the development of the engine. It was always my motto that "Lady luck will surely smile upon anyone who never stops challenging" and this pushed me in my work on the early RE development, the evolution of the RX-7 and our ability to compete at Le Mans in such a short period of time. I would also like to mention here that three officials from Mazda, Tsuneji Matsuda, Kenichi Yamamoto and Takayoshi Ohashi, have been included into the Japan Automobile Hall of Fame (JAHFA) that was opened in 2001. (http://www.jahfa.jp)
Currently the Japanese automobile industry is at an unprecedented turning point, with the promotion of electrification, the progress in automatic driving, the rise of car sharing businesses and the rapid expansion of China and markets in developing countries. However, the "never stop challenging" spirit that Yamamoto-san infused into Mazda will continue to be a driving force in further developing Mazda car innovation. To conclude my section I would like to sincerely pray that Kenichi Yamamoto rests in peace.
'"Yamaken" was someone who truly understood Motorsports' – Mazda OB Kunio Matsuura
In my life, there is no one I owe more to than Kenichi Yamamoto ("Yamaken") and I was deeply saddened to hear of his passing. I couldn't be where I am today without the assistance that I received from him and I would respectfully like to extend my deepest condolences to his family.
I first met Yamaken 8 years after I joined Toyo Industries, at around February in 1964. Not long after the engine assembly plant was launched I received orders to transfer to the RE research department and my supervisor at the factory had taken me out to introduce me to my new boss. After that I was assigned to the testing section and carried out work under the watchful eye of my supervisors and was engaged in "measuring the dispersal of combustion within the combustion chamber of the rotary engine." I began as a research assistant but after a while a new laboratory was completed in the head office area and I was assigned as second in charge. The theme was to "research high revolution / high output rotary engines." This would lead into the "Racing RE research," "RE motorsports activities" and ultimately the 1991 victory at Le Mans. I took a leading role on site for all of these tireless challenges. That was my Mazda career.
At this time, I was able to be involved in experiments using 1-rotor to 4-rotors, engine development for the Cosmo Sport to the Mazda 787B and experienced all the race events in between. I was lucky enough to occasionally receive encouragement from Yamaken in those days. Amongst the many memories the following two stand out the most.
1. At our regular research study meeting held every Monday, sometimes we were given the opportunity to report on the "racing RE research". When I expressed my unease regarding the "failure due to fixed gear trouble" after the 1970 24-hours of Spa, Yamamoto told a member of his office (chief of mass production RE development) to "go and help Matsuura out with that issue." I was really appreciative of those words. For Mazda Motorsports, which was actively focused on endurance races, fixed gear trouble had become the biggest issue, and it was a huge challenge for our motorsports group that only consisted of a limited number of members. So, to receive these words of encouragement was a huge thing for me. The fixed gear issue would be an important technical point with regards to ensuring RE durability right up until the Le Mans victory. Thanks to the assistance we received we were able to solve the fixed gear trouble. 11 years later, in 1981, the RX-7 went on to take overall victory at the 24-Hours of Le Mans and we were able to recover our pride.
2. At the end of each year, when it was time to deliver our work, the director would come out to our testing site to come out and give us advice. An annual excerpt was recited in front of over 100 personnel (most of them mass production RE development staff, with a few motorsport group members). As you would expect, the speeches were naturally mainly concerned with explaining future efforts regarding mass production RE research and words of appreciation, but there was always a special mention directed to our little corner of the company. "For the RE to be a success, both mass production RE research and racing RE research is essential and so I hope that you all work hard to achieve success." These words of encouragement were a welcome start to the New Year and became our greatest source of motivation. These kinds of encouraging remarks were indispensable during management crises such as the oil shock and they were consistently reassuring even during tough economic times. Yamaken understood more than anyone the RE's potential in motorsports. Let me introduce you to the Matsuura "four conditions to motivating people" that I inherited from Yamaken. If you keep these in mind you will be able to overcome any hardship.
1. Purpose (For Mazda Motorsports, contribute to Mazda's revenue, image enhancement, user support)
2. Goals (if you give 130% you will be able to set achievable goals)
3. Understanding and cooperation with those around you (It doesn't matter what you do, it will be more difficult if you try to achieve it alone. However, if you seek the understanding and cooperation of your work colleagues and bosses you will undoubtedly be able to achieve it)
4. Personal pride (Be proud to be one of the researchers and developers of the world's first racing RE)

'Kenichi Yamamoto contributed to automobile culture' – Mazda Roadster Ambassador Nobuhiro Yamamoto
I was deeply sorry to hear the report of Kenichi Yamamoto's passing and I pray for his peaceful rest from the bottom of my heart. I joined Toyo Industries with the dream of "developing an RE" and my dream came true as I was assigned to the First Design Section of the RE Research Division. When I was in charge of the engine design of the first-generation RX-7 and the race RE, I was in the same office as Kenichi Yamamoto, who was seated about 10 meters away. I remember well the time Yamamoto-san was reading in the paper that the Hiroshima Toyo Carp (baseball team) had won and was beaming a smile. I also remember like it was yesterday when the Carp won their first victory in 1975 and after celebrating at the office he could be seen shedding tears in the toilets. In terms of work, when we were attaining approval from our manager for the race prototype, after explaining the details of the design, he stated, "Got it. I'll leave it to you!" and immediately scribbled his signature in the department head approval column. I will never forget the courage it gave me as I thought, "I cannot let this man down." I still carry around the 6 fundamentals of "Automobile Culture Theory," that he announced during his New Year's message after becoming president in 1984, in my business notebook. The final message, "the essence of car culture" remains in my mind to this day. I have immense gratitude to Yamamoto-san, who was also the creator of the Roadster (MX-5) that has become a Mazda brand icon. Without the go-ahead from president Yamamoto for the mass production of the first generation Roadster, the present day Roadster would never have existed. The "Jinba Ittai" (unity of rider and horse) philosophy also would probably not have come about without Yamamoto-san. I will never forget the last thing Yamamoto-san told us, that "an engineer must extract the spirit of an engineer from within themselves" and I want to take on the "never stop challenging" ethos and devote myself to putting it into practice.
In memory of Kenichi Yamamoto – Cosmo Sports Owners Club, Keiji Hanamoto
Kenichi Yamamoto, thank you for making our biggest dreams come true.
Achieving the practical application of the RE in the midst of Japanese motorization was an epoch-making event. The dream of an RE was put into practical use and in the end the Cosmo Sports was released, the first car to be mounted with an RE, the product of such innovative technology. This was a car that I dreamed of being able to drive. After that the Familia Rotary coupe was released and as soon as I bought one and started driving it, I was hooked on the RE.
After that, I fell in love with the RX-3, the Luce, the RX-7 SA22C and now I have come full circle back to the Cosmo Sports. I don't think I will ever escape from this RE spiral that Yamamoto-san and his colleagues have created for me. We will never forget the RE and Yamamoto-san. We will also keep believing that Mazda will bring the RE back in the future. I hope you are smiling down on us from heaven. Thank you so much for making our dreams come true, please rest in peace.
Thank you for all the words of encouragement – Racing driver, Yojiro Terada
I'm quite sure the first time I met Kenichi Yamamoto was in the early 1970s. I think it was at the time I was participating in a domestic race at the Mazda Auto Tokyo. When former Mazda president, Yamauchi was at Okinawa Mazda, we invited him out and we received a speech from him and Mr Yamamoto. I remember being in the waiting room and he said with a kind smile, "We're counting on you for these races". I was moved by his generous words. The next time I met him was when he came out to Le Mans in 1985 where he gave me similar words of encouragement. I am incredibly grateful for his constant support for our activities, come rain or shine, right up until the 1991 Le Mans overall victory. Mazda won at Le Mans with the RE that Yamamoto-san created. As a man who loved Mazda, Yamamoto's spirit of "never stop challenging" will be handed down to future generations and I pray that he rests in peace.
Rest in Peace – Berny Herrera (South California RX Club Representative)
"Kenichi Yamamoto! Arguably the most influential person in the development of the modern Rotary Engine. He was the true giant of what we have and love today. He and his "47 Ronin" conquered the challenge! He not only made Rotary what it is today, but Mazda as a company too. Rest in peace"
My father never forgot the debt he owed to Yamamoto-san – Racing driver, Yoshimi Kayayama's representative, Katsumi Katayama
My father, Yoshimi Katayama had many opportunities to meet Kenichi Yamamoto right from the early days of the development of the rotary engine. When Toyo Industries' third president, Tsuneji Matsuda first called out my father, he went from Kobe to Hiroshima and when he entered the meeting room Yamamoto-san was there and the three of them talked together. When he took class victory in the 1984 Le Mans race (Group C2 class winner in the Lola T616) Yamamoto wanted to meet him personally to offer words of appreciation and my father said that he was deeply moved by this gesture. He also often told me over drinks that third president, Tsuneji Matsuda was someone he also owed a great deal to and had huge respect for. I had many opportunities to meet Yamamoto from a young age and even into young adulthood when my father brought me out to special events and so on. I hope he rests in peace.
Long live the rotary engine – Cosmo Sports Owner's Club, Taku Kunikata
The leader of the forty-seven ronin who developed the rotary engine, Kenichi Yamamoto, has passed away. Yamamoto-san consistently supported our club. We couldn't find any housings for the 10A engine and when we were overhauling our cars, Yamamoto-san kindly assisted us in our appeals and for this reason we were able to have some housings manufactured. For my wedding, he graciously presented us with a "never stop challenging" plate and it is still shining on my Cosmo Sports MAT vehicle. I visited Yamamoto-san, who was living in Kanagawa at the time, to deliver our 2015 club magazine, the "We Love Cosmo Sports," that he was kind enough to write the preface for. Yamamoto-san was very pleased with the completion of the book and was generous to relate numerous stories related to the development of the rotary engine. He humbly told us, "It's because of the support of people like you who love the rotary engine that we are able to keep working as hard as we do. Thank you so much." Rest in peace, Yamamoto-san. I'm sure the rotary engine will continue to evolve under the motto of "never stop challenging." We also intend to continue driving the rotary engine until the day that we die. Thank you so much for making such a great engine. We will never forget you. We sincerely appreciate everything you have done.